Bonanza Demat Account Opening 2023 | Charges, Fees, and Details
Bonanza Demat Account Opening Charges and Details
'Make money, not mistakes' is the tagline of Bonanza that means though share market is full of risk but without making mistakes, we can earn money from trading by choosing right broker that can offer you best facilities an affordable cost. Traders must choose wisely & trade wisely and it can possible with Bonanza as it provides free research and advisory services to its clients. Bonanza is a SEBI registered broker and offers to invest in equity, derivative, currency, commodity, mutual fund and IPO. Bonanza provides the facility to any Non-resident Indians (NRIs) to invest in Indian share market through its platform. Bonanza offers leverage and margin exposure in every plan for every segment which is quite beneficial for beginners and experienced traders. As the depository participant of CDSL and NSDL, it provides depositary services and 2-in-1 account to its clients.
Bonanza offers many trading software and mobile application through which you can place your order from any place across India. One should choose Bonanza because of its transparent policy and ultra-modern features through which any trader can enhance their assets easily.
Bonanza Demat Account:
Demat account is just like a bank account as bank account hold your cash while demat account hold your shares & securities. Demat account is used to hold securities in dematerialized form though which you can trade and invest in national exchanges. Bonanza is the depositary participant of NSDL & CDSL and offers 2-in-1 account services to resident Indians and NRIs. Bonanza provide the facility to open demat account via both online and offline method by following some simple steps.
Online Demat Account on Bonanza:
Bonanza offers you to open online demat account by uploading required documents:
• Click, open an account.
• Register your mobile number, email id and name.
• Enter the OTP received in your mobile number.
• Upload the scanned copies of the required documents in the given tab.
• In the last, E-sign process will take place in which you need to validate the OTP sent to your mobile phone.
• After document verification, you will receive a message or mail in your email id.
• Now, you can start trading.
Offline Demat Account on Bonanza:
You can also open offline account on Bonanza by following some simple steps:
• Visit the official website of Bonanza and register your details like name, phone number etc or you can visit the nearby branch of bonanza.
• Sales representative will call you and provide you KYC form on your email id or you can take that form from the branch office.
• Take the print out of that form.
• Completely fill that form with your signature, passport size photograph and attach the scanned copies of the required documents.
• Courier all the documents along with KYC form to the registered address.
Bonanza Demat Account Opening Charges:
| | |
| --- | --- |
| Account | Charges |
| Demat Account Opening Charges | Rs.0 |
| Demat AMC | Rs.250 + GST (per annum) |
Documents Required to Open Demat Account on Bonanza:
• Bank statement or Latest bank account slip
• Passport size latest photograph
• Income proof (To trade in F&O segment)
Bonanza Demat Account Charges:
Except for brokerage, there are various depositary charges which are as follows.
| | |
| --- | --- |
| Transaction | Charges |
| Account Opening Charges | Nil |
| Account Maintenance Charges | Rs.250 + GST per annum |
| Dematerialisation for each request form | Nil |
| Dematerialisation for each extra certificate | Rs.3 |
| Rematerialisation Charges | Rs.15 per 100 securities or part thereof or Rs.15 per certificate |
| Buy – Market & off-market | Nil |
| Sell – Market & off-market – Internet Trading | Rs.15 |
| Sell – Market & off-market – Call Centre | Rs.12 |
| Pledge Creation / Closure / Confirmation / Invocation | Rs.35 |
| Additional Account Statements | Nil |
| Closure of account | Nil |
| NSDL/CDSL Annual Maintenance Fee for corporate account | Rs.1000 |
| NSDL/CDSL Sell – Market & off-market | Rs.5.50 per debit instruction |
| Reconversion of MF units | N/A |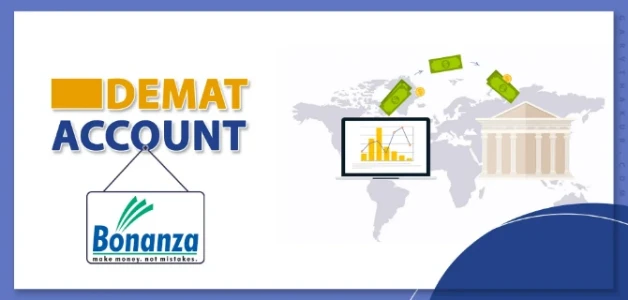 Comments for Bonanza Demat Account Opening 2023 | Charges, Fees, and Details
Frequently Asked Questions
---