Bonanza Branches 2023 | Branch Near Me, Contatcs Office Timings
Bonanza Branches | Branch Near Me, Office Timings
Bonanza is the prominent stockbroker of India, started its operation in 1994 as a financial service provider and very soon emerged as one of the best full-service brokers of India. Bonanza is famous for its low brokerage in various different segments as it charges brokerage @flat Rs.18 per executed trade for all the segment. It is a SEBI registered broker and facilitate you to invest in national exchanges; NSE, BSE, MCX, MSEI, NMCE, ICEX and NCDEX. Bonanza offers you to invest/trade in equity, derivative, currency, commodity, IPO and mutual funds. Bonanza has its headquarter in New Delhi and it has its presence in 560+ cities with more than 1784 outlets. Bonanza is popular for its leverage and margin facility which is available in almost every segment including intraday.
Bonanza offers trading software; Bonanza Netnetlite, Bonanza Mobile Wave and Bonanza Diet. With the help of trading software, you can book your order from any place across India and able to analyse the market precisely. As a depositary participant of NSDL and CDSL, Bonanza offers free demat and trading account opening services in its platform. Bonanza offers various financial services; equity broking, advisory services, portfolio management services, mutual fund and IPO. The main objective of the Bonanza is to provide world-class services in an affordable price.
Bonanza Branches:
Bonanza is an online broker, though it has its presence in more than 560 cities with more than 1784 outlets. Bonanza has strong online presence in all over the India, you can contact them through customer care number and email id. You can open demat & trading account by visiting any nearby branch of Bonanza.
Bonanza Head Office:
Bonanza Portfolio Limited
2/2 A, First Floor, Lakshmi Insurance Building
Phone- +91-11-40748700, 61271900
Email-

customercare@bonanzaonline.com
Bonanza Registered Office:
Bonanza Portfolio Limited
4353/4C, Madan Mohan Street,
Email-

customercare@bonanzaonline.com
Bonanza Corporate Office:
Bonanza Portfolio Limited
Bonanza House, Plot No. M-2, Cama Industrial Estate,
Walbhat Road, Behind The Hub, Goregaon (East),
Email-

customercare@bonanzaonline.com
Bonanza Branches in different states:
• Bonanza Branches in Uttar Pradesh
• Bonanza Branches in Madhya Pradesh
• Bonanza Branches in Uttarakhand
• Bonanza Branches in Himanchal Pradesh
• Bonanza Branches in Bihar
• Bonanza Branches in Maharashtra
• Bonanza Branches in West Bengal
• Bonanza Branches in Tamil Nadu
• Bonanza Branches in Kerala
• Bonanza Branches in Delhi
• Bonanza Branches in Jharkhand
• Bonanza Branches in Rajasthan
• Bonanza Branches in Gujarat
• Bonanza Branches in Haryana
• Bonanza Branches in Andhra Pradesh
• Bonanza Branches in Assam
• Bonanza Branches in Punjab
• Bonanza Branches in Chhattisgarh
• Bonanza Branches in Karnataka
• Bonanza Branches in Orissa
• Bonanza Branches in Telangana
• Bonanza Branches in Arunachala Pradesh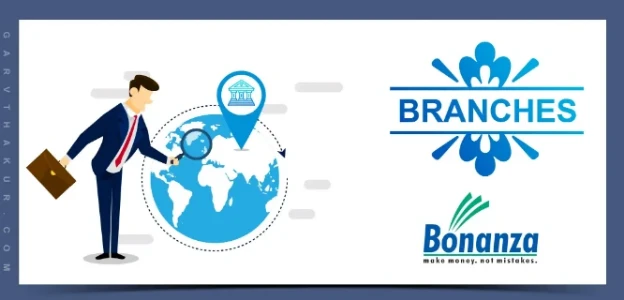 Comments for Bonanza Branches 2023 | Branch Near Me, Contatcs Office Timings
Frequently Asked Questions
---