Bonanza Brokerage Charges 2023 | Fees, Plan, Taxes and Details
Bonanza Brokerage Charges and Transaction Charges
In the world of Indian Brokerage industry, Bonanza is a very famous and old name, established in 1994 as a financial service provider and in a short span of time, Bonanza became one of the best and trusted full-service brokers of India. Bonanza provides the facility to invest in NSE, BSE, MCX, MSEI, NCDEX, NMCE and ICEX. Bonanza charges brokerage of @flat Rs.18 per executed order for all the segments. Bonanza is the depositary participant of both CDSL and NSDL and provide the flexibility to their customers to choose any national exchanges. Bonanza offers demat and trading account services in its platform. Bonanza is well-known for its customer-centric approach as customer's satisfaction is the top-most priority of the company. Bonanza offers financial services right from equity broking, advisory services, portfolio management services, mutual fund and IPO. The main objective of the Bonanza is to maximize the client's profit and to be one of the most trusted and globally reputed platforms.
Bonanza has its presence in more than 560 cities with more than 1784 outlets spread across India. Bonanza is well-known for attractive leverage and exposure facility through which you can buy unaffordable shares. It offers free trading software such as Bonanza Netnetlite, Bonanza Mobile Wave and Bonanza Diet. Bonanza has been rewarded by BSE as 'Major Volume Driver' (2004-05, 2006-07, 2007-08).
While buying and selling of stocks, traders need to pay brokerage to the broker which can be variable from one broker to another.
| | |
| --- | --- |
| Segment | Brokerage |
| Equity Delivery | Rs.18 per executed order |
| Equity Intraday | Rs.18 per executed order |
| Equity Futures | Rs.18 per executed order |
| Equity Options | Rs.18 per executed order |
| Currency Futures | Rs.18 per executed order |
| Currency Options | Rs.18 per executed order |
| Commodity Futures | Rs.18 per executed order |
| Commodity Options | Rs.18 per executed order |
REGULATORY & EXCHANGE RATESS
CHARGES

DELIVERY

INTRADAY

FUTURES

OPTIONS

Transaction Charges

NSE - Rs. 3.25 per Lacs (0.00325%)
BSE - Rs. 2.75 per Lacs (0.00275%)
MCX-SX - Rs. 2.00 per Lacs (0.002%)

NSE - Rs. 3.25 per Lacs (0.00325%)
BSE - Rs. 2.75 per Lacs (0.00275%)
MCX-SX - Rs. 2.00 per Lacs (0.002%)

NSE - Rs. 1.90 per Lacs (0.0019%)
BSE - Rs. 0.50 per Lacs (0.0005%)
MCX-SX - Rs. 1.20 per Lacs (0.0012%)

NSE - Rs. 50/- per Lacs (0.05%) on Premium
BSE - Rs. 25/- per Lacs (0.025%) on Premium
MCX-SX - Rs. 25/- per Lacs (0.025%) on Premium

CM Charges

Nil

Nil

NSE - Rs.0.25 per Lacs (0.00025%)
BSE - Rs.0.25 per Lacs (0.00025%)

NSE - Rs.7.5 per Lacs (0.0075%) on Premium
BSE - Rs.7.5 per Lacs (0.0075%) on Premium

Service Tax

14% on Brokerage, Transaction & CM Charges

14% on Brokerage, Transaction & CM Charges

14% on Brokerage, Transaction & CM Charges

14% on Brokerage, Transaction & CM Charges

STT

Rs. 100 per Lacs (0.1%)

Rs. 25 per Lacs (0.025%) on Sell side

Rs. 10 per Lacs (0.01%) on Sell Side only

Rs. 17 per Lacs (0.017%) on Sell side premium

SEBI Charges

Rs. 0.20 per Lacs

Rs. 0.20 per Lacs

Rs. 0.20 per Lacs

Rs. 0.20 per Lacs

Stamp Duty

CLICK HERE TO VIEW
Currency Derivatives
CHARGES

FUTURES

OPTIONS

Transaction Charges

NSE - Rs. 1.10 per Lacs (0.0011%)
BSE - Rs. 0.04 per Lacs (0.00004%)
MCX-SX - Rs. 1.05 per Lacs (0.00105%)

NSE - Rs. 40 per Lacs (0.040%) on Premium Value
BSE - Rs. 0.04 per Lacs (0.00004%) on Premium
MCX-SX - Rs. 30/- per Lacs (0.030%) on Premium

CM Charges

NSE - Rs.0.25 per Lacs (0.00025%)
MCX-SX - Rs.0.25 per Lacs (0.00025%)

NSE - Rs.7.5 per Lacs (0.0075%) on Premium
MCX-SX - Rs.7.5 per Lacs (0.0075%) on Premium

Service Tax

14% on Brokerage, Transaction Charges & CM Charges

14% on Brokerage, Transaction Charges & CM Charges

STT

Nil

Nil

SEBI Charges

Rs. 0.20 per Lacs

Rs. 0.20 per Lacs

Stamp Duty

CLICK HERE TO VIEW
Commodities
CHARGES

FUTURES

Transaction Charges

MCX -Non Agri:- Rs. 2.10 per Lacs (0.0021%))
MCX -Agri:- Rs. 0.75 per Lacs (0.00075%)
NCDEX - A:- Rs. 3.5 per Lacs (0.0035%) NCDEX - B:- Rs. 1.25 per Lacs (0.00125%)

CM Charges

MCX:- Rs.0.25 per Lacs(0.00025%), NCDEX:- Rs.0.25 per Lacs (0.00025%)

Service Tax

14% on Brokerage & Transaction & CM Charges

STT

Rs. 10 per Lacs (0.01%) on Sell Side only (Excepted exempted Agri Commodities)

SEBI Charges

Rs. 0.20 per Lacs

Stamp Duty

CLICK HERE TO VIEW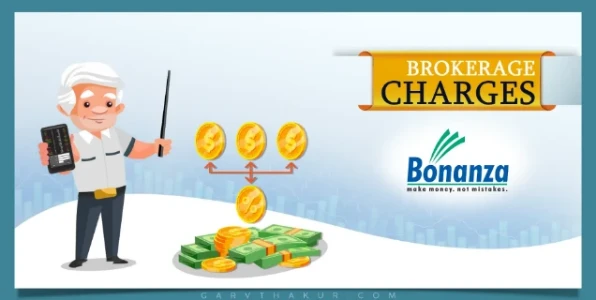 Comments for Bonanza Brokerage Charges 2023 | Fees, Plan, Taxes and Details
Frequently Asked Questions
---