Bonanza Mobile App Review 2023 - Features, Demo, Download and Details
Bonanza Mobile App Review - Features, Demo, Download
By the way, stock market is like the weather in that if you don't like the current conditions, all you need to wait as patience is one of the main keys of success. When we choose a robust and transparent platform for the investment, we get global features and more opportunity with many options of investment. Bonanza is a world-wide famous platform established in 1994 as a financial service provider. Bonanza charges brokerage of flat Rs.18 per executed order which is quite low as compared to other full-service broker to trade in various segments such as equity, derivative, currency, commodity, mutual funds and IPO. Bonanza facilitate you to invest in NSE, BSE, MCX, MSEI, NCDEX, NMCE and ICEX. As a SEBI registered and depositary participant of CDSL and NSDL, it offers free trading and demat account opening with an option to choose between both national exchanges.
This full-service broker aims to be one of the global reputed platforms for investment. Bonanza offers margin/exposure up to 10x leverage for equity intraday trading in more than 300+ stocks which is quite high as compared to many other full-service brokers. Bonanza offers many free software and technical tools to resident Indians and Non-resident Indians (NRIs) so that you can invest and analyse easily. Bonanza has already marked its presence in more than 560 cities with 1784 outlets across India.
Bonanza Trading Software
Bonanza's motive is to enhance your trading experience by providing free trading software for its clients. Traders can access this software in any desktop, laptop, smartphone, tablet with any operating system. Bonanza's online trading software are as follows:
• Bonanza Netnetlite- Browser-based trading platform
• Bonanza Mobile Wave- Smartphone-based mobile application.
• Bonanza ODIN Diet- Trading Terminal.
Bonanza Mobile Wave:
Bonanza Wave is a popular smartphone-based trading application available for Android and iPad users. This application is available for resident Indians and Non-Resident Indians (NRIs) as it is a very simple and convenient to use from any place across the globe. You can trade in equity, derivative, currency, commodity, mutual fund and IPO. This application allows you to trade in BSE, NSE and MCX. This mobile application is equipped with every modern feature which can help you in enhancing your trading experience.
• Hassle-free, simple, easy-to-handle and user-friendly.
• Place any kind of order (BO,CO etc.) from any place around the world.
• Track your favourite stocks, companies and contracts.
• Advanced charting tools.
• Allows you to make your own watchlist.
• You can track your order book, net position and funds in real-time.
• You can develop your own strategy and trade in it.
• Access live market news.
• Research & advisory support.
• Alerts and push notifications.
• Single login ID and passport to trade in all the segment.
How to download My E-trade application?
This is a very easy process, just follow below steps:
• Android users can download it from Google play store and IOS users can download it from App store.
• Click install and download it.
Bonanza Netnetlite:
Bonanza Netnetlite is a browser-based trading platform allows you to trade in equity, derivative, mutual fund, commodity, currency and IPO. You can use any browser such as Google chrome, Mozilla Firebox, Internet Explorer etc. to access this software. Bonanza is a robust, user-friendly and perfect platform for users and allows access to any desktop, laptop, android device, IOS device and tablet across the world.
• Browser-based based website.
• Online SMS and message alert for client's activities.
• Allow to trade in BSE, NSE, MCX and NCDEX.
• Enables you to place after market orders.
• Multiple charts available along with historical data.
• Availability of exchange funds option for funds through different banking institutions.
• To place bulk orders, you can use basket order available in Bonanza.
How to access Bonanza Netnetlite?
This is a very simple process, just follow below steps:
• Visit the official website of Bonanza.
• Now, above the main menu bar, click on Netnetlite login link.
• Login with ID and password.
• Open the dashboard and start investing.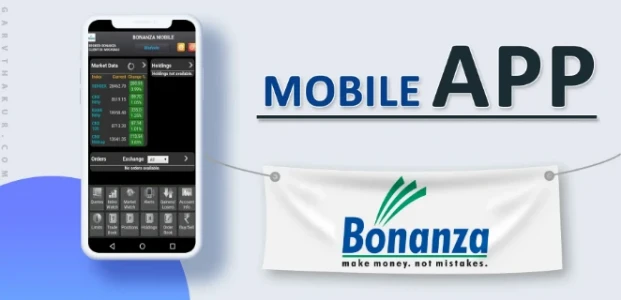 Comments for Bonanza Mobile App Review 2023 - Features, Demo, Download and Details
Frequently Asked Questions
---