Bonanza Consumer Complaints 2023 | Details, Enquiry, NSE/BSE,
Bonanza Consumer Complaints
Bonanza is the prominent stockbroker of India, started its operation in 1994 as a financial service provider and very soon emerged as one of the best full-service brokers of India. Bonanza is famous for its low brokerage in various different segments as it charges brokerage @flat Rs.18 per executed trade for all the segment. It is a SEBI registered broker and facilitate you to invest in national exchanges; NSE, BSE, MCX, MSEI, NMCE, ICEX and NCDEX. Bonanza offers you to invest/trade in equity, derivative, currency, commodity, IPO and mutual funds. Bonanza has its headquarter in New Delhi and it has its presence in 560+ cities with more than 1784 outlets. Bonanza is popular for its leverage and margin facility which is available in almost every segment including intraday.
Bonanza offers trading software; Bonanza Netnetlite, Bonanza Mobile Wave and Bonanza Diet. With the help of trading software, you can book your order from any place across India and able to analyse the market precisely. As a depositary participant of NSDL and CDSL, Bonanza offers free demat and trading account opening services in its platform. Bonanza offers various financial services; equity broking, advisory services, portfolio management services, mutual fund and IPO. The main objective of the Bonanza is to provide world-class services in a affordable price.
Complaint against Bonanza:
Usually, different traders or investors with variable mindset across India faces many problems while trading related to fund, trading software, buy or sell order, demat/trading account, fund transfer, brokerage etc. Customers used to register those complaints in the BSE and NSE. Such complaints are serious grievances against Bonanza broker which the broker has failed to resolve. This complaint data is provided by BSE and NSE which shows the health and services of Bonanza.
This complaint report also provides the total no of active customers of Bonanza as well as it shows the growth of the broker year on year.
Bonanza Consumer Complaints
Financial Year

Exchange

Active Clients

Total Complaints

Percentage

2023-21

NSE

44,291

22

0.04%

2019-20

BSE

16,269

2

0.012%

NSE

36,191

13

0.035%

2018-19

BSE

16,167

3

0.018%

NSE

37,201

15

0.04%

2017-18

BSE

25,413

12

0.05%

NSE

46,078

25

0.054%

2016-17

BSE

20,523

8

0.03%

NSE

37,127

23

0.06%

2015-16

BSE

22,017

21

0.09%

NSE

33,618

35

0.10%

2014-15

BSE

19,287

23

0.11%

NSE

34,463

47

0.13%

2013-14

BSE

2,69,983

12

0.004%

NSE

30,456

25

0.08%

2012-13

BSE

2,59,303

23

0.01%

NSE

2,40,610

62

0.03%

2011-12

BSE

2,39,245

71

0.03%

NSE

2,29,738

115

0.05%
Bonanza complaint at NSE
| | | | |
| --- | --- | --- | --- |
| Entity | 2023-21 | 2019-20 | 2018-19 |
| Defaulter | No | No | No |
| Number of active clients | 44,291 | 36,191 | 37,201 |
| Number of complaints received | 22 | 13 | 15 |
| Resolved through the exchange | 20 | 10 | 14 |
| Non-actionable | 2 | 1 | 0 |
| Advised/Opted for arbitration | 0 | 0 | 0 |
| Pending for redressal with exchange | 0 | 2 | 1 |
| %of complaints against active customers | 0.04% | 0.04% | 0.04% |
Bonanza Complaint at BSE
| | | | |
| --- | --- | --- | --- |
| Entity | 2019-20 | 2018-19 | 2017-18 |
| Defaulter | No | No | No |
| Number of active clients | 16,269 | 16,167 | 25413 |
| Number of complaints received | 2 | 3 | 12 |
| Resolved through the exchange | 2 | 3 | 12 |
| Non-actionable | 0 | 0 | 0 |
| Advised/Opted for arbitration | 0 | 0 | 0 |
| Pending for redressal with exchange | 0 | 0 | 0 |
| %of complaints against active customers | 0.01% | 0.01% | 0.05% |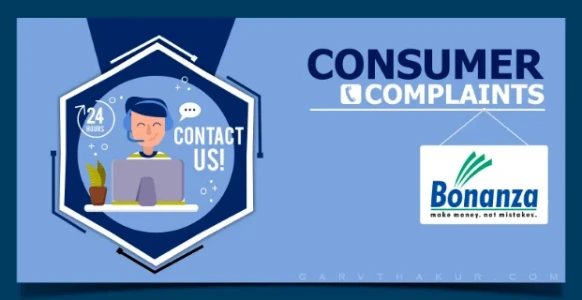 Comments for Bonanza Consumer Complaints 2023 | Details, Enquiry, NSE/BSE,
Frequently Asked Questions
---