Bonanza Margin/Exposure Limit for Intraday and Futures, Details 2023
Bonanza Margin/Exposure Limit for Intraday and Futures
Bonanza is a very popular & trustworthy name of share market, incorporated on 1994 as a financial service provider and became one of the best full-service brokers of India. Bonanza is a brokerage house which is equipped with all the modern features and technology required to trade in share market. Bonanza facilitate you to invest in national stock exchanges NSE, BSE, MCX, MSEI, NCDEX, NMCE and ICEX. Bonanza is one of the trader's favourite broker because of its brokerage as it charges @flat Rs.18 per executed order for all the segments. As a depositary member of both CDSL and NSDL Bonanza provide the flexibility to their clients to choose any national exchanges. Bonanza charges Rs.0 on opening of demat and trading account in its platform. Bonanza aims to be the most trusted and globally reputed financial distribution company. It is known for its customer-centric approach, transparency and solidarity. Bonanza provide many financial services such as equity broking, advisory services, Portfolio Management Services (PMS), mutual fund and IPO.
Bonanza has 1784 outlets in more than 560 cities across India. Bonanza is well-known for attractive leverage and exposure facility through which you can buy unaffordable shares. It offers free trading software;
Bonanza has been rewarded by BSE as 'Major Volume Driver' (2004-05, 2006-07, 2007-08), top performer in equity segment (Retail) in 2012, 2nd in terms of a number of offices for the year 2012-13.
What is Margin?
Margin is the facility through which you can buy stocks that you can't afford. It is the difference between the loan amount of the broker and the total value of securities held in an investor's account. In this way, any investor can increase their possible returns on investment by investing more than you can afford. This is a type of loan used to buy investment, share or any security. Margin refers as debt or borrowed money and leverage is the act of taking on debt and in the practice of buying on margin, broker acts as a lender and securities in the trader's account acts as collateral. Bonanza margin facility allows you to trade many times over the fund available in your account.
Bonanza Margin:
| | |
| --- | --- |
| Segment | Trading Margin |
| Equity Delivery | 1x (100% of trade value) |
| Equity Intraday | 5x (Up to 20% of trade value) |
| Equity F&O | 1x (100% of NRML margin (Span + Exposure)) |
| Currency F&O | 1x (100% of NRML margin (Span + Exposure)) |
| Commodity F&O | 1x (100% of NRML margin (Span + Exposure)) |
Bonanza Margin Calculator:
Margin and leverage facility are quite beneficial while we invest in share market. Bonanza has margin calculator tool inbuilt in its platform. With the help of margin calculator, you can calculate available margin based on product type (MIS/BO/CO) in different segment (Intraday/F&O/derivative/ currency/commodity). This online tool is very much beneficial for traders.
Advantages & Disadvantages of Bonanza Margin:
• Up to 10 times leverage on equity intraday trades.
• Hassle-free, simple and easy to use margin calculator.
• Advisory and research services for clients.
• Leverage facility in every segment.
• 100% transparent policy without any hidden charges.
• 3-in-1 account is not available.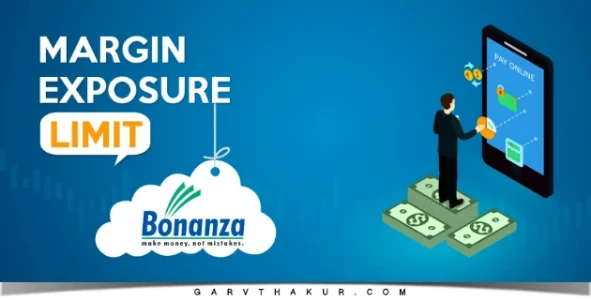 Comments for Bonanza Margin/Exposure Limit for Intraday and Futures, Details 2023
Frequently Asked Questions
---