Bonanza NRI Account Opening 2023 | Charges, Details, Services Review
Bonanza NRI Account Opening, Charges, Services Review
Bonanza is not just a global reputed stock broker but also it is a brilliant idea whose motive is to bring an unmatched trading experience for you. Bonanza is an old brand of the brokerage industry of India, operational since 1994 as a financial service provider and now known as a full-service broker of India. Bonanza is one of the trader's favourite broker because of its low brokerage of flat Rs.18 per executed order. Bonanza offers free demat and trading account opening facility so that clients can trade in various segments such as equity, derivative, currency, commodity, mutual funds and IPO. Bonanza is a proud member of NSE, BSE, MCX, MSEI, NCDEX, NMCE and ICEX. It is a SEBI registered broker and depository participant of CDSL and NSDL. Bonanza facilitates you to choose between both national exchanges.
As a prominent brand in the field of stock market, Bonanza is the one stop solution of all your investment and trading needs. Day by day, Bonanza is enhancing their services & branches as of now it has their presence in 560+ cities, 1700+ franchisees with active client base of 35000+ clients. Bonanza is well-known for its world-class services and offers financial services to NRIs across the world. Any NRI having required documents can trade in stock market by using this platform. Bonanza offers free trading software and tools to every client around the world. Bonanza offers margin/exposure for almost all the segments as leverage up to 10x leverage for equity intraday trading in more than 500 stocks.
Bonanza NRI Account:
Bonanza is a worldwide platform offers investment services to NRIs residing across the globe. Bonanza Portfolio Limited provide the facility of online trading to NRIs so that NRIs customers can feel at home while taking investment decisions. Bonanza products and offering are as follows:
• E-broking – It provides the facility of online trading to NRIs to trade in Indian stock market
• Portfolio Management Services – It has a well-managed, efficient research desk offering Portfolio Management Services.
• PIS certificate – PIS certificate is required to trade in Indian share market and Bonanza NRI desk will help you to get PIS certificate.
• Advisory & Research Services – Bonanza offers free advisory & research services to all its clients.
• 24/7 customer service – Bonanza is very much dedicated to provide world-class services and any investor can contact at any time for any type of query related to share market.
• Lowest Brokerage – It is known for its low brokerage rates in the brokerage industry.
• Mutual funds / IPO / Bond – Any NRI can invest in mutual fund, IPO and bond via Bonanza.
Bonanza NRI Account Charges:
Transaction

Charges

NRI Account Opening + NRI Account AMC

1 cheque of Rs 999 required for lifetime DP charges (including AMC & account opening).

OR

1 cheque of Rs.400 for account opening & additional Rs 280.80 as AMC per annum.

Equity Delivery Brokerage

NA

Equity Future Brokerage

NA

Equity Option Brokerage

NA
Documents required to open an NRI account on Bonanza:
An NRI should have following documents to attach with the application form. Application form is available in the official website of Bonanza.
1. 3 copies of passport along with VISA page and address page (Passport & VISA should not expire within 6 months).
3. 4 passport size photographs.
4. PIS Permission letter issued by the bank.
5. 3 copies of OCI card / PIO card ( required if the NRI holds a foreign passport with the place of birth being outside India).
6. 1 cancelled cheque of the NRI (NRE/NRO) savings account (name printed on it). You can open NRI saving account with axis bank.
7. 3 copies of foreign address proof (Driving license / Foreign passport / utility bills / Bank statement (not more than 2 months old) / Notarized copy of rent agreement / Leave & license agreement / sale deed).
8. 3 copies of Indian address proof (In case of Indian passport – Valid passport, place of birth as India, VISA – work/ student/employment/resident permit etc. and in case of foreign passport, place of birth as India in foreign passport or copy of PIO / OCI card).
9. For NRE / NRO savings bank account, visit www.axisbank.com and download the form and need to issue 1 cheque of Rs.20000 Axis Bank account opening [Client name (Axis Bank) name printed cheque].
Note:

All the above documents should be in A4 size paper and need to be self-attested. All the documents (except the cheque) should be attested or verified by the Indian embassy/consulate or notarised, court, magistrate, judge or attested by the local banker. Only NRO clients can trade in Futures & Options along with additional documents.
Bonanza NRI Account Opening Process:
After getting NRI Savings Bank Account with Axis bank and PIS permission letter, you can open NRI Account on Bonanza by following given below steps:
• If you are in India then visit the branch to open a Trading and demat account and if you are not in India then you need to contact customer care of Bonanza and a representative will provide account opening form in your mail-id.
• Fill the application form along with personal and banking details.
• Attach all the self-attested above-mentioned document along with application form and cheque and courier it to broker's registered office as address is already in the application form.
• After receiving your form and documents, you need to go through In-Person verification (IPV) with a representative of Bonanza as arranged by the company.
• If IPV is not possible, then verification will be completed with Indian Embassy/Consulate General/Judge/Notary Public/Magistrate of the residing country/Local Banker/Any Court of Law.
Bonanza NRI Trading Software:
Bonanza offers free trading software to NRIs investors.
1. Bonanza Netnetlite – Browser-based application
2. Bonanza Mobile wave – Smartphone-based application available for download in the Google play store & App store.
3. Bonanza ODIN Diet – Trading terminal available for download in the "Download" section of the official website.
Bonanza NRI Desk (Post your documents at):
Bonanza Portfolio Limited
Bonanza House, Plot no. M-2,
Cama Industrial Estate, Walbhat Road,
Goregaon (East), Mumbai, India - 400063
Phone no.- +91 022-68363775 / 739 / 708
Email id-

customercare@bonanzaonline.com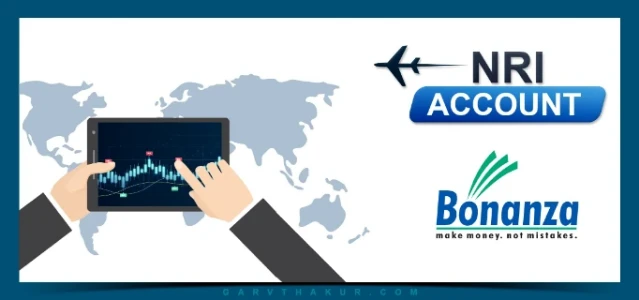 Comments for Bonanza NRI Account Opening 2023 | Charges, Details, Services Review
Frequently Asked Questions
---