ICICI Direct Review | Demat Account, Brokerage Charges
ICICI Direct Review | Brokerage Charges, Account Opening
With ICICIdirect, you can access retail trading and investment services from India's largest and most trusted stock broker, ICICI securities. It offers customers diverse online trading and investment services through its ICICIdirect platform.
ICICI Securities is part of the ICICI Group, one of India's top financial services providers, offering several banking and other services. It was incorporated on 9 March, 1995 as ICICI Brokerage Services. Under its new ICICIdirect Neo trading Brokerage Plan, the company offers a zero-brokerage plan, affordable derivatives trading including options, futures, currencies and commodities, and a 3-in-1 online trading, demat and bank account.
ICICIdirect equips its customers with complete investment products such as online equity trading, derivatives trading, Mutual Fund & IPO, Fixed Deposits, Bonds, NCDs, Wealth products, Home Loans, Loan Against Securities etc., all under a single login. It is among the most visited investment portals in the country.
The company also provides its customers with a Markets App & Money App. Markets App is one of the best share trading app, which is the in-house trading app so customers and investors can embark on their trading journey from their smartphones. It comes equipped with superior features and analytical tools that can enhance their trading experience. Money App allows you to invest in Mutual Funds, SIP, Tax Saving Schemes & other Investment Baskets from your mobile
ICICI Account Opening
ICICIdirect provides the facility of opening an integrated 3-in-1 account to trade in various segments. You can open a demat account online at the ICICIdirect website. If the customer holds a demat or bank account with ICICI Bank, they can all be linked into an integrated account. Customers are not allowed to link other bank or demat accounts with the ICICI Trading Account, making it compulsory to open the 3-in-1 account if they want to trade via ICICIdirect.
ICICIdirect Brokerage Plans
A customer pays a commission or brokerage when they buy or sell securities through ICICIdirect, which offers several brokerage plans suited to the individual's needs.
The brokerage plans for ICICIdirect are listed below:
1. ICICIdirect Prime Plan (With Buy Now Pay Later Scheme)
2. Lifetime Prepaid (Advance Brokerage Plan)
3. ICICIdirect Neo (Zero Brokerage Plan)
ICICI Trading Software
ICICIdirect provides its customers with the best services in the market. It equips them with various trading platforms to make their trading experience smooth and effective.
Some of the trading software are listed below:
1. www.ICICIdirect.com (Website)
2. Trade Racer (Trading Terminal)
3. ICICI Direct Mobile App, ICICI direct Market App & Money App
Advantages of ICICIdirect
1. It makes trading easy for its customers by providing an integrated 3-in-1 account i.e. banking, broking and free demat account opening.
2. ICICIdirect manages the customers' demat and bank accounts by transferring the money to the broker's pool or towards deposits.
3. Investments in online IPOs, Mutual Funds, GOI Funds and postal savings schemes can all be made from one website. 40+ products across savings and investing/loans and borrowings/ insurance and protection
4. It has multiple brokerage plans that give customers a choice to choose the best one for them.
5. It offers customers a One-Click investment portfolios in stocks, ETFs & mutual funds where customers can invest in top-performing products with just a single click handpicked by their research, which are curated through extensive analysis
6. ICICIdirect offers customers a Buy Now Pay Later scheme where customers can place orders today and pay within 365 days using margin trading.
7. It provides personalized portfolio monitoring and alters through i-lens, i-Alert and i-track.
8. It allows trading at both the national exchanges i.e. NSE and BSE.
9. ICICIdirect offers eATM option where a customer can receive instant payout of funds, within 5 minutes of placing their cash sale transaction.
10. It provides customers with investment ideas from its award-winning research team.
11. The low bandwidth website is available for the slow internet connection or trading from various mobile devices.
12. By placing the VTC feature i.e. Valid till Cancelled, customers can place buy or sell limit orders that remain valid for 45 days.
13. Make the most of Investonomics & knowledge centre by ICICIdirect to learn all about investing in Markets and growing your wealth
Disadvantages of ICICIdirect
1. The brokerage of ICICIdirect is not negotiable. The brokerage can be brought down simply by subscribing to the ICICIdirect prime or neo brokerage plans.
2. The minimum brokerage as the standard I-Secure plan is ₹35 per trade that is high for the traders making small trades.
3. ICICIdirect provides ₹0.05 per share brokerage on the stocks quoting up to ₹10. It becomes difficult to trade in penny stocks.
4. ICICI Direct charges ₹25 per call for the call and trader after the first 20 free calls in a month.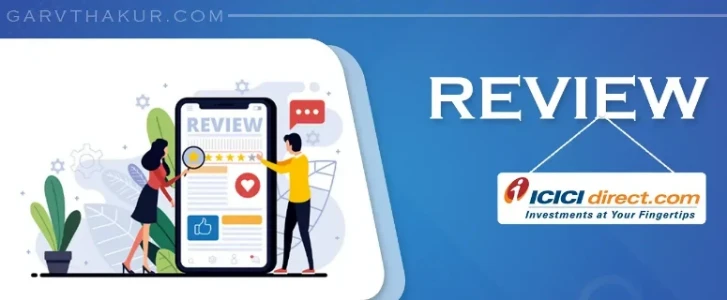 Comments for ICICI Direct Review | Demat Account, Brokerage Charges
Frequently Asked Question
Compare ICICI Direct with Top Brokers In India