ICICI Direct Online Account |Process, Forms, Fees, and Details
ICICI Direct Online Account Open Process, Forms and Fees
ICICI Direct is a full-service broker that avails its customer for retail trading and investment service from ICICI securities that is the famous and largest stock broker in India. It was incorporated on 9 March, 1995 as ICICI Brokerage Services. The company offers a broad range of investment options to the retail and institutional customers.
The ICICI Securities is part of ICICI Group, the India's top financial service provider offers several banking and other financial services. It offers various online trading and investment services to customers on major level through the ICICI direct platform.
ICICI Direct avails their custo
mers by providing a complete set of investment products such as online equity trading, derivatives trading, Mutual Fund & IPO, Fixed Deposit, Bonds, NCDs, Wealth products, Home Loans, Loan Against Securities etc, all of it under one ICICI Direct login. It is among the most visited investment portals in India.
ICICI Direct allows the customers to open three-in-one account with them. If a customer holds a demat or bank account already, then they can link their three-in-one account. Remember that it is mandatory to open all the three accounts with ICICI. The customers are not allowed to link their bank account or demat account with ICICI trading account.
Once a trading account is opened with ICICI Direct. They can invest in segments such as Equity, IPO, Mutual Funds, Derivative Products, Systematic Investment Plan (SIP), Fixed Deposits, NCDs, etc.
Note:

A minimal Balance of ₹5000 has to be maintained in the ICICI Bank Savings Account linked with the three-in-one account.
ICICI Direct Opening Account Procedure
To open an account with the ICICI Direct, then one must follow the following steps:
1. The customers can directly visit the ICICI Bank Branch in the city to fill the application for opening an account. It has the broad network of the branches across India. On a major level, the branches of ICICI Bank provides three in one account opening. It is the easiest and the quickest way to open an account with ICICI Direct.
2. It provides an online registration form on the ICICI Direct website. The customers can simply choose an "Apply Online- Resident Account". One needs to simply fill an application form and then submit it. A bank representative will then contact you within the two working days in order to complete the other bank account formalities.
Note:

It take two to three days for a three in one account to get opened and once the forms are submitted along with the documents then it may take up to 7 working days.
ICICI Direct Account Opening Charges
Transaction

Charges

Trading Account Opening Charges

₹0

Account Maintenance Charges (AMC)

₹0

Demat Account Opening Charges

₹0

Demat AMC (2nd Yearly) First Year Free

Statement through e-mail: Rs. 500
Physical statement: Rs. 600
ICICI Direct is the biggest full-service stock broker that offers research and support at the branches. It offers the three-in-one account facility to the most popular offering. It helps in making investment in the stock market easy. The website of ICICI Direct offers broad range of investment and trading options.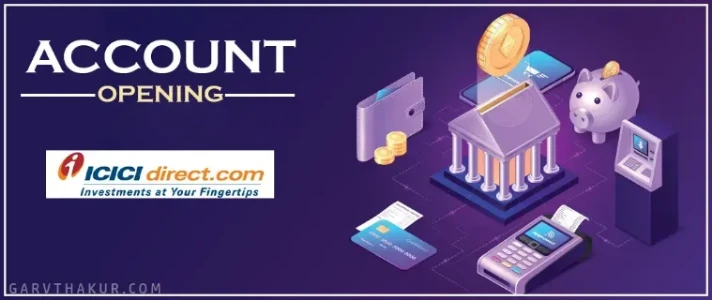 Comments for ICICI Direct Online Account |Process, Forms, Fees, and Details
Frequently Asked Questions
---