ICICI Direct Demat Account 2023 | Opening, Charges and Procedure
ICICI Direct Demat Account Opening, Charges and Procedure
ICICI Direct is a full-service broker that avails its customer various services for retail trading and investment service from ICICI securities. ICICI Securities are the most famous and largest stock broker in India. It was incorporated on 9 March, 1995 as ICICI Brokerage Services. The company offers a broad range of investment options to the retail and institutional customers.
The ICICI Securities is a part of ICICI Group, which is the India's top financial service provider offers several banking and other financial services. It offers various online trading and investment services to customers on major level through the ICICI direct platform.
ICICI Direct faccilitates their customers by providing a complete set of investment products such as online equity trading, derivatives trading, Mutual Fund & IPO, Fixed Deposit, Bonds, NCDs, Wealth products, Home Loans, Loan Against Securities etc, all of it under one login. It is one of the most visited investment portals in India.
ICICI direct provides the facility of opening an integrated 3 in 1 account to trade in various segments. In case the customer holds a demat or bank account with ICICI Bank than it can be linked to make the integrated account. It is compulsory to open all the three accounts with them open icici direct account. The customers are not allowed to link other bank or demat account with the ICICI Trading Account.
Features of ICICI Demat Account
ICICI Direct offers various unique facilities to its demat account customers that includes:
1. Free ICICI Demat Account opening- ICICI Direct charges a zero demat account opening fees. The annual charges charged will the zero for the first year.
2. It helps in earning 3.5% Interest- ICICI Direct demat account users can earn up to 3.5% interest on the money lying idle in their trading accounts.
3. It provides free brokerage up to ₹20,000 i.e. the customers can trade up to ₹44 lakhs at zero brokerage costs. The limit of free brokerage depends on the value of the account opening cheque.
Account Opening Cheque

50k – 99.99k

1lakh – 4.99 lakhs

5 lakhs – 9.99 lakhs

10 lakhs – 24.99 lakhs

Less than or equal to 25 lakhs

Bonus Brokerage

1,000

4,000

6,500

14,000

20,000

4. Equity ATM or eATM – Normally, the cash proceeds on selling the shares that are credited to the customer's trading account in T+2 days where T belongs to the day of trade. The customers can receive the money up to ₹50,000 per day within the 30 minutes of the execution of the order. This facility is available on the sale of more than 600 BSE Stocks free.
There are various other features of the ICICI Demat Account such as:
1. It offers a complete 100% online demat account.
2. It provides an electronic statement each month.
3. It provides dividend, interest and bonus deposited directly in the account.
4. It facilitates the customers by sending SMS alerts for each demat transactions.
5. It provides the best customer service that is available through the ICICI Bank branches.
7. It provides various advisory services that cover more than 200 companies across various sectors.
ICICI Demat Account Opening Charges
Holding a demat account is a compulsion, if an individual is looking forward to trade in the Indian Share Market. A customer is required to pay the demat account opening charges. Some brokers also charge an Annual Maintenance charges (AMC) i.e. a yearly fee to maintain the demat account.
Service

Charges

Demat Account Opening Fee

₹0

Demat AMC charges (First Year Free)

Statement through e-mail: Rs. 500
Physical statement: Rs. 600
There are various other charges that are charged for the Resident Retail customers. The charges are explained in the detail below:
Sr

Particulars

Charges

1

Account Opening Charges

Nil

2

Annual Service Charges (AMC)

Statement through e-mail: Rs. 500
Physical statement: Rs. 600 (from 2nd year)

3

Buy Market and Off-Market

Nil

4

Sell - Market and Off-Market

(Maximum ₹500 for debt instruments / Nil for Trades done on www.icicidirect.com)

* Instruction submitted through Internet (E-inst / IVR)

0.04% (Minimum ₹30 and Maximum ₹25,000)

* Instruction submitted through Call Centre

0.04% (Minimum ₹35 and Maximum ₹25,000)

* Instruction submitted at Branches

0.04% (Minimum ₹40 and Maximum ₹25,000)

5

Rejection/fails

₹30

6

Extra charges for the processing of TIFDs submitted late (% of transaction value)

* Instruction submitted through Internet (Einst/IVR)

Nil

* Instruction submitted through Call Centre

Nil

* Instruction submitted at branches (accepted at Client's risk)

₹10 per ISIN
(Nil for e-instructions)

7

Dematerialization

* Each request form

₹50

* Extra for each certificate

₹3

8

Rematerialisation

Charge of ₹25 for every hundred securities or part thereof, subject to a maximum fee of ₹3,00,000 or a flat fee of ₹25 per certificate, whichever is more.

9

Reconversion of MF units

₹25 per instruction

10

Closure of Account

Nil

11

Pledge Creation/Closure/Confirmation/ Invocation

* If, ICICI Bank is counterparty

0.02% (Minimum of ₹35 and Maximum of ₹25,000)

* If, ICICI Bank is not counterparty

0.04% (Minimum of ₹45 and Maximum of ₹25,000)

12

Additional Account Statements

₹20

13

Reissuance of Delivery Instruction Slip (DIS)

₹50 per booklet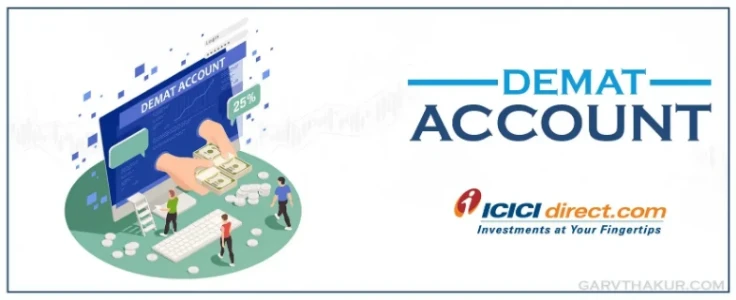 Comments for ICICI Direct Demat Account 2023 | Opening, Charges and Procedure
Frequently Asked Questions
---