Fyers Review 2023 | Demat Account Opening, Brokerage Charges, Margin
FYERS Review 2023 | Brokerage Charges, Account Opening
FYERS Securities is a Bangalore based discount broker, offering trade in Equity cash, F&O and Currency Derivatives segments at NSE, BSE and MCX. Being incorporated in 2015, the firm focuses on providing services at low brokerage rates. In fact, FYERS is an acronym of "Focus Your Energy & Reform the Self" which reflects the values of the company. This organization is built by young entrepreneurs with a belief of providing the best trading platform with lowest possible cost of trading in India. FYERS Broker Review is highly appreciable among users.
FYERS is providing a fresh and technically sound online platform free of cost, along with relatively inexpensive costs. Though the visuals and functions might look similar, this terminal is way better in comparison to other terminals in terms of stock testing. A 100% free trading platform with zero account opening charges makes clients to just open get their Demat account opened and start trading.
FYERS Brokerage Details
FYERS Review update as per Stock exchanges shows simple pricing model by FYERS offers trade among different segments for a standard brokerage fee of maximum ₹20 per executed order irrespective of the size of order. There are no brokerage fees charged by FYERS in the Equity Delivery segment. FYERS account review including FYERS demat review and FYERS account opening review.
It offers other services like in-house build web trading platform, installable desktop trading terminal and mobile trading app, are provided free to the customers. It offers free FYERS API and FYERS API review is also satisfactory among traders. The broker moved to a free investment zone in 2018, by offering Free Equity Delivery trades.
FYERS Thematic Investing Review
A new way of investment in stocks has been introduced by FYERS called "Thematic Investing" which is all about investing in ideas. Money is invested in a group of stocks related to that idea rather than choosing individual stocks. FYERS Thematic research offers hundreds of portfolios to invest in the stock market. Exchange Traded Funds (ETF's) is the closest comparison of thematic investment. FYERS Thematic investing strategy has a little edge over ETFs as the broker or fund manager identifies the companies to invest in a theme.
Working of FYERS Thematic Investment Platform

1.
FYERS thematic investment model has sets of themes representing ideas is provided by the broker.
2. List of companies matching the theme is identified by the broker. Each theme has a number of stocks.
3. Investment is made by the investor after choosing a theme.
4. As per the proposition identified in the theme, the broker invests money in individual stocks.
Features of FYERS Thematic Investing

• Free usage of themes for FYERS customers. Only brokerage has to be paid at a regular price by the customers.
• Buying and selling of themes through a single click.
• Availability of more than 100 themes.
• Less than 20 stocks in a theme.
• Almost 1500 stocks are covered.
FYERS Mobile App Review
FYERS offer simple, elegant and reliable mobile application for excellent trading experience in Indian Stock Market in all segments. FYERS App Review is 47k Reviews and It has 2,50,000+ users in this year and FYERS rating is up to 4.2★. Users get multiple features in this app with watchlist and portfolio, trading view chart on real time pricing on web and mobile both.
FYERS Web Review and Ratings
FYERS trading review on WEB version - It offers seamless and advance activity in the web platform. In the web version you get 25+ predefined Watchlists multiple charts and Bulk square off. FYERS demat account review indicates it helps you to save the charts and place order quick and accurate time. FYERS trading platform is up to 300k+ users and Fyers customer reviews shows that they loved this platform.
FYERS 30 Days Challenge
FYERS Platform review that it has this unique product called "FYERS 30 Day Challenge" as per which if a trader is in a profitable position at the end of 30 days period, then they will be eligible to get complete return of the brokerage he paid during that period. Earlier the challenge was available only on BSE and NSE but recently, FYERS securities incorporated MCX as well under FYERS 30 days challenge. In addition, they have a FYERS refer and earn program where traders can earn 20% of brokerage generated by clients referred by the existing customers.
Advantages of FYERS
There are several benefits of FYERS given below:
• Free equity delivery trading is offered by FYERS which means they don't charge any brokerage for cash and carry trades.
• The FYERS brokerage rate is ultra-low. Flat ₹20 per trade brokerage is charged across all the trading segments without considering the size of the trade.
• Quick implementation of new features and services through in-house build trading platform.
• Fyers Referral plan helps to earn 20% of the revenue generated by the referred friend for life time.
• Investment opportunities in group of stocks through Thematic Investing.
• Transparency in fee charging i.e., there are no hidden charges.
• Availability of trading software's that too completely free.
Disadvantages of FYERS
• Higher exchange transaction charges in comparison to other discount brokers.
• Lack of professional team for market analysis.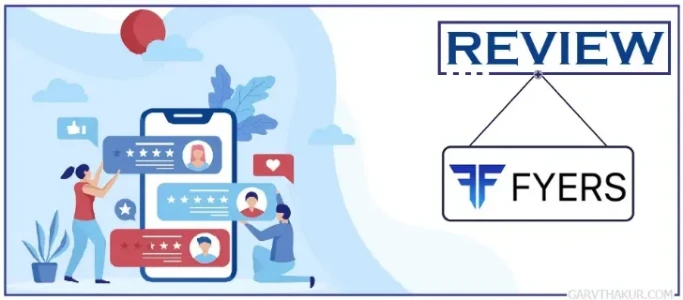 Comments for Fyers Review 2023 | Demat Account Opening, Brokerage Charges, Margin
Frequently Asked Question
Compare Fyers with Top Brokers In India