FYERS Research Reports | Features, Functions, Charges and Detail
Fyers Research Reports Review
FYERS has strived to bring in and unlock values by providing its customers numerous products and services. The innovations have ranged from the incremental upgrades to disruptive offerings across a wide range such as data analytics, real screeners, algo trading, Trading APIs and API Bridge to name a few. FYERS has tied up with the MarketSmith India in order to support the investors by providing them high quality research reports.
The stock market participants have increased by leaps and bounds as they are owing to increased economic activity and are aided by wider dissemination of financial information. It has grown exponentially in the trading and investment activities that are prompting the needs for advanced, credible and qualitative data on listed companies. As the process of investing itself has undergone various changes, the high quality fundamental and technical research has lagged to some extent. Fyers research reports summary and Fyers research reports guide are explained below.
MarketSmith Offerings and Services for FYERS Clients
The MarketSmith India is introduced and designed in order to make sure easy navigation to the customers, that ranges from a novice toa seasoned investor and utilize the available services to their complete potential. MarketSmith provides this one stop solution for stock recommendation, stock research and as an educational tool whereas other companies provide only stock recommendations.
The customers get access to premium features such as proprietary ratings and ranks of each stock, buy and sell zones, auto pattern recognition systems, RS line blue dot, Guru screens, trend templates, MarketSmith research reports ideas lists and evaluation tools. It provides assistance to the users in identifying winning stocks through proprietary ratings, rankings, fundamental and technical analysis.
It is important to separate the noise and avoid loosely available information that is shared in bits or pieces. In today's world to invest, an investor needs concise information that supports efficient decision-making regarding investments. MarketSmith research reports helps in providing the qualitative finance market research reports as they provide in depth analysis of the Indian Stock Market both from the fundamental and technical standpoints. All of these are available for Fyers users as fyers research reports community.
Fyers Research Reports Charges and Plans
Marketsmith research reports free and Fyers research reports free are not available. Yet, MarketSmith India offers affordable Fyers research reports pricing to the FYERS clients. There are two FYERS research reports subscription price and you can chose any of them.
FYERS Research Reports Subscription Plans
• Fyers Research Report Quarterly Plan: ₹2000 + GST.
• Fyers Research Report Annual Plan: ₹5000 + GST.
FYERS Research Reports Benefits
The MarketSmith India provides various types of research reports. Check features of FYERS Research Reports and Types of MarketSmith research reports below:
1. Special Reports: Such reports are catered to Industry analysis with the views on the current market trends that are published almost every week.
2. Pre-market Commentaries: It provides a daily morning pre-session commentary on the prevalent market direction, technical view on NIFTY 50 and other selected stocks.
3. Daily Big Picture: This MarketSmith research reports group contains a market research daily reports of various sectors and major indices at the end of each day.
4. Weekly Big Picture: The premium members receive weekly evaluation on the performance of model portfolio lists versus the market and all other expectancies of the upcoming week.
5. Learning Articles: These articles help the investors in understanding the major events, frequently based market terminologies. It also helps the investors in knowing what all decisions they should take while investing in the marketing. These are published every weekend.
6. Top Stocks Book (Model Book): It is an annual publication that contains MarketSmith research reports and stocks highlights the best 30 growth stocks of the last financial year.
The CANSLIM investing methodology that lies at the very core of all stock recommendations supports technical and fundamental analysis. The first three letters stand for Current Earnings, Annual Earnings, and the new factor helps in the technical analysis. The next three letters stand for Supply & Demand, Leader or Laggard, Institutional Sponsorship and Market Directions helps in the Support fundamental analysis.
The Proprietary ratings and rankings are used to examine the performance of 4000+ Indian stocks named as-
1. EPS Strength- This stand out stock needs a sound growth record in the recent years and a strong current earning record in the last several periods.
2. Price Strength- The investors ideology is to buy what is down and to sell what is up. The best stocks are the superior price movers even before their big moves. Their research helps in identifying the stocks with the price leadership.
3. Buyer Demand- MarketSmith distribution rating is a quick way to keep the track of the end results that are based on daily price and the volume changes. If the stock is under accumulation i.e. professional buying or distribution i.e. professional selling then the stocks are rated on an A to E scale, with A being the best.
4. Group Rank- This indicates the strength of the stock's industry group. The majority of the leading stocks are mostly high in the leading industry groups. The MarketSmith India studies shows that on a rough basis half of the stock's movement is driven by the strength of its respective group.
Open Your Demat Account with Fyers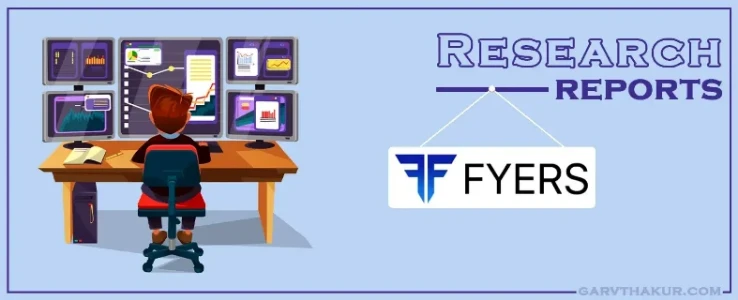 Comments for FYERS Research Reports | Features, Functions, Charges and Detail
Frequently Asked Questions
---