FYERS NRI Account Details | Documents, Charges, Services
FYERS NRI Account Review | Charges, Services and Details
Fyers Securities is a Bangalore based discount broker, offering trade in Equity cash, F&O and Currency Derivatives segments at NSE, BSE and MCX. Being incorporated in 2015, the firm focuses on providing services at l
ow brokerage rates. Anyone including NRIs can easily open an account in Fyers and avail the services offered by them. Fyers NRI account in India provides one of the best account for NRI services. Fyers NRI account free opening facility in available at Fyers.
Fyers NRI Account Charges
| | |
| --- | --- |
| Fyers NRI account opening Charges | ₹0 (Free) |
| Fyers NRI account AMC | ₹0 (Free) |
Fyers NRI Account Brokerage Charges
| | | | |
| --- | --- | --- | --- |
| Segment | NRE | NRO | NRO Non-PIS |
| Equity Delivery | 0.5% or ₹200 per executed order (Whichever is lower) | 0.5% or ₹200 per executed order (Whichever is lower) | 0.5% or ₹100 per executed order (Whichever is lower) |
| F&O | N/A | N/A | ₹100 per executed order |
With Fyers NRI account NRE and Fyers NRI account NRO, an NRI is allowed to invest in Equity segment only while Fyers NRO account holders (non-PIS) is allowed to invest in both Equity and F&O segment. Fyers NRI account details is given below.
Segments Allowed for NRI Trading in Fyers
• An NRI can purchase securities by subscribing to the public issue.
• NRIs cannot take intraday transactions in cash segment.
• NRIs are allowed to invest in futures & options (F&O) segment of the exchange out of Rupee funds held in India on non-repatriation basis, subject to the limits prescribed by SEBI.
• NRIs cannot trade in Currency derivative segment.
Fyers NRI Account Explanation
Fyers Offers 2 in 1 account to NRIs i.e., Fyers NRI trading account + Fyers NRI demat account. Fyers NRI account opening procedure is simpler and provides one of the best NRI account India. At Fyers, one can easily open NRI account India. Fyers NRI account getting good reviews from customers. To trade in Indian Stock Markets, there are some Fyers NRI account Requirements which must be fulfilled
• A saving Bank account in India.
An NRI should open a savings bank account in India before opening a Fyers NRI account. Savings account for NRI in India has an option of open a Non-Resident Rupee (NRE) account or a Non-Resident Ordinary Rupee (NRO) account. These are the two NRI account types in India. An NRO account can be opened by a Person of Indian Origin (PIO) and an overseas citizen of India (OCI).
Another Fyers NRI account eligibility is a PIS (Portfolio Investment Scheme) letter from RBI (Reserve Bank of India). The bank where you have opened an NRI/NRO account will help you to obtain a PIS permission letter after providing a certain set of documents for Fyers NRI account and list of those documents will be provided by your NRI/NRO account's bank.
Difference between NRE & NRO account
1. Repatriation: NRE account holder may repatriate all the funds along with the interest earned at any point of time without
paying taxes on NRE accounts in India on the interest
amount
. Any NRI can open an NRE account. In case of NRO account holders, they can repatriate up to $1 million per year including principle & interest.
2. Tax Treatment: An NRE account is Tax free (no Income tax, wealth tax and gift tax) in India. While the interest earned and credit balances in NRO account are subject to respective income tax bracket and are also subject to applicable wealth and gift tax.
3. Joint Holding: NRE account can be jointly held with another NRI only. While NRO account can be held with NRI as well as Indian resident.
Fyers NRI Account Documents Required
List of Fyers NRI account opening documents is given below:
1. In case of Indian passport
Valid passport, Place of birth as India
2. In case of Valid Visa
Work/Student/employment/resident permit etc.
3. In case of foreign passport
Valid passport or Place of Birth as India in foreign passport and copy of PIO /OCI Card
4. Overseas address proof
Copy of Driving License/Foreign Passport/Utility Bills/Latest Bank Statements/Notarized copy of rent agreement/Leave & License agreement/ Sale Deed
5. Copy of PIS Permission Letter from the respective designated bank
6. Copy of PAN card
7. Indian address proof (If any)
8. Passport size photographs
9. Proof of Bank account (a canceled cheque leaf of NRE/NRO savings bank account)
Fyers NRI Account Opening Process
There are two ways via which one can open Fyers NRI account i.e., Fyers NRI account opening online and Fyers NRI account opening offline. Fyers NRI account registration form for both online and offline account opening is available on the official website of Fyers. Fyers NRI account power of attorney form is available in Fyers NRI account opening form. Fyers NRI account online opening is recommended to you as it is simpler and easier than Fyers NRI account offline opening procedure.
Fyers NRI Online Account Opening Procedure
1. Visit the official website of FYERS.
2. Click on NRI account opening.
3. Fill the Fyers NRI demat account opening form. Entering all the required details.
4. Enter all the required details and submit.
5. You will receive a callback from the Fyers team for further assistance in NRI account opening.
Fyers NRI Offine Account Opening Procedure
1. Visit the official website of FYERS.
2. Scroll down and click on "downloads".
3. Click on NRI and download the required Fyers NRI account opening form.
4. Take its printout and fill the form properly.
5. Send the duly signed Fyers NRI account application form along with self-attested copies of required documents to the below address.
Fyers Securities Pvt. Ltd.
Bangalore, Karnataka – 560032
Fyers NRI Account Rules/ Fyers NRI Account Guidelines
1. Stock holding of an NRI can't exceed 10% in any of the Indian listed company.
2. 15% on any gain made on stocks sold before 1 year is considered as Short-term capital gains.
3. Any long term gains out of stocks, if held for more than a year are totally exempt for taxes.
4. If anyone wish to map both NRE/NRO accounts with the trading account, you have to take 2 client IDs with the stock broker
5. Profits made in F&O segment is considered as business income as per Income Tax department of India.
Fyers NRI Account Advantages and Disadvantages
Fyers NRI account benefits
• Zero account opening and AMC charges
• Single Fyers NRI account works for both trading and investing.
• Fyers NRI account ideas includes the access to research reports and economic calendar.
• Facility of trader profitably in equity futures & options for 30 days and get brokerage refunds.
• NRIs get access of portfolio analyzer report to get valuable insights for investments.
• Open PIS (Portfolio investment scheme) account with Fyers Banking Partners such as Yes Bank, Axis bank and HDFC bank.
• It offers one of the best NRI accounts services.
Fyers NRI account disadvantages
• It allows investing in F&O segment via Fyers NRI NRO Non-PIS account only.
• NRIs cannot invest in currency derivatives segment.
Fyers NRI Account Customer Care
Fyers NRI account opening contact number -

080-45699999
Fyers NRI account opening email ID -

support@fyers.in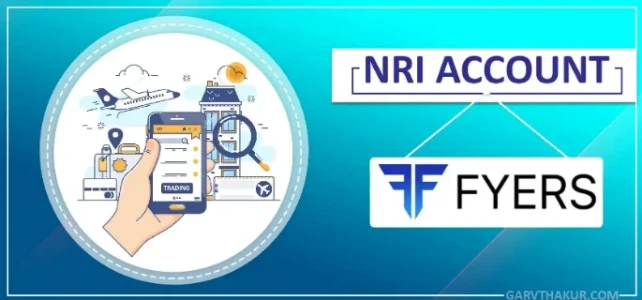 Comments for FYERS NRI Account Details | Documents, Charges, Services
Frequently Asked Questions
---