FYERS Brokerage Plan | Charges List- 2023, Taxes , STT
FYERS Brokerage Charges Review | STT and Transaction Charges
FYERS Securities Private Limited is a Bangalore based stock-broker house which was established in August 2015. The organization has created a benchmark in providing low-prices and risk management without interest related disputes. Brokerage in Fyers is also minimal, it charges 0 fee brokerage or no fee brokerages for Equity delivery, Thematic investments and normal brokerage fees @₹20 per executed order in rest of the segments are some of the key offerings by FYERS.
What is Brokerage Charge?
Whenever stocks/commodities are bought and sold, a charge is executed by the broker as commission. This commission is generally known as Brokerage charge. It charges this Fyers trading charges generally known as Fyers brokerage charges. Users can find Fyers brokerage charges calculator on the official website of Fyers.
FYERS Brokerage Charges Details
Trading and Demat account services are provided by FYERS, where customer have to pay fees, commission, Fyers trading account charges and taxes while trading. Fyers Brokerage details including Brokerage charges of Fyers and Trading commission rates & fee structure of FYERS brokerage charges list is given below:

PARTICULARS

CHARGES

Equity Delivery

₹0/-

Equity Intraday

₹20 per executed order or 0.03% (whichever is lower)

Futures (Equity, Currency, Commodity)

₹20 per executed order or 0.03% (whichever is lower)

Options (Equity, Currency, Commodity)

₹20 per executed order

Call & Trade Services

₹50 per executed order

Admin Square Off Charges

₹50 per executed order

Physical Contract Note Charges

₹20 per physical contract note + courier charges

Physical Delivery

0.2% of the contract value

Expires / Exercised / Assigned Futures & Options Contracts

Nil

Cheque Bounce Charges

Nil

Payment Gateway Charges

Nil

Annual Maintenance Charges

Nil

Credit Charges (Buy Receive)

Nil

Demat Debit Charges

₹7+ ₹5.50 (CDSL Charges)

Pledge Request

Nil

Unpledged Request

Nil

Pledge Invocation

Nil

Dematerialization Charges

Nil

Rematerialization Charges

Nil

Conversion of MF Units / Destatementisation

Nil

Reconversion of MF units in to SOA or Redemption/Restatmentisation Per SOA

Nil

Stamp Charges

₹50

Failed / Rejected Transactions

Nil

Periodic Statement

Nil charges by Email.
₹ 50 + courier charges at actuals for physical statements

Adhoc / Non-Periodic Statement Requests

Nil

Additional Delivery Instruction Book (5 leaves)

₹100 + courier charges at actuals

Modification in Client Master List (CML)

₹50

Modification in KRA / Download

₹50

Transfer of shares form Fyers demat account to other demat account

₹12.50 + GST per scrip

Transfer of shares from other Demat to Fyers

Nil
FYERS Brokerage Charges Explained
Fyers brokerage plans is already given above as there is flat brokerage charges in Fyers segment wise. Fyers brokerage charges intraday and Fyers brokerage charges for options & futures (all segments) is ₹20 per executed order. Fyers also provides NRI account services and facility, Fyers Brokerage charges NRI starts from ₹100 per executed order and so on, check detailed Fyers NRI account charges.
Fyers brokerage charges equity for Fyers delivery brokerage is zero. Fyers mutual fund brokerage charges are also zero. Fyers brokerage charges MCX and currency is also ₹20 per executed order.
Fyers Thematic Investing Charges
Fyers thematic investment is free but there is some charge levied given below:
| | |
| --- | --- |
| Buy | FREE |
| Fyers Charges for Sell/ Exit, Re-balance, Modify | ₹100 or 2% (Whichever is lower) |
FYERS Brokerage Charges STT and Transaction Charges
STT/CTT

Equity Delivery

0.10% on buy & sell

Equity Intraday

0.025% on the sell side

Equity Futures

0.01% on sell side

Equity Option

0.05% on sell side (on premium)

Currency Futures

No STT

Currency Options

No STT

MCX Futures

0.01% on the sell side

MCX Options

0.05% on the sell side

Fyers Transaction Charges

Equity Delivery

0.00325%

Equity Intraday

0.00325%

Equity Futures

0.0019% | Clearing Charges: 0.005%

Equity Option

0.053% | Clearing Charges: 0.009%

Currency Futures

0.009% | Clearing Charges: 0.0005%

Currency Options

0.04% | Clearing Charges: 0.0009%

MCX Futures

0.0026% | Clearing Charges: 0.018%

MCX Options

0.05% | Clearing Charges: 0.05%
Fyers Other Charges
• GST
18% on brokerage + transaction charges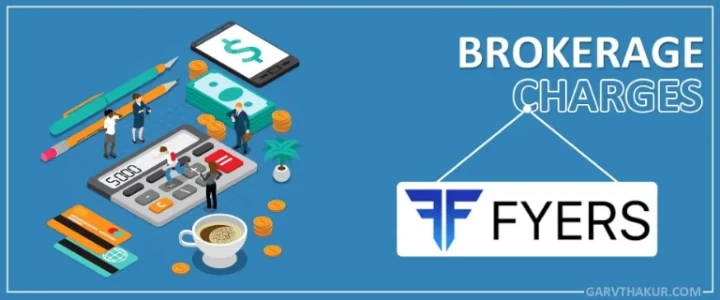 Comments for FYERS Brokerage Plan | Charges List- 2023, Taxes , STT
Frequently Asked Questions
---