Bonanza IPO Review 2023 | Charges, Details Easy Steps to Apply Online
Bonanza IPO Review - Charges, Easy Steps to Apply Online
What is the Stock market? Share market is a collective place of market & exchanges where individual & institutional investors come together for selling and buying of shares. Now, in this modern & technical world, such financial activities are happening through electronic marketplaces. Now, everything is online and share prices moves according to supply and de
mand of the shares. To invest in any national exchanges, we need a middleman known as Broker. We must choose a trustworthy broker and Bonanza is one of the popular and trusted full-service brokers of India, started giving their services since 1994. Bonanza facilitates you to invest in almost all the national exchanges such as BSE, NSE, MCX,MCX-SX and NCDEX. Bonanza is one of the oldest full-service brokers of India offers online and offline facility to open 2-in-1 account without paying any account opening charges. As a proud member of SEBI, it allows you to invest in equity, derivative, commodity, mutual funds, currency and IPO.
Bonanza offers free research & advisory services to their clients around the world as it aims to provide best customer services at affordable cost. Bonanza offers very attractive and handsome margin/exposure to their clients through which one can trade more and buy unaffordable shares. Bonanza offers many advanced trading software or platform which are accessible in mobile and desktop both. Bonanza offers online IPO services so that you can own a part of your favourite companies and in this way, you can enhance your financial assets drastically. You should have a trading or demat account on Bonanza to avail this beneficial service.
What is an IPO?
Initial Public Offering (IPO) is a process in which shares of stock of any company are sold to public for the first time and private limited company becomes a public limited company. After public offering, the company get listed in the stock market for the first time. With the help of this process, a company raises capital from the public by selling securities in the primary market to enhance business processes or to fulfill the corporate purposes. When any company issues IPO, it provides an opportunity to different asset classes of people to own a part of their favorite companies in the form of securities or shares. After public listing of IPO shares in the national exchanges, price of shares can go up or down dependent on market condition and company's performance. IPO is one of the best methods by which any company can upgrade their business processes by selling the shares of the company to institutional investors.
Categories of Investors participate in the IPO bidding:
Any type of company can issue an IPO after clearance from SEBI to fulfil the prime objective of the company. Most of the companies used to reserve different percentage of shares for the eligible employees of that company. Mainly, there are three major types of investors:
1. Retail Individual Investors (RII) – 35%reservation
2. Non-Institutional Investors (NII) – 15% reservation
3. Qualified Institutional Buyers (QIB) – 50% reservation
Benefits of Bonanza IPO
• Bonanza provides online IPO application facility.
• Bonanza does not charge any amount for IPO application.
• Tentative IPO details are available on Bonanza website.
• You need to open IPO account with Bonanza after that you can take part in IPO bidding process.
• Before investing, you can check the company's assets on Bonanza platform before investing.
• In your mobile application of Bonanza, in-built alert option is available to know about any upcoming IPO.
How to apply for an IPO through Bonanza:
Follow below steps to apply for an IPO on Bonanza platform:
1. Visit the nearest branch of Bonanza and take the application form for online IPO account opening.
2. Fill the application form and attach all the required documents to complete the KYC.
3. Enter the Bonanza demat account details in the application form.
4. After opening an account, you can apply in any IPO with Bonanza online platform.
Bonanza IPO Customer Care:
Phone Number - +91 22 30863710 / 707 / 520
Email ID –

pms@bonanzaonline.com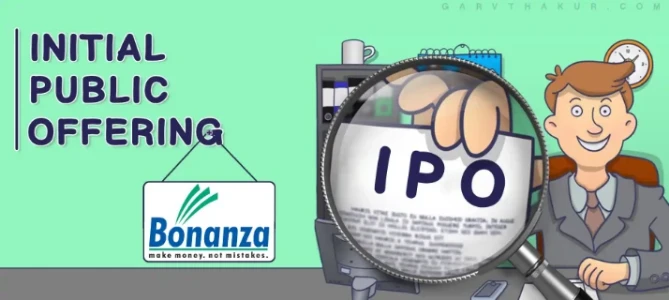 Comments for Bonanza IPO Review 2023 | Charges, Details Easy Steps to Apply Online
Frequently Asked Questions
---