Zerodha Trading Software Review - Download, Demo and Details
Zerodha Trading Software Review
With more than 30+ lakh, Zerodha is best for trading among stock brokers in India. Therefore, it offers a range of zerodha trading software and tools to its customers. Zerodha has partnered with various other companies to provide third party zerodha trading platform review of these platforms is quite easy and simple to use for all traders.
There is different zerodha trading software provided by zerodha to its customers. You can choose best trading software for zerodha according to your preferences. In this article we will read about the zerodha trading software 2023.
Zerodha trading platforms and tools that are offered by Zerodha includes:
6. Zerodha Partner Products
• Streak (Algo & Strategy Platform)
• Golden PI (Online platform for bonds and debentures)
• Black-Scholes calculator
8. Zerodha Commodity Trading Software
In this article we will provide you zerodha trading software guide, which helps beginners and as well as traders to understand zerodha in a better way.
Let's have a quick look at available zerodha software for trading.
1. Zerodha kite trading software (Zerodha Kite Website)
Zerodha kite trading software is a powerful product available for zerodha software for trading, and is a Zerodha web- based trading platform. Zerodha Kite is built in-house by the company and offers a fast and reliable trading experience to its traders.
Zerodha Kite essential features that makes it unique and more approachable for the customers.
a) zerodha kite trading software gives you a universal search instrument to search quickly across 90,000+ stocks and F&O contacts across multiple exchanges instantly.
b) Zerodha trading software guide you with real-time data widgets quotes, live ticks and order alerts and much more.
c) Zerodha kite trading software has the most advanced Charting capabilities with 100+ indicators, studies, and tools and extensive historical data.
d) Zerodha trading software app provides you a multilingual platform with the support of 11 regional languages.
e) Zerodha trading software offers multiple Order types include Limit, Market, Stop loss, AMO, Bracket and Cover orders.
f) Trading software of zerodha gives you integration with Investment apps like Smallcase and streak offered by partners of Zerodha.
g) Zerodha stock trading software has a single click fund transfer and withdrawal.
Zerodha kite 3.0 trading software (Mobile Trading App)
Zerodha kite 3.0 trading software is made with the purpose of user-friendly and thus the zerodha kite 3.0 trading software was introduced as the latest mobile trading app. This brings Zerodha's flagship trading platform on Zerodha Kite web on Android and iOS smartphones and you can easily do zerodha trading platform login. Now, the customers can easily download zerodha trading software for mobile and use it to analyse and trade.
The zerodha trading software app may offer essential trading features such as:
a) One- tap search for all stocks and contracts across all exchanges.
d) Create multiple MarketWatch.
f) Advanced Charting features with 100+ indicators and studies.
h) Various order types including AMO, BO (Bracket orders), CO (Cover Orders)
i) Fund Transfer Facility
2. Zerodha Coin (Mutual Fund Investment)
Zerodha Coin is a mutual fund investment platform that allows the customers to invest in various funds online. Investors can directly invest in mutual funds from the companies at zero commission.
Some of the key features of this Zerodha mutual fund platform includes:
a) Zerodha Coin is a free platform for mutual fund investments.
b) Zero commission is charged.
c) Mutual funds are directly credited in your Zerodha Demat Account form.
d) Single reports such as capital gain statement, P&L visualization, etc. for all your investments.
e) SIP facility, increase or decrease SIP as per your wish.
f) View and track Net Asset Value of the funds.
3. Zerodha Coin app review (zerodha coin mobile app)
Zerodha Coin mobile app is also available on mobile as an app for Zerodha customers. The Zerodha coin mobile app provides you with convenience to invest in 3000+ mutual funds from 34 fund houses directly at zero commission. Zerodha coin mobile app offers all the same features as of the web to its customers on the mobile.
4. Zerodha Console (Back-office)
Zerodha Console is the back-office platform of Zerodha. Kite zerodha console is simply a trade and reporting dashboard offering multiple features to its customers.
Zerodha Console features are as follows:
• Zerodha console gives you the facility to place withdrawal requests.
• Zerodha console monitors credits and debits in your trading account zerodha through your account statement.
• kite zerodha console views your portfolio-stock positions and mutual fund investments.
• Zerodha console provides the customer with the access to multiple reports including trade books, P&L etc.
• Download contract notes and margin statements.
• Zerodha console gives you access to analytics tools such as Trade book and P&L heatmap.
5. Zerodha Sentinel (Price Alerts Tool)
Zerodha Sentinel is a cloud-based, machine-independent tool for setting up price alerts on stock and contracts. Zerodha sentinel allows the Zerodha traders to set up the price alerts that can be triggered for any time even when your computer is off.
Zerodha sentinel features are as follows:
• Zerodha sentinel set alerts for 80,000+ instruments across exchanges.
• Sentinel zerodha api creates advanced alerts that combine multiple triggers.
• Zerodha sentinel alert are available on the customer's Google Chrome Browser, Zerodha kite web platform and via mail.
• Zerodha sentinel provides its customer the features of viewing history of all your triggered alerts.
• Zerodha sentinel app service is available for Zerodha non-clients also.
• Zerodha sentinel app gives you 30 trigger alerts based on a single data-point.
• Zerodha sentinel supports multiple types of data points including today's open, high, low, close, Volume, Percentage of Change, Open Interest, Total Bids, Total Asks. Etc.
6. Partner Products Offered by Zerodha
Zerodha has also launched its products with its partners. Some of the products which are launched are explained in detail below:
a) Zerodha Small case
Zerodha small case is a product which is simply a portfolio or collection of stocks and ETFs built around a single idea, strategy or theme. Zerodha smallcase app includes between 2 to 50 instruments. Kite zerodha smallcase allows you to invest in all the stocks that are included in a specific small case, monitor and manage it with one click. Zerodha small case can be integrated with your Kite platform and can easily be operated using your Zerodha account.
Some of the key features that Zerodha Small case provides to its customers are:
• Zerodha small case has 55+ different small cases to choose from.
• Zerodha smallcase app has 4 small cases types: Thematic, Model-based, Sector trackers and beta.
• Zerodha smallcase review: risk types including conservative, moderate and aggressive.
• Zerodha small case helps you in viewing and monitoring your investments anytime and anywhere.
• Zerodha small case gives you Systematic Investment Plan (SIP).
• There are no lock-in periods for zerodha smallcase returns unlike some mutual funds.
Zerodha small case charges
Small case zerodha charges are one-time flat fee of ₹100 + GST when you invest in a smallcase (no additional fees for further orders in the same smallcase). Standard brokerage charges apply. There are no fees charged for weather investing and smart beta small cases. The standard brokerage is also applicable.
b) Zerodha streak algo trading platform

–
Zerodha streak is a cloud-based platform for retail traders to create trading platforms without coding, back test them on the historical data and deploy them to live in the market.
The key features of zerodha streak algo trading platform includes are:
• In zerodha streak write your strategies in English and the platform does the coding for you.
• Zerodha streak gives you the facility to create strategies leveraging 60+ indicators
• With zerodha streak app you can easily back test all your strategies with up to 5 years on any instrument.
• You can deploy best zerodha streak strategy with one click
• You receive notifications and you can also track live positions
I. Zerodha streak product provides a free trial for 7 days. During the free trial tenure, the customer can do twenty back tests and two live Deployments of strategies at a time.
II. Zerodha streak pricing: Customers will have to pay a monthly fee depending on the chosen plan. There are three plans available which are: Basic, Premium and Ultimately at a monthly fee of

₹

500,

₹

900 and

₹

1400 simultaneously.
a) Zerodha Sensibull (Options Trading Platform)
Zerodha Sensibull product is an options trading platform. Zerodha sensibull option chain platform is available for the customers of various stock broking companies that includes Axis direct, Kotak securities, Edelweiss, ICICI Direct, Upstox and Karvy stock, etc.
From zerodha sensibull review it is concluded that it will suggest a list of strategies to its customer based on the customer's market view. The customer can also customize the strategy by tweaking some parameters as per your needs.
The other key features of the Sensibull platform includes:
• Zerodha sensibull helps you in comparing the suggested option strategies to find the best one.
• Zerodha sensibull gives you multiple options to build strategies based on your preference.
• Zerodha sensibull analyses data for the customer for their trade and positions.
• Zerodha sensibull provides you the access to enhance the option chain.
• Zerodha sensibull helps you in keeping an eye on the events calendar to focus on the major events that can impact your trade.
• Zerodha sensibull provides you options to analyse for deep analysis of contracts.
• Zerodha sensibull provides you the facility to directly place orders.
• Zerodha sensibull helps you by giving you the advanced filters to quickly find a profitable strategy.
• Zerodha sensibull has Future and options contract screeners.
• Zerodha sensibull provides you the facility for simulation trading.
Zerodha sensibull pricing
There are three subscription plans for Zerodha Sensibull:
• Free - The free version of Zerodha Sensibull has limited features.
• Lite – you need to pay

₹

480/ Month
• Pro – you need to pay

₹

640/ Month
For zerodha sensibull login visit the official website of Zerodha.
Zerodha Golden PI is India's first online platform for investments in bonds and debentures. The company has partnered with several banks, bond trading institutions, and large financial organizations to give its customers the access to various bonds and debentures. Zerodha golden pi takes care of the complete process of bond investment starting from opening the account to bonds units. These are automatically transferred to the customer's demat account.
Some of the key features of golden pi zerodha app platform are:
• Zerodha golden pi has Zero Commission Investment.
• Zerodha golden pi gives you Online access to over

₹

3000 crores worth of bonds.
• Zerodha golden pi invests in bonds for as low as

₹

10,000.
• Zerodha golden pi gives the Real time updates on the customer's incoming interest payments.
• Zerodha golden pi is a Goal based investment process.
• Zerodha golden pi gives the round the clock personal assistance.
• Zerodha golden pi works as a demat account opening assistance.
Zerodha golden pi does not charge any fees or commission for investments in bonds and debentures.
How to download zerodha pi trading software.
To download Zerodha golden pi visit the official site of Zerodha.
c) Zerodha Trading Tools
This product provides its customers the wide range of online trading calculators. These calculators are useful in quickly calculating the brokerage fees and margin, etc.
The trading tools offered by Zerodha includes:
I. Brokerage Calculator: This calculator helps you in calculating profit from a trade by giving you a complete breakdown of brokerage fees and various other charges and taxes related to it.
II. Margin Calculator: This calculator helps in calculating the various margins required like Span, Exposure and Total Margin etc. to make you aware of the amount of margin you need to maintain during trading.
III. Black-Scholes Calculator: This calculator is designed for the Options traders. This calculator uses the black-Scholes model to calculate the premium and various option Greeks that have an influence on the pricing of the options contract.
IV. Pi experts Advisors: This calculator allows the customer to code their technical analysis strategy without coding, and back test it to check the past performance and take it to live on Pi Expert Advisors. It will then generate real time buy or sell signals for the strategy.
d) Zerodha Commodity trading Software
Zerodha is the leading online discount broker that offers commodity trading services at MCX and NCDEX. Zerodha trading platform for pc for commodities includes: Kite (Trading Website) and Kite Mobile App (Mobile Trading App).
How to download zerodha trading software
For zerodha trading software for pc and zerodha online trading software download you can visit to the official website of Zerodha.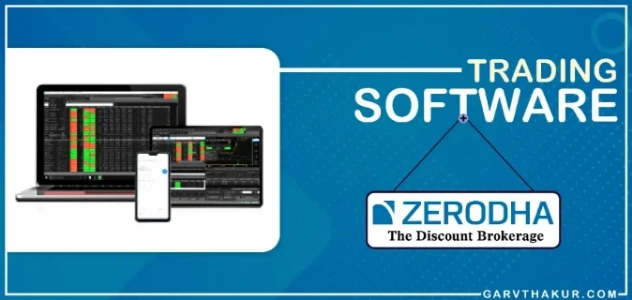 Comments for Zerodha Trading Software Review - Download, Demo and Details
Frequently Asked Questions
---