Zerodha NRI Account | Introduction, Documents, Charges and Details
Zerodha NRI Account Opening and Review 2023
Zerodha is the biggest stock broker in India in terms of the highest active clients. It was founded by Nitin Kamath, the CEO of Zerodha. They started their operations from 15th August 2010 in Bangalore. The only motive on which Zerodha focused on was to break the barriers that traders and investors usually face in terms of cost, support, technology and other trading platforms. Zerodha Pricing structure and in-house technology successfully stands out and this makes it the largest and popular stock broker in India.
Zerodha NRI Trading Account Charges
Some Zerodha charges associated with Zerodha NRI account. Those charges including Zerodha NRI Account Opening charges and Zerodha NRI brokerage charges for trading in Equity and Equity Derivatives segments are mentioned below:
| | |
| --- | --- |
| Charges | Amount |
| Zerodha Account Opening for NRI | ₹500 (One time) |
| Zerodha NRI Trading AMC | ₹0 |
| Equity Delivery Brokerage | 0.5% or ₹200 per order |
| Equity Future Brokerage | ₹100 per order |
| Equity Options Brokerage | ₹100 per order |
| NRI Demat account AMC | ₹500 + 18%GST (Yearly) |
Zerodha is a Bengaluru based stock broker company that offers various online discount broking services to both the resident and non-resident Indians (NRIs). Zerodha NRI trading is possible by opening NRI account in Zerodha. This service is available for Non-Resident Indians.
NRI Zerodha account offers 2-in-1 account to NRIs that include a Zerodha NRI trading account and a Zerodha NRI demat account linked to each other. The largest stock broker of India which was incorporated in 2010 provides various services to its customers. NRI account Zerodha generally consists of these two accounts:
• Zerodha NRI Trading Account
• Zerodha NRI Demat Account
1. Zerodha NRI Trading Account
Zerodha NRI Trading account allows a customer to buy and sell securities across the BSE and NSE. NRIs can easily trade using NRI trading account Zerodha.
Zerodha offers its customers the stock trading and investments services to NRIs in partnership with the third-party companies:
• NRI bank account: HDFC bank, IndusInd bank, IDFC FIRST Bank and Axis Bank.
• Custodial Account- Orbis Financial Corporation Limited.
• Demat Account- Central Depository Services Limited (CDSL)
Note: The custodial account (CP Code) is required for trading in equity derivatives (F&O) segment.
2. Zerodha NRI Demat Account
Zerodha NRI Demat account holds the securities in an electronic format. Equity shares, mutual funds, ETFs, NCD etc. securities are held in the demat account and also in Zerodha Demat Account for NRI. In other countries, securities are kept by or stay with the broker. Whereas in India, role of the stock broker is limited to acting just as an intermediary between the customer and central depository. CDSL and NDSL are the two depositories of India. In India the NRI demat account Zerodha can also hold the same.
Some Highlights of Zerodha NRI Demat Account:
1. Zerodha NRI demat account is the same as Demat Account for residents of India.
2. Zerodha NRI account opening application form is similar to each other.
3. During the NRI account opening process, an NRI customer has to choose account type as NRI and subtype as Repatriable or non – repatriable.
4. A NRI Bank account (NRE or NRO) has to be linked with a demat account.
5. The dividend/interest is credited directly in this account.
6. An NRI demat account can have another NRI or a resident of India as the nominee.
Zerodha NRI Trading Process
Below are the steps of Zerodha NRI Trading Procedure for trading in Equity Delivery Segment.
The customer can transfer funds from Zerodha NRE accounts/ Zerodha NRO bank account to your Zerodha PIS bank account. The bank informs Zerodha on how much funds you have allocated. This is then updated on the trading account as an available limit.
To place orders of buying and selling shares, Zerodha NRI account customers can use trading software such as Zerodha Kite Mobile App or website.
Zerodha sends contract note to the bank at the end of the day. Bank debits fund from PIS account and credits it to Zerodha. Whenever a customer sells stock from demat account, Zerodha sends a sell contract note to the bank and also credits the PIS bank account with the proceeds from the sale. Overall, two separate notes are sent to the bank at the end of the day; one for all buy transactions and another for all sell transactions.
It credits the stocks in the NRI account. In case of sale, the stocks are debited from the NRI demat account and delivered to the buyer by Zerodha.
Opening a NRI account in Zerodha
A Non-Resident Indian (NRI) can open a demat and trading account with Zerodha by simply linking his/her Non-Resident Ordinary (NRO) or Non-Resident External (NRE) savings bank account. To open Zerodha NRI Account, a PIS (Portfolio Investment Scheme) from RBI (Reserve Bank of India) is required. The bank where you have opened an NRI/NRO account will help you to obtain a PIS permission letter after providing a certain set of documents. List of those documents will be provided by your NRI/NRO account's bank.
Documents Required for Zerodha NRI Account
Some documents are required to open Zerodha account for NRI. List of those documents required for Zerodha NRI account is given below.
1. Passport Size photograph.
2. Copy of PIS Permission letter.
3. Copy of FEMA Declaration to Zerodha Broking Limited.
4. Copy of PAN card.
5. Overseas Address Proof
Copy of Driving License/ foreign passport/ utility bills/ bank statement (not more than 2 months)/ Notarized copy of rent agreement/ leave and license agreement/ sale deed.
6. Indian Address proof (If any).
7. In case of Indian passport
Copy of valid passport with the place of birth as India and copy of valid Visa.
8. In case of Foreign Passport
Copy of valid passport, copy of PIO/OCI card.
9. Proof of Bank account (a cancelled cheque leaf of your NRE or NRO savings bank account).
10. Declaration of P.O. box in your residing country.
11. Foreign Account Tax Compliance Act (FATCA) declaration form.
12. ID proof of nominee (copy of Aadhar, Voter ID, driving license etc.)
It is required only if you are willing to add nominee to your Zerodha NRI account.
These Zerodha NRI account opening documents are required to be sent along with the printed and filled account opening form while opening a NRI demat account in Zerodha and NRI trading account in Zerodha.
Zerodha NRI Account Opening Procedure
So now the important question is 'How to open a Zerodha NRI account'? Zerodha account opening process for NRI is quite simple. It is important to know that Zerodha does not provide online NRI account opening facility, which means Zerodha online account opening for NRI is not possible. You can open NRI account in Zerodha by offline mode only.
Zerodha NRI Account Opening Process is given below:
1. Open a NRI bank account with HDFC bank or IndusInd Bank or IDFC FIRST Bank or Axis bank.
2. Get PIS permission from RBI (With the help of your bank).
3. Open a custodial account with ORBIS and receive CP code (if plan to trade in F&O)
5. Fill the application form.
6. Send the filled application form along with self-attested copies of required documents to the below address.
153/154, 4th Cross, J.P Nagar 4th Phase,
Opp. Clarence Public School,
Some Points to Remember:
• Once the documents are received, NRI account opening Zerodha takes 1-2 days.
• The customer can open both the NRE and NRO account with the bank. However, the customers can map only one of these accounts to their Zerodha NRI account.
• Mapping the customer's NRE account with the trading account will enable you to trade in the Equity segment whereas, by mapping an NRO account, you can trade in both equity and derivative segments. To map both the accounts you are required to open two trading accounts.
• Zerodha NRE Accounts or Zerodha NRO Accounts are supported with HDFC Bank, Axis Bank, IndusInd Bank and IDFC FIRST Bank.
• The NRI clients can trade only in equity and equity F&O.
• It does not offer NRI trading in Intraday currency and commodities.
Features of Zerodha NRI Account
• This discount stock broker offers trading at very low brokerage charges for Zerodha NRI trading account. Zerodha charges Rs. 200 per order whereas full-service stock brokers charge more brokerage.
• Zerodha provides access to the best industry trading software and tools for their NRI account holders.
• It supports HDFC Bank, IndusInd Bank, IDFC FIRST Bank and Axis Bank NRI Bank account.
Limitations of Zerodha NRI Account
• Zerodha NRI account holders can only trade in delivery-based stocks and derivatives.
• No Intraday trade on stocks is allowed in NRI Zerodha account. Currency and commodities trading is also not allowed for NRIs in Zerodha.
• Zerodha does not offer Mutual Fund (MF) investment to NRI customers through its signature Zerodha coin platform for mutual funds.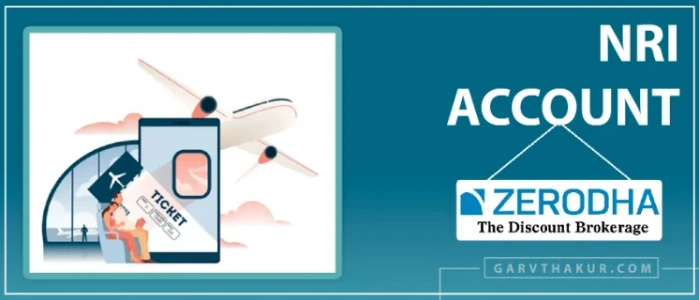 Comments for Zerodha NRI Account | Introduction, Documents, Charges and Details
Frequently Asked Questions
---