Zerodha Sentinel 2023 | Price Alert Review, Charges, Features
Zerodha Sentinel Review
Zerodha Sentinel is another platform launched by the Zerodha. It was launched with the purpose of helping the traders to invest in the market with complete efficiency and to earn maximum profit on Zerodha Sentinel Online Platform. It is one of the Zerodha Trading Software Zerodha has developed the Sentinel, that provides notifications at the triggering of various triggers. The notifications are provided in the application itself via Kite and through email.
What is Zerodha Sentinel?
The name "Sentinel" has been taken from the Italian word "Sentinella" which means a guard or soldier that consistently keeps a watch on people. In other words, Sentinel by Zerodha helps the traders to keep an eye on the market movements and provides notifications when certain conditions are met.
The productivity and profitability of the traders can be improved by the use of Zerodha Sentinel platform. Multiple triggers can be set up by the use of this platform. Thus, by using this software the customer can make their trading business a success.
Features of Zerodha Sentinel
Zerodha Sentinel is a trigger web-based platform that simply provides trigger notifications whenever certain conditions are met. The key features of Zerodha Sentinel are as follows:
• Traders can set multiple triggers. This service is available for both the free and paid version customers.
• 30 different types of triggers can be set up in the free version of Sentinel.
• Sentinel gives you the option of setting advanced triggers. These triggers are set up based on arithmetic expressions and performing some simple coding.
• Advanced triggers are set up based on the different functions and trading attributes.
• The usage of highly sophisticated measures helps to keep this software secure and make it a highly secure platform.
• Chances of getting hacked is less or zero since it is almost impossible for hackers to hack information from this web-based platform.
• Sentinel Alerts Zerodha provides Longstanding alerts, Baskets, Advanced alerts, Simple alerts, SIP alerts, mobile notification, Multi leg F&O orders and one triggers another order.
How to Use Zerodha Sentinel?
The customer can set up Zerodha Sentinel by logging in the Zerodha Sentinel Gateway. If any individual already carries a Zerodha account, then Sentinel Zerodha Login can be easily done using Zerodha Kite login credentials.
Once the customer will log in, he/she will be asked a few sets of questions to set up a trigger.
How to Use Sentinel in Zerodha?
Visit Zerodha Sentinel Website. Zerodha Sentinel Tutorial and Step by step guide to setup Zerodha Sentinel is give below:
1. Start with a condition such as "when the open price, close price, etc."
2. Select a stock from which you are wishing to get the Zerodha Sentinel alert.
3. Move on by selecting on the range like "if the stock reaches lower than, higher than etc."
4. Provide a value, that is when the stock reaches that number, trigger will happen.
5. Create a Trigger name.


Sentinel Zerodha Pricing
There are no Zerodha Sentinel Charges. Now, Zerodha Sentinel cost is Zero. Zerodha Sentinel free is available for all Zerodha customers.
How to Download Zerodha Sentinel?
For Zerodha sentinel download, visit the official website of Zerodha.
Open Your Demat Account with Zerodha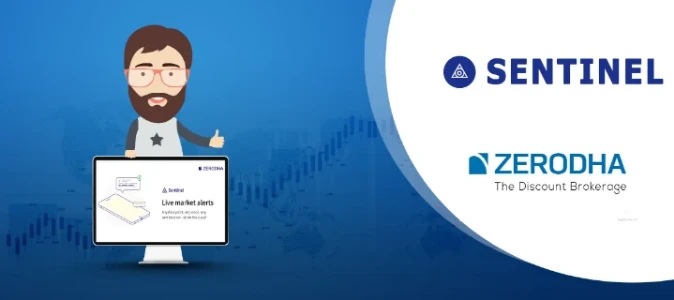 Comments for Zerodha Sentinel 2023 | Price Alert Review, Charges, Features
Frequently Asked Questions
---