Zerodha Review 2023 | Margin, Brokerage Charges, Demat Account
Zerodha Review 2023
Zerodha is the well-known largest retail stock broker in India in terms of the highest active clients with more than 4 million. It was founded by Nithin Kamath and Nikhil Kamath on 15th August 2010 in Bangalore. Zerodha replaces biggies as Biggest stockbroker of India. Zerodha is a combination of two words "Zero" and "Rodha" (Sanskrit word for barrier). It is the most popular broker offering you online flat free discount brokerage services to invest in equity, currency, commodity, IPO and direct mutual funds.
Zerodha charges Zero brokerage charges for equity delivery trades and direct mutual funds. Zerodha pricing structure and in-house technology successfully stands out and this makes Zerodha a coherent and unique stock broker in India. Zerodha 3-in-1 account facilitates its customers with easy and quick fund transfer facility. Zerodha is the safest stock broker because its ratio of complaints to active clients is among the least on the exchange. Zerodha demat and trading account review is very much appreciable by their customers.
Apart from this, Zerodha is a zero-debt company. It never keeps the client securities in the pooled account. It does not do proprietary trading with client funds. Many of these qualities were received by the Zerodha customer reviews.
Zerodha Review- India's Largest Stock Broker
Zerodha's only motive is to break the barriers that traders and investors usually face in terms of Brokerage, customer support, technology and Trading platforms. For services like Intraday and F&O, it charges Rs. 20 or 0.03% (whichever is low) per trade. One more reason for Zerodha standing out is its availability on both web and mobile platform as there are number of Zerodha app list available for the customers.
Zerodha Brokerage rates are minimal so that the small level traders can also trade through this stock broker. Along with its excellent customer support, it also offers Zerodha referral benefits to its customers. This means that the existing customers get some benefits on referring them to Zerodha. It encourages the customers to be a part of this stock broker. This characteristic makes it easy to use and accessible to trade through Zerodha anywhere at any time.
Key Strengths of Zerodha
Before you choose any stock broker you must know its strengths. So now let's have a look at the key Strengths of Zerodha.

• Largest stock broker with the maximum active clients, market volume and new customer acquisition.
• Rated as the safest, most reliable and trustworthy broker.
• Availability of the most advanced online trading tools.
• Charges zero brokerage for Equity delivery and mutual funds.
• The maximum brokerage charge is ₹20 and thus you can save 60% to 90% on brokerage in comparison to traditional brokers.
• Zero commission on direct mutual funds.
• Its services suit all the investors whether it be active, passive, beginner, active traders or Algo traders.
Zerodha Pros and Cons
Zerodha Pros:
• Zerodha charges the least brokerage fees with no hidden charges.
• Offers the latest and most advanced trading platforms to make trading easy and fluent.
• Zerodha's Research Program is excellent.
• No advance brokerage requirement on the turnover commitment.
• Created a huge brand value as the technology innovator.
Zerodha Cons:
• Zerodha covers only the Indian Share Market.
• Zerodha 3-in-1 account is easy to use but it requires to have a bank account with IDFC First bank.
List of Zerodha Trading Platforms
Zerodha kite is available as both web and mobile trading app. In the year 2023, Zerodha has up to 6 million running clients all over the world. 300k above users shows their query in Kite Zerodha Review.
Downloads - 10Million above.
Zerodha Kite App Review - 300k reviews.
Zerodha App Ratings - 4.3★
2. Zerodha Coin - Zerodha Coin Review or Coin Zerodha Review
it is a Mutual Fund investment platform. As Coin by Zerodha review is one of the common topics among Zerodha users. It is important to know that Zerodha is the 1st Broker in India which provide Direct mutual funds service all over the world via Zerodha Coin. Zerodha provides free application for all Android and IOS users for direct investment in mutual funds.
Zerodha Coin App Review - 23.6k reviews.
Smallcase Zerodha review is top most searching tool bar by traders for long term investment. In this software, you get the filtered data (Stocks and ETFs) for investing in future which will diversify stocks with lower risk for long term portfolio. Zerodha Trading review is up to 70.4k till now.
It is based on the Algo trading with UI technology. Streak Algo Trading review is one of the best for Algorithm trading for users. Zerodha Streak eliminates the need of coding for algo trading. Streak Zerodha review is approx. 2.93k+ in 2023.
Some other Zerodha trading software is also available for their customers:
You can also have a look at Zerodha Review 2023
• Till financial year 2023 - 33.91 lakh users.
• As per NSE updates, 14.14+ lakh clients have invested in that year.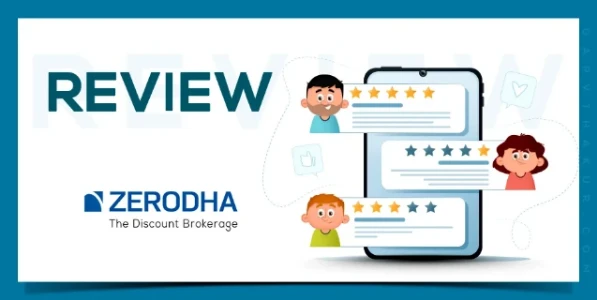 Comments for Zerodha Review 2023 | Margin, Brokerage Charges, Demat Account
Frequently Asked Questions
---