TradeSmart Margin 2023 | Exposure Limit for Intraday and Futures
TradeSmart Margin/ Exposure Limit
TradeSmart is an Indian Discount broker house. It is a Mumbai based broker that offers various discount brokerage services in stock, commodity and the currency trading segments. The stock broker is a venture of VNS finance that is one of the traditional brokerage companies that was registered at NSE in 1994 to offer its service to the Indian Stock, Currency and Commodity Market. It provides its service online through Franchise and Sub brokers.
TradeSmart is a successful online business owner in Indian Stock market. It focuses on providing the best advanced technology with the high-level security in order to provide the best and enhanced trading experience to their customers. TradeSmart margin details or TradeSmart Exposure details are explained well below.
TradeSmart Margin Limit/ TradeSmart Exposure Limit
TradeSmart is famous for its high exposure limit for the Intraday trades. TradeSmart exposure facility allows the customers to trade several times over the funds that are available in the account. TradeSmart leverage offers leverage limit as high as 30 times for some trades. It also provides Margin Against Shares facility. TradeSmart margin exposure allows you to get an exposure limit against shares that are held in the Demat account. The shares are kept as collateral.
The Margin Exposure Limit provided by TradeSmart is:
Particulars

Intraday

Overnight (CNC/ NRML)

MIS

CO

BO

Equity/Index futures

1X

NA

NA

1X

Equity/Index Options writing (Selling)

1X

NA

NA

1X

Equity/Index Options buying

1X

NA

NA

1X

Currency futures

1X

NA

NA

1X

Currency Options writing

1X

NA

NA

1X

Currency Options buying

1X

NA

NA

1X

MCX Futures

1X

NA

NA

1X

MCX Options

NA

NA

NA

1X*

NSE Cash

Up to 5X

Up to 5x**

Up to 5X**

1X

BSE Cash

Up to 5X

NA

NA

1X
* Currently MCX Options Trading is available only in the NEST Desktop Terminal.
**Up to 5X TradeSmart equity margin exposure is available only in FNO listed stocks.
TradeSmart Margin Policy
1. It provides Cover Orders and Bracket Orders that are available for the present and near month contracts as per TradeSmart margin rules.
2. Margin Against Shares is not available for trading in CNC and Options Contract.
3. Margin Against Shares is not available for online trading in the commodities.
4. The delayed payment charge @0.05%per day will be levied for the margin shortfall in Futures and Options and ledger debit on Cash trading.
Conclusion
TradeSmart has built itself into a complete online stockbroking firm. It provides dynamic versatile services to all of its customers. TradeSmart margin calculator or TradeSmart online margin calculator is available on its official website. This makes it stable in the industry for longer period of time. If the company grows constantly then it will be one of the top broking houses in nation.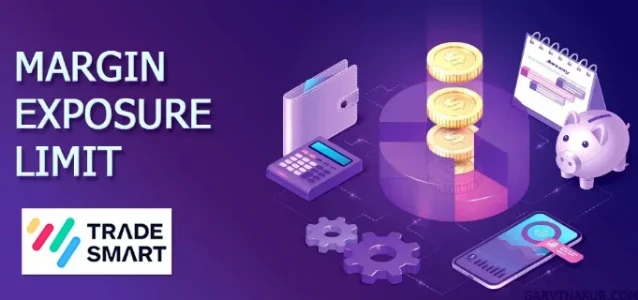 Comments for TradeSmart Margin 2023 | Exposure Limit for Intraday and Futures
Frequently Asked Questions
---