TradeSmart SINE App Review 2023 - Features, Benefits and Downloads
TradeSmart SINE App Review
TradeSmart is a successful online business owner in the Indian Stock market. It focuses on providing the best-advanced technology with high-level security in order to provide the best and enhanced trading experience to their customers.
SINE is an intuitive trading application by TradeSmart that provides trading facility on smartphones to its customers after sine TradeSmart login. The application avails trading in almost all segments such as Equity, Derivatives, Commodity and Currency. It provides a wide range of fantastic features such as Market Scanners, Market Analytics, Market Watch, Buy/Sell, Index Watch, Holdings, Positions, Quotes, Charts, Order History, Top and Account details.
Major Highlights of SINE
The Currency Derivatives serve multiple purposes:
1. It provides an informative dashboard that provides a quick feel of the market with a 360-degree view of Nifty, Bank Nifty and Sensex.
2. It allows the easy monitoring of the orders, holdings, positions, MTM and trading balance on real-time. All this information is available on a single screen.
3. It provides advanced charting tools that include the buy and sell feature directly from the charts.
4. It provides Options Chain in order to access the current market conditions.
5. The Scanners continuously scan the stock market on a real-time basis to identify the trends in the market and discover the best trading opportunities.
6. There are various set of strategies that help you in choosing the right and most favorable options strategy.
7. It provides direct access to the back-office reports.
Features of SINE and SINE Web
TradeSmart provides the SINE application on the web as well so that the customers can trade from anywhere and at any time after TradeSmart sine login. The stock broker makes sure to provide an effective and efficient platform to its customers.
SINE Mobile App
1. TradeSmart sine mobile app provides an informative dashboard that provides a quick market feel along with the 360-degree view of the Nifty, Bank Nifty and Sensex.
2. Sine app for trading provides the easy monitoring of the orders, holdings, position, MTM and trading balance on real-time basis on a single screen on one mobile app.
3. TradeSmart sine mobile trading app provides advanced charting tools.
4. It is a simpler trading mobile app that has an Options chain to provide access to the current market conditions as trade ideas mobile app.
SINE Web
1. It has a web browser application that is designed for simple and fast trading. It supports all the standard web browsers.
2. TradeSmart sine web has a very user-friendly interface that ensures easy stock trading for beginners, professionals as well as veterans.
3. Sine web TradeSmart provides an advanced graph analysis with more than 80 indicators for analysing the stock market moves as a one-stop shop for technical analysis.
Other features
1. It allows easy monitoring of the orders, holdings, positions, MTM , trading balance on real time and on a single screen.
2. It has multiple strategies to make you choose the right options strategy.
3. It provides the direct access to back office reports with the additional login.
Who all can trade through SINE mobile app?
This stock trading application is available for all. Anyone who is interested in trading can download sine app. Sine app download for android and sine app for iPhone is available. The app provides two login options:
1. Sine trade smart mobile app provides guest login that allows everyone to explore the various features with sine app login.
2. It also has client login which is exclusively for the TradeSmart clients i.e., the customers holding Client Id and Password. The customers can use it further to place trades through it.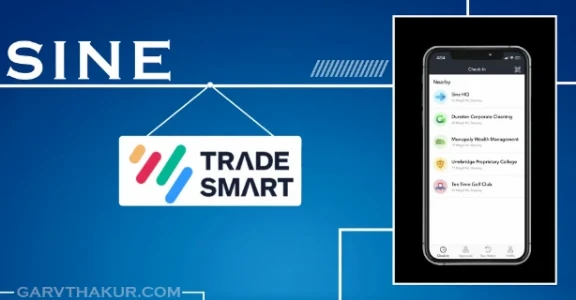 Comments for TradeSmart SINE App Review 2023 - Features, Benefits and Downloads
Frequently Asked Questions
---