TradeSmart Mutual Funds Review 2023 | Charges, SIP, and Details
TradeSmart Mutual Funds Review | Charges and SIP
TradeSmart is an Indian Discount broker house. It is a Mumbai based broker that offers various discount brokerage services in stock, commodity and the currency trading segments. The stock broker is a venture of VNS finance that is one of the traditional brokerage companies that was registered at NSE in 1994 to offer its service to the Indian Stock, Currency and Commodity Market. It provide its service online through Franchise and Sub brokers
TradeSmart is a successful online business owner in Indian Stock market. It focuses on providing the best advanced technology with the high-level security in order to provide the best and enhanced trading experience to their customers.
TradeSmart Mutual Fund Details
The stock broker provides Trade Smart online Mutual Fund Investment service to its customers. The customers can buy and redeem mutual funds and do Mutual funds trade option by using this platform. It offers appropriate information about the schemes and mutual funds investment limit so as to make the complete informed decision about the best mutual fund investment option on the basis of your own needs and risk appetite. It is among the most comfortable application that makes your money grow with least efforts.
TradeSmart MF
Trade Smart MF is one of the best platforms that provides excellent services of mutual fund investment in the country. Mutual fund trade fee is not charged to anyone. It helps in generating the maximum results with minimalistic efforts.
Features of TradeSmart MF
1. Simple User Interface- The sign-up procedure takes very less time. It makes you ready to buy and sell mutual funds or start the SIP contributions within few clicks.
2. Multiple Filters- The application provides a wide range of filters such as asset type, growth or dividend options, risk etc. It enables you to shortlist the mutual fund schemes on the customer's preferences. It is extremely handy when one wants to identify the best SIP plans or lump-sum schemes.
3. Track and Analyse- All the information related to the mutual fund investments are kept under one roof. It allows the checking of your portfolio, track returns, order history, daily NAV and much more.
4. Creating SIP on auto pilot mode- It allows the customer to set a standing instruction for an auto-SIP by one-time mandate. It allows the customers to invest in mutual funds in a simple and convenient manner.
5. Investment Ideas- The app suggests various investment ideas smart mutual funds to invest in to save tax, better than FD, better than savings account and much more. It allows you to choose the best scheme on the basis of your financial objectives and risk profile.
Benefits of TradeSmart MF
1. It allows investments in various Smart mutual fund schemes from different categories.
2. It is a 100% trustworthy, safe and secure application to use.
3. It provides complete details of various mutual fund schemes that are performing best. This information further can be used to identify the best mutual fund for SIP.
Conclusion
TradeSmart provides mutual smart fund investment services online to its customers by TradeSmart MF mobile application. It has built itself into a complete online stockbroking firm. It provides dynamic versatile services to all of its customers. This makes it stable in the industry for longer period of time. If the company grows constantly then it will be one of the top broking houses in nation.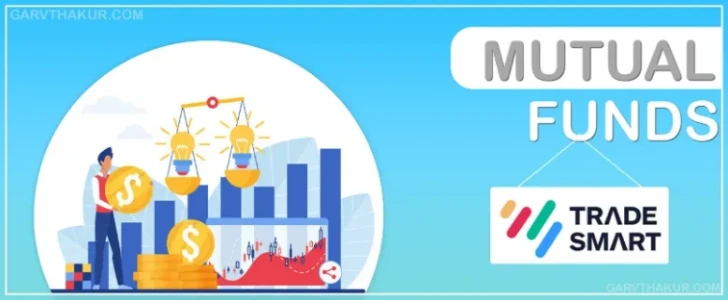 Comments for TradeSmart Mutual Funds Review 2023 | Charges, SIP, and Details
Frequently Asked Questions
---