TradeSmart DartStock Review | Features, Tool, and Techniques
TradeSmart DartStock Review
TradeSmart is a tech-first and the most famous low-cost broking firm in India. It provides various trading opportunities to the customers at unbeatable prices. The firm allows trading in different segments such as Equities, Commodities, Currency, Futures and Options.
The firm is famous for its innovative, reliable, easy-to-use and fast platforms. Dartstock, is one of the contributions of TradeSmart that provides an advanced technical analysis platform with various facilities and multiple tool techniques.
To access Dartstock, a customer is required to have an account with TradeSmart. All the services offered by TradeSmart can be used free of cost for four months only when you hold an account with TradeSmart.
DartStock is the one stop solution for all the needs of a customer. It is considered as the smartest platform for the traders that fulfil all the needs of the trader. It gives you the maximum valued trading support along with the wide variety of useful tools. It works as an extension of the customer's trading powers by providing services like Market stats, price alerts, live news feed and much more.
TradeSmart has a tie up with iDarts to provide the customers one of the best desktop trading platforms in the world. It has multiple features that makes it the best.
The features of Dartstock are:
1. Scanners: It consist of four predefined scanners which are Trend Scanners, Live Scanners, Open Vs. high/low, and Opportunity Finders.
a) Live Scanner- It is available for equity and future segments. The customers get high and low for the day, week, month and year.
b) Trend Scanner- This feature is important for the intraday traders. This scanner will help the customers in identifying the bullish and bearish trade.
2. Market Status: This keeps a tab on the live trading sessions. With the help of the widgets like Top Gainers & Losers, Support and Resistance watch, Intraday recovery/fall and heat maps you can see which stock is progressing and what all factors are driving the market.
3. F&O Tools: This tool is designed for the experienced traders. The customer can view the actions in futures, rollover contracts, futures spread info, gainers and losers in open interest, option payoff graphs, option calculator and option chain or tools. It provides a unique space for the F&O trader to cut through all the noise and save time while trading.
4. Charting tool: The customer can pop out multiple charts, set indicators/chart types/intervals, draw patterns with the study lines and tools. It also helps the customers in plotting graphs based on the customer intervals.
5. Trading Support: This allows you to place simple Intraday and equity delivery orders. It supports in placing the Cover orders and Spread orders. All other activities like order, trade, position books and holdings will be visible. It also allows the customers in viewing and transferring funds.
Advanced Charting Tools and Techniques
DartStock has certain advanced charting tools and techniques. Some of them are listed below:
1. It provides Intraday historical and daily historical data.
2. It provides the updated history of Futures.
3. It has Intraday and historical information.
4. It has updated Intraday candles in the historical chart movements.
5. It helps you in comparing facilities.
6. It avails personalized charts and various other facilities.
How to access DartStock?
To get the access to TradeSmart DartStock are:
1. Download "DartStock" and install the application.
2. Login the application with TradeSmart account credentials.
3. Use the app to do more effective and seamless trading.
Dartstock is an innovative and advanced invention from TradeSmart. Its USP (Unique Selling Point) is that it is absolutely free of cost to the TradeSmart customers temporarily. An additional charge of ₹5 per executed order but for now these charges are waived off. Its advanced tools save time and make the customer's trading experience excellent.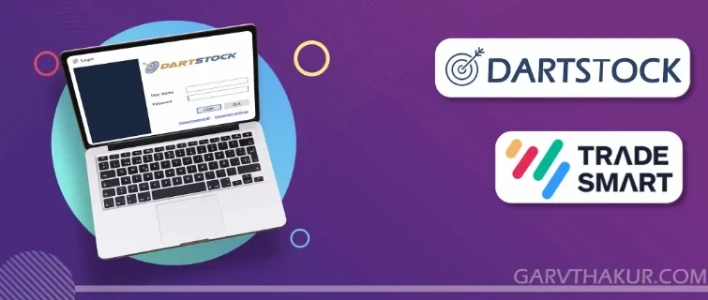 Comments for TradeSmart DartStock Review | Features, Tool, and Techniques
Frequently Asked Questions
---