Trustline Mobile App Review | Features, Demo, Details, Download
Trustline Mobile App Review - Features, Demo, Download
In India, the number of traders trading in share market is very less as compared to some other countries such as USA, Canada, China etc. but in the recent years, it has been seen that there is tremendous rise in the number of demat account & traders as well as there is significant rise in the number of brokers. Trustline Company is an old and world-wide famous broker established in 1989 as a full-service broker of Indian brokerage industry. Trustline brokerage charges are quite low as compared to other full-service broker to trade in various segments such as equity, derivative, currency, commodity, mutual funds and IPO. Trustline company facilitate you to invest in NSE, BSE, MCX and NCDEX. As member of Indian depositary organisation CDSL & NSDL, it provides 2 types of demat account i.e. regular demat account and lifetime zero AMC demat account in which you need to pay yearly AMC on choosing regular demat account and on paying one-time payment of Rs 1000, you will get lifetime zero AMC demat account. You can invest in US stocks by using Trustline platform.


Trustline Securities Ltd is the one-stop solution for all your investment needs. Now, you can invest in sovereign gold bond which is quite beneficial as compared to physical gold with Trustline. Trustline Securities Ltd offers many software and technical tools to resident Indians and Non-resident Indians (NRIs) so that you can invest and analyse easily. Trustline broker has already marked its presence in more than 400 locations through franchisees, branches, sub-brokers across India and many other countries.
Trustline Trading Software
• T5 Web (Browser-based Trading Platform)
• Trust Power (Desktop Trading Software).
• Trust Mobile - iTrade (Mobile-based Trading App).
iTrade Trustline Mobile App (Mobile-based Trading App)
Trustline group offers 'iTrade' which is an ultra-fast mobile-based application accessible in android and IOS devices. iTrade Trustline app has many inbuilt features such as customizable market watchlist, real-time charts, technical analysis tools and much more. This mobile application is accessible in both android and IOS devices.
• Real-time charts, quotes and news.
• Allows you to trade in many segments and exchanges.
• Access to view order history, trades and positions report.
• Customizable watchlists and a wide range of technical indicators.
• Access to historical data.
• Access to view demat holdings and account.
• You can trade from any corner of India.
• IPO alerts and notification facility in mail id and mobile no.
• Allows you to place After Market Order (AMO), cover order and normal buy / sell order.
• Easily downloadable from Google Play Store & App Store respectively for Android user and iPhone user.
• Ultra-fast & military level security.
• User-friendly and clean user interface.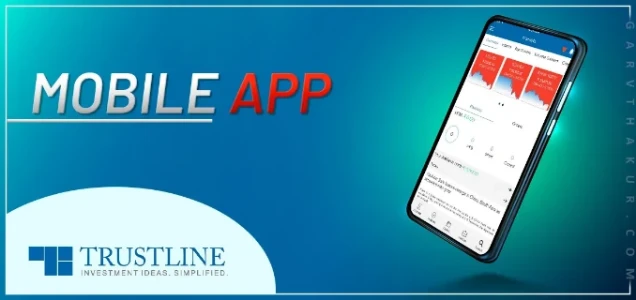 Comments for Trustline Mobile App Review | Features, Demo, Details, Download
Frequently Asked Questions
---