Trustline Trading Software Review, Download and Demo and Features
Trustline Trading Software Review - Features and Demo
Post-analysis of your trades gives you an idea about your mistakes and enhances your trading experience. Traders used to place many types of different orders such as cover order, bracket order, normal buy / sell etc and broker acts as a medium between the investors and exchanges. Trustline is one of the best full-service brokers of India, operational since 1989. This Noida-based old broker is a famous brand of stock broking industry with 1 lakh+ active clients and presence in 400 locations across India. Trustline Securities review provide the facility to invest in national exchanges such as BSE, NSE, MCX and NCDEX and in multiple segments such as equity, derivative, currency, commodity and mutual funds. As a depositary member of CDSL and NSDL, Trustline offers 2 types demat account on its platform; In the first one, demat account opening fees is zero but you need to pay the AMC (Account Maintenance Charges) and another type of demat account is lifetime free AMC demat account i.e. you need to pay Rs 1000 while opening an account to get the lifetime free AMC demat account. One can open an account in few minutes on Trustline or you can call on toll free number so that company's representative can help you on opening an account.


Trustline Trading LLC Company offers very high leverage up to 6x leverage for trading in intraday segment in many stocks. Trustline is #1 trading platform in the stock market. Any NRI across the globe can trade in Indian share market via this platform, NRI needs to open a NRI demat & trading account with Trustline. Trustline Trading LLC company provides many free software and technical tools so that you can invest, analyse, enhance your trading skills easily. Trustline client login Trustline is a financial technology company that offers online trading platforms. To log into the Trustline client portal, you will need your registered email address or username and password. If you have forgotten your password, you can reset it by following the instructions on the login page.
Trustline Global Trading Software Reviews
Trustline offers ultra-fast and modern trading software to their clients. .
1. T5 Web (Browser-based Trading Platform)
2. Trust Power (Desktop Trading Software).
3. Trust Mobile - iTrade (Mobile-based Trading App).
1. T5 Web (Browser-based Trading Platform)
Trustline offers 'T5 Web' which is a browser-based trading website accessible through any browser such as Google Chrome, Mozilla Firefox, Safari, Internet Explorer. This is a very light website which can work in slow net connectivity condition. Key features of T5 Web are as follows:
• Access real-time stocks.
• Allow you to create multiple watchlist.
• Facilitate you to place basket order & spread order through market watch.
• Facilitate you to trade in BSE, NSE, NCDEX and MCX.
• Allows you to convert your carry forward position to intraday or vice-versa via trade book.
• T5 Web allow you to trade in multiple segment such as equity, derivative, currency, commodity, mutual fund, futures and options.
• Through order book window, you can modify or cancel the order.
• Access to historical data.


• Open trade.trustline.co.in to access login screen.
• Enter your trading id (login id) and password.
• Check Secure access image box.
• Now, complete the 2FA authentication and click ok to continue.
• Under Trade menu, click on T5 menu and start trading with T5 Web.
2. Trust Power (Desktop Trading Software)
Trustline offers 'Trust Power' which is an exe-based desktop software designed for the active traders. Trust Power is an installable software accessible in desktop and laptop. Key Features of Trust Power are as follows:
• Real-time market update and news.
• Allows you to create market watchlists.
• You can invest/trade in equity, derivative, currency, commodity, IPO & mutual fund.
• Precise charting tools and 100+ market indicators.
• Allow you to track price movements.
• Access to view all the available contracts for securities.
Steps to install Trust Power:
• Click Trustline software downloads
• Scroll down & in applications section, download Trustline applications.
3. iTrade Trustline Mobile App (Smartphone-based Trading App)
iTrade is a mobile-based trading software offered by Trustline through which you can trade or invest in equity, commodity, currency, IPO, mutual fund and derivative segment. iTrade has many inbuilt features such as customizable market watchlist, real-time charts, technical analysis tools and much more. Key features of Trustline app are as follow:
• Real-time charts, quotes and news.
• Customizable watchlists and a wide range of technical indicators.
• Place your order from any place across India.
• IPO alerts and notification facility in mail id and mobile no.
• Allows you to place After Market Order (AMO), cover order and normal buy / sell order.
• Easily downloadable from Google Play Store & App Store respectively for Android user and iPhone user.
• Ultra-fast & military level security.
• User-friendly and clean user interface.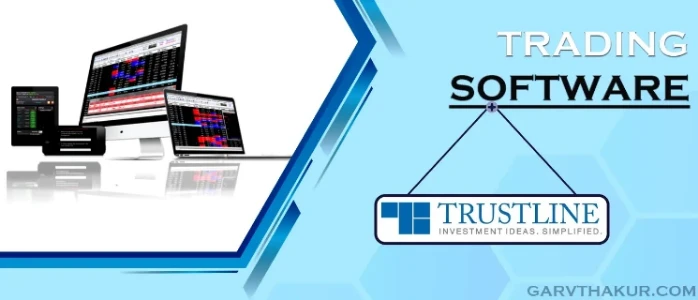 Comments for Trustline Trading Software Review, Download and Demo and Features
Frequently Asked Questions
---