Trustline Margin/Exposure Limit for Intraday and Futures 2023
Trustline Margin/Exposure Limit for Intraday and Futures
Stock Exchanges such as Nifty 50, Sensex etc. can go up or down dependent on the market situations and stocks performance. We can predict the market condition with the help of technical analysis. There are many brokers in the brokerage industry who offers trading software and tools to proceed the technical analysis of the stocks and market performance. Trustline is one of the famous brokers who offer a wide range of free trading software and platform accessible in desktop, laptop, mobile, tablet etc. and very beneficial to place a trade and analyse the market. Trustline offers you to invest/trade in equity, derivative, futures, options, IPO, currency, commodity and mutual funds. Trustline is a very transparent and diverse platform without any hidden charges. Trustline offers 100% paperless 2-in-1 account opening facility on its platform. Trustline is a very popular broker because of its ultra-fast trading software and modern services. Trustline has a motive to provide you world-class facilities in an affordable price so that you can increase your assets.
Trustline charges variable brokerage in various different segments which is quite less as compared to many other brokers. This trading platform is equipped with new features and a wide range of reliable, necessary and attractive facilities.
Trustline Leverage and Margin
As per the SEBI regulation, Trustline offers leverage and margin facility in almost all the segments except equity delivery. Trustline offers low intraday margin futures. Trustline allows you to trade more over the funds available in your demat account as it aims to increase your financial earning. Client-centric approach of the company is one of the key features of Trustline. With the help of Trustline's intraday exposure/leverage facility, any trader can buy unaffordable shares and, in this way, by trading more in the share market, one can enhance their assets in a very less time.
For soliciting a loan from a broker, practice of using assets owned by an individual as collateral is known as margin trading. It increases an investor's buying power whereas practice of using borrowed money from the broker to carry out an endeavour to enhance its potential returns.
Trustline Margin
From Sep 1, 2023, rules has been changed and margin will be decided by the SEBI. Trustline offers margin in various segments which are as follows:
| | | |
| --- | --- | --- |
| Segment | Margin | Leverage |
| Equity Delivery | 100% of trade value | 1x |
| Equity Intraday | Up to 20% of trade value | 5x |
| F&O (Equity, Currency and Commodities) | 100% of NRML margin (Span + Exposure) | 1x |
Trustline Margin Policy
• To avoid the unnecessary auto square off charges, you need to square off all MIS positions before 15 minutes to market closing time.
• You can convert your margin positions into delivery by maintaining the sufficient funds in your demat account.
Trustline Margin Calculator
Trustline margin calculator is an online margin calculator through which you can calculate margin/intraday exposure available in equity, derivative & currency futures, commodities and you will get the information of securities shortlisted under Graded Surveillance Measure (GSM). Margin calculator is available in the official website of Trustline as well as in the mobile application:
• Login into your account via official website or mobile application of Trustline by using your mobile / desktop / laptop / tablet.
• Open margin calculator available in the tools section of the website.
• Select the exchange where you want to trade in.
• Fill the expiry date and quantity.
• Click 'Add' to calculate your margin.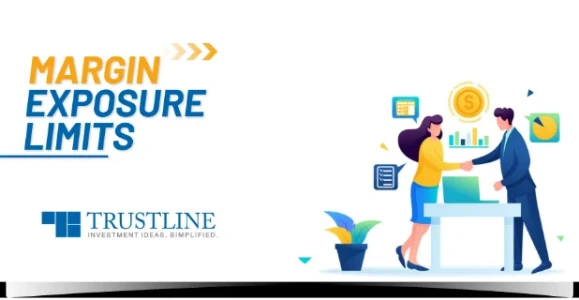 Comments for Trustline Margin/Exposure Limit for Intraday and Futures 2023
Frequently Asked Questions
---