Trustline Brokerage Charges, Fees, Plan, Details and Taxes 2023
Trustline Brokerage Charges and Transaction Charges
Stock market never goes up or down accidently, there must be large buying or selling from big traders. In the brokerage industry, there is always a reason behind every action. By doing fundamental analysis and technical analysis of stocks, we can somehow predict the reason behind the movement of stock prices. With the help of trading software and tools, we can analyse the market trends. We need to choose a diverse broker who can provide a wide range of trading software and tools. In this way, a very well-known and full-time service broker known as Trustline offers a wide range of modern trading tools which are equipped with technical features. Trustline is operational since 1989. This Noida-based stockbroker is a trusted name of the Indian stock industry. As a SEBI registered broker, Trustline offers you to invest in NSE, BSE, MCX and NCDEX. Trustline is a member of depositary organisation CDSL & NSDL and offers 2-in-1 account opening services in its platform. Trustline provides the facility to invest in equities, derivative, currency, commodity, mutual funds, fixed deposit, insurance and national pension scheme. Any NRI across the world can invest in Indian brokerage industry through Trustline. Trustline has its presence in almost every region of India with its 400 branches available to provide the services.
Trustline offers leverage and exposure facility through which you can buy unaffordable shares and trade more in the share market. Trustline charges variable brokerage transaction fee to trade in various segments and it is quite low as compared to another broker. Trustline brokerage charges calculator helps to clients calculate brokerage on their transaction.
Trustline Account Opening Charges
Account

Charges

Trading Account Opening Charges

Rs 200 plus service tax

Trading Account AMC

Rs 0

Demat Account Opening Charges

Regular: Rs 0

Lifetime Free AMC : Rs 1000

Demat AMC

Regular Demat Account: Rs 300

Lifetime Free AMC Demat A/C : Rs 1000
Trustline Securities Brokerage Charges
Trustline brokerage charges are as follows:
| | |
| --- | --- |
| Segment | Brokerage |
| Equity Delivery | 0.20% (20 paisa) |
| Equity Intraday | 0.02% (2 paisa) |
| Equity Futures | 0.02% (2 paisa) |
| Equity Options | Rs 75 per lot |
| Currency Futures | 0.02% (2 paisa) |
| Currency Options | Rs 75 per lot |
| Commodity Futures | 0.02% (2 paisa) |
| Commodity Options | Rs 50 per lot |
Trustline Demat Account Charges
Various other demat brokerage transactions charges are as follows.
| | | |
| --- | --- | --- |
| Transaction | Regular Demat Account | Lifetime Free AMC Demat Account |
| Demat Account Opening Charges | NIL | NIL |
| Account Maintenance Charges | Rs 300 | Rs 1000 |
| Demat Processing Charges | Rs 50 per script (Up to 25 certificates) + Rs 5 per additional certificate | Rs 50 per script (Up to 25 certificates) + Rs 5 per additional certificate |
| Remat Processing Charges | Rs 100 per security (per 100 qty.) | Rs 100 per security (per 100 qty.) |
| Delivery Instruction Booklet | Rs 25 per booklet (10 leaves) | Rs 25 per booklet (10 leaves) |
| Outgoing of shares (off mkt / inter-DP) – Per instruction & per scrip | 0.03% of the value of the security (Min Rs 20) | 0.03% of the value of the security (Min Rs 18) |
| Pledge Creation / Closure / Invocation – Per instruction & per scrip | 0.05% of the value of the security (Min Rs 100 per scrip) | 0.05% of the value of the security (Min Rs 100 per scrip) |
| POA Stamp + Notary charges | Nil | Nil |
| Document + Stationary charges | Rs 50 | Rs 50 |
| Incoming of shares | Nil | Nil |
Trustline Transaction Charges
| | |
| --- | --- |
| Segment | Transaction Fee |
| Equity Delivery | NSE Rs 325 per Cr – BSE Rs 1.5/trade (each side) |
| Equity Intraday | NSE Rs 325 per Cr – BSE Rs 1.5/trade (each side) |
| Equity Futures | NSE Rs 190 per Cr (0.0019%) |
| Equity Options | NSE Rs 5000 per Cr (0.05%) |
| Currency Futures | NSE Rs 90 per Cr (0.0009%) | BSE Rs 18 per Cr (0.00018%) |
| Currency Options | NSE Rs 4000 (on premium) per Cr (0.04%) | BSE Rs 1500 |
| Commodity | MCX Rs 260/Cr (0.0026%) | NCDEX Rs 600/Cr (0.006%) |
Trustline Trading Taxes
Taxes

Rates

Securities Transaction Tax (STT)

Equity Delivery- 0.1% on both buy & sell

Equity Intraday- 0.025% on sell side

Equity Futures- 0.01% on sell side

Equity Options- 0.05% on sell side (premium)

Commodity Futures- 0.01% on sell side (Non-Agri)

Commodity Options- 0.05% on sell side

Currency F&O- No STT

On exercise transaction- 0.125%

Right to entitlement- 0.05% on sell side

GST

18% on (Brokerage + Transaction + SEBI fee)

SEBI Charges

0.0001% (Rs.10/crore)

Stamp Duty

(On buy side only) Delivery- 0.015%, Intraday- 0.003%, Equity Futures- 0.002%, Equity Options- 0.003% and Currency F&O- 0.0001%

Commodity Futures- 0.002%, Commodity Options- 0.003%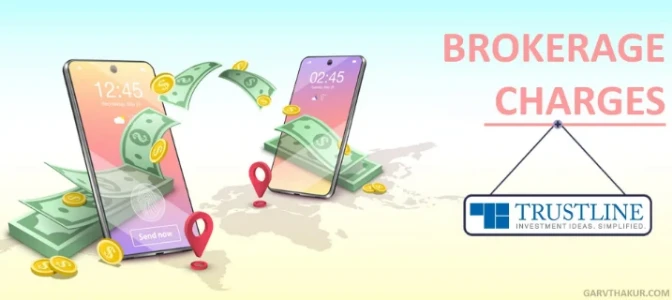 Comments for Trustline Brokerage Charges, Fees, Plan, Details and Taxes 2023
Frequently Asked Questions
---