SMC Global Margin/Exposure Limit for Intraday and Futures 2023
SMC Global Margin/Exposure Limit for Intraday and Futures
A wise person once said that never depend on single income, make investment to create a second source. For investment, it is advisable to choose a diversified and trusted platform. SMC Global Securities Limited is one of the well-known and popular full-service brokers of India which provides the world-class facility to invest in equity, derivative, currency, commodity, mutual fund, IPO and as a diversified platform, it offers many other financial services such as mortgage services, investment banking, insurance, research & advisory services, depositary services etc. The company has started its operation in 1990 and facilitate you to invest in BSE, NSE MCX, NCDEX and MCX-SX by using SMC tradingview indicator. SMC Global is a SEBI registered broker and a depositary participant of CDSL & NSDL.
SMC-global is a very transparent platform without any hidden charges as SMC Global charges brokerages of 0.03% for intraday trades. SMC global locations has already marked its presence in more than 500 cities with SMC global holdings 2400+ sub-brokers spread across India. SMC global network has its overseas branch offices located in Dubai, New York, Orlando and Atlanta.
In just 15 minutes, you can open a demat and trading account on its platform to see SMC global holdings. There are many free trading software and tools available on this platform such as SMC Ace Web, SMC Easy Trade and SMC Privilege. You can earn extra income while referring SMC trading strategy course for account opening to any individual who does not have any account with this company.
SMC Global Margin
| | |
| --- | --- |
| Segment | Trading Margin |
| Equity Delivery | 1x (100% of trade value) |
| Equity Intraday | 5x (Up to 20% of trade value) |
| Equity F&O | 1x (100% of NRML margin (Span + Exposure)) |
| Currency F&O | 1x (100% of NRML margin (Span + Exposure)) |
| Commodity F&O | 1x (100% of NRML margin (Span + Exposure)) |
SMC Global Leverage and Margin
SMC global pricing is offering leverage facility as per the SEBI guidelines. SMC trading strategies provide the facility to trade more over the funds available in your demat account as the company is very much dedicated to provide you every service through which any trader can increase their wealth. With the help of SMC Global's leverage facility, you can buy unaffordable shares and, in this way, by trading more in the stock market, you can enhance your financial outcome drastically.
Although, operating margin gross margin and leverage are interconnected to each other, both involve borrowing to trade in financial market but the amount of money a broker allows a trader to put down to trade a bigger position in the market is known as margin. SMC global exposure is a type of debt or loan which is required to open a position whereas multiple of exposure to account equity is known as leverage.
SMC Global Margin Policy
• All the traders who are trading through SMC Global need to square off all MIS positions before 15 minutes to market closing time otherwise it will be automatically squared off and you need to pay auto square off charges to the broker.
• To convert your positions into delivery, you should have sufficient funds in your account.
SMC Global Margin Calculator
SMC Global offers margin calculator through which you can calculate your available margin on your account. Margin calculator is available in the official website of SMC Global as well as inbuilt in the mobile application. It is very simple to use.
• Login into your account via website or app of SMC Global by using your mobile or desktop.
• Open margin calculator available in the 'Online Trading' tab.
• Enter all the required details; product, symbol, net quantity, buy or sell.
• You will get exposure and total margin and also use SMC global securities margin calculator.
For any issue related to trading and account contact at SMC global customer care and you can also visit at SMC global address office for offline support.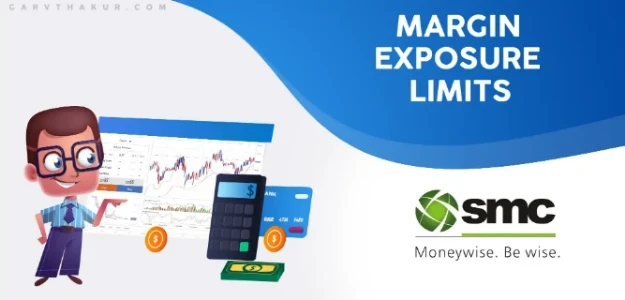 Comments for SMC Global Margin/Exposure Limit for Intraday and Futures 2023
Frequently Asked Questions
---