SMC Global Mobile App Review - Features, Benefits, Demo, Download
SMC Global Mobile App Review - Features, Demo, Download
SMC Global is one of the oldest brands of the Indian Brokerage Industry, founded by Mr. Subhash C. Aggarwal and Mr. Mahesh C. Gupta in 1990 as a financial service provider. Now, it is one of the famous brokers of the Indian share market. SMC Global is a SEBI registered broker and depositary participant of NSDL & CDSL, SMC Global offers demat and trading account services to residing Indian citizens as well as Non-resident Indians (NRIs) on its SMC global mobile trading software. SMC Global facilitate you to invest or trade in NSE, BSE, MCX, MCX-SX & NCDEX. On this platform, you can invest/trade in equity, derivative, mutual fund, IPO, currency, commodity, insurance and bond as well as it offers many financial products such as wealth management services, portfolio management services, investment banking, real estate advisory, forex advisory, mortgage advisory, loan against commodities, securities & property etc. It also provides the facility of algo trading on its platform. There is no hidden SMC charges for trading so you can start your trading through download odin diet SMC global.
Within 15 minutes, you can open an online account at SMC Global by following some simple steps. You can also call on toll free number to take the help from company's representative to open an account. SMC Global is a very safe, secure, user-friendly and transparent platform. One should choose SMC Global as their investment platform because of its wide range of financial products and customer support services through wide SMC global network across different SMC global locations in India. To know about various SMC global brokerage charges and SMC securities brokerage charges or SMC demat account brokerage charges you can visit to the official website.
SMC Global Trading Software
SMC Global offers 3 types of trading software to their clients which are accessible in desktop, laptop, android device and IOS device. Take a look below on trading software offered by SMC Global which offers some extra SMC benefits.
1. SMC Easy Trade – Smartphone-based trading application
2. SMC Easy Trade – Browser-based trading platform
3. SMC Privilege (ODIN Diet) – Installable Trading terminal
1. SMC Easy Trade (Smartphone-based Trading App)
easy SMC Trade is a mobile-based trading application, developed by SMC Global Securities Limited through which any trader can trade from any place around the world. This mobile application is equipped with modern and digital technology so that you can understand market trends. SMC Easy Trade has inbuilt technical analysis tools, live intraday charts, live streaming quotes, alert features and customized watchlist.
Some of the important features are as follows-
• By using SMC global easy trade, you can place After Market Order (AMO).
• Customizable watchlist and SMC global holdings.
• SMC easy trade login Enables you to trade in BSE, NSE and MCX.
• SMC easy trade online give access to historical data & charts and SMC global stock recommendations.
• 100+ technical indicators.
• Single screen login to trade in multiple segment such as equity, derivative, currency, commodity, mutual fund, futures and options.
• Ultra-fast and hassle-free platform.
How to use SMC easy trade app?
Here are the steps for SMC easy trade download for use to place across any segment:
This is a simple process; you can download SMC Easy Trade and SMC easy trade app download for pc in your android device and IOS device as it is available in Google Play Store and App Store. You can start your SMC global mobile trading by using SMC Odin diet and SMC Odin diet software download or SMC diet Odin download is an easy process by which you can easily place trade from anywhere.
SMC trade customer care
If you have any query and doubt related to SMC trading brokerage charges then you can take offline support from SMC global branches in India or contact at the below mention number.
• SMC trading contact number: 09717161790
• SMC easy trade customer care number: 07947487834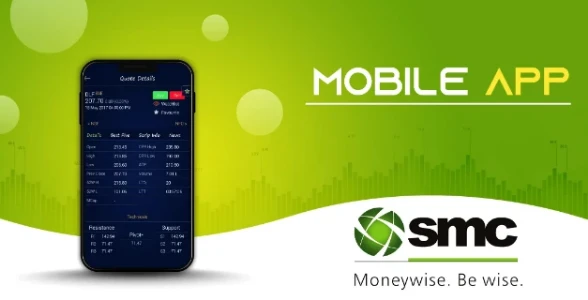 Comments for SMC Global Mobile App Review - Features, Benefits, Demo, Download
Frequently Asked Questions
---