SMC Global Brokerage Charges 2023 | Fees, Plan, Taxes and Details
SMC Global Brokerage Charges and Transaction Charges
SMC Global is one of the most trusted and reliable full-service brokers of India, founded in 1990 by Mr. Subhash C. Aggarwal and Mr. Mahesh C. Gupta who were the members of the Institute of Chartered Accountants of India. SMC broker review offers you to invest in NSE, BSE, MCX, NCDEX and MCX-SX. As a depositary participant of CDSL, NSDL and Comtrack, it offers demat and trading account services in its platform. SMC global reviews offers many types of financial services to invest in such as equity, derivative, mutual funds, currency, commodity and provide the facility of investment banking, mortgage services, wealth management services, distribution of third-party financial products, research & advisory services, insurance, real estate advisory services to corporate, institutional, high net worth individuals and other retail clients. Very soon, SMC Global is going to launch Gold Coins which is a very unique facility for the investment in gold.
SMC global brokerage review is a world-wide famous platform and it has already marked its presence in 500+ cities and towns with a wide SMC global network of SMC global locations 2400+ registered sub-brokers and authorized business partners spread across the India. SMC Global has SMC global branches offices in Dubai, New York, Orlando and Atlanta. SMC global stock broking offers leverage facility in intraday segment as per the SEBI guidelines. SMC global sub broker offers free trading software and tools such as SMC Easy Trade (Browse-based), SMC Ace Web, SMC Easy Trade (Mobile App) and SMC Privilege (ODIN DIET). SMC brokerage charges or brokerage charges of SMC global are very nominal. For SMC global securities ltd brokerage charges and SMC global brokerage plan visit broker website.
SMC Global Account Opening Charges
Demat and Trading account charges are as follows:
| | |
| --- | --- |
| Account | Charges |
| Trading Account Opening Charges | Rs 0 |
| Trading Account AMC | Rs 0 |
| Demat Account Opening Charges | Rs 0 |
| Demat AMC | Zero AMC (Lifetime) |
SMC trading brokerage charges
While trading in the stock market through SMC Global, you need to pay some SMC online brokerage charges and SMC demat account brokerage charges which is variable in all the segment.
| | | |
| --- | --- | --- |
| Plan name | Brokerage Slab | Equity Options/lot (INR) |
| Elite | 0.15% (Delivery) & 0.015% (Intraday, F&O) | 30 |
| Premia | 0.20% (Delivery) & 0.02% (Intraday, F&O) | 40 |
| Preferred | 0.30% (Delivery) & 0.03% (Intraday, F&O) | 50 |
| Lite | 0.35% (Delivery) & 0.035% (Intraday, F&O) | 60 |
| Basic | 0.40% (Delivery) & 0.04% ( Intraday, F&O) | 75 |
SMC Global Demat Account Charges
There are various depositary SMC global charges except SMC securities brokerage charges such as AMC, pledge invocation, delivery instruction booklet etc. SMC Global Demat account charges are as follows:
Transaction

Charges

Annual Maintenance Charges (AMC)

Rs 300 p.a.

Rematerialisation

Rs 25 per certificate

Dematerialisation

Rs 5 per certificate

Pledge Invocation / Closure

Rs 30 per instruction

Pledge Creation

Rs 60 per instruction

On-Market Transaction Charges

Rs 15 per instruction for POA clients

Rs 20 per instruction for Non-POA clients

Off-market Transaction charges

0.03% subject to min Rs 20 & Max Rs 50 per instruction

Delivery Instruction Book Charges

Rs 30 (20 leafs)

Delivery Instruction Booklet

Rs 20 per instruction
SMC global brokerage calculator
SMC global securities ltd brokerage calculator will help you to calculate SMC global securities brokerage and SMC global discount brokerage charges, transaction charges, STT, SEBI Turnover charges, Stamp duty & GST. Along with this, you can also check Profit or Loss incurred for all buy & sell transactions in SMC global securities brokerage calculator.
For any issue you can contact at SMC trade customer care at SMC global broker contact number: 09717161790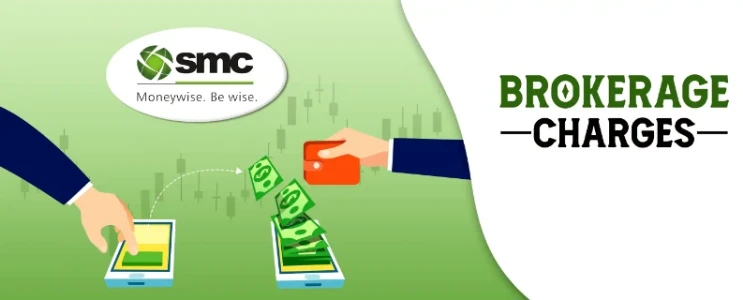 Comments for SMC Global Brokerage Charges 2023 | Fees, Plan, Taxes and Details
Frequently Asked Questions
---