Motilal Oswal Online Account Open 2023 | Process, Forms, and Fees
Motilal Oswal Online Account Open Process, Forms and Fees
Motilal Oswal is among the oldest full-service stock broking firm. It was incorporated in the year 1987. It is one of the oldest stock broking firm in India. It is famous for its services such as trading applications, portfolio management services and the quick customer support. The company also provides various trading services in various sectors such as Equity, Commodity, Currency and Derivatives.
Motilal Oswal also avails its customers with various products like Mutual Funds, IPOs, Gold, Insurance and the Fixed Income products. This company is broadly recognised for its MOAMC discretionary portfolio management service. The PMS of Motilal Oswal has a strong track record and consistently has an outperformed the benchmark across the market cycles since the time of its inception in the year 2003.
The basic foundation on which the company has built the strong base is its solid research technique. It has almost 10% of the revenue that is invested in the equity research. The company has earned the dedicated teams for the large-cap, mid-cap and the technical research. The company has published 30,000+ research reports on 260+ companies that spreads across the 21 sectors. Its research reports have received the broad coverage in the media from the fundamental, technical and derivative research perspective.
Motilal Oswal Account Facility
Motilal Oswal facilitates their customer with two-in-one account facility which is a combination of a trading account and a demat account. The full-service broker offers its depository services through the NSDL (National Securities Depository Limited) and CDSL (Central Depository Services Limited). Motilal Oswal became the depository participant of NSDL and CDSL in 2000.
Documents Required to Open an Account with Motilal Oswal Securities
The documents that are required to open an account with Motilal Oswal Securities are:
2. Address Proof (Voter ID /Aadhar Card /Driving License /Passport /Utility bills).
3. Bank account proof (Bank passbook/ Latest bank statement/ Cancelled Cheque).
4. Income proof (Latest Salary Slip, Income Tax Return for currency and derivative segment).
5. Passport Size Photographs.
Account Opening Procedure for Motilal Oswal
The Motilal Oswal customers can easily trade in equity, commodity and currency. To start trade across the segments, one needs to hold a Motilal Oswal trading account .
There are two ways to open an account i.e. Online and Offline.
1. Online Account Opening Process- It allows to open an online two-in-one account in just 15 minutes. It is the easiest way to open an account in any broker.
Motilal oswal demat account opening online just needs to simply visit the Motilal Oswal Website and then select "Open an account" option and fill in the application form to get account opened.
2. Visit the local branch (Offline)- The customer can also visit the local office, branch or franchise in over 500 cities across in India. The customer can get their account opened with any one of them.
Benefits of Opening an Account Online with Motilal Oswal
1. It provides quick and instant account opening within just 15 minutes.
2. It provides convenient transfer of funds through net banking or debit card.
3. It has a secure way to open an account.
4. It provides the real time tracking process.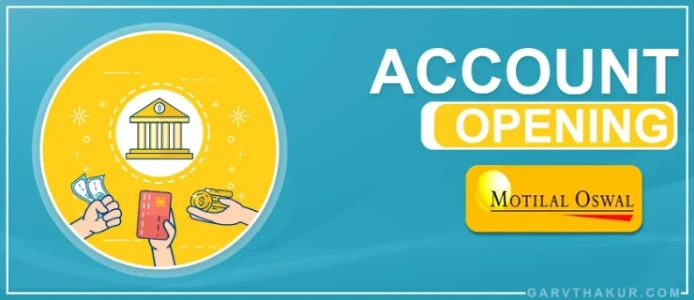 Comments for Motilal Oswal Online Account Open 2023 | Process, Forms, and Fees
Frequently Asked Questions
---