Motilal Oswal Brokerage | Charges, Fees, and Transaction Charges
Motilal Oswal Brokerage Charges and Transaction Charges
Motilal Oswal is among the oldest full-service stock broking firm. It was incorporated in the year 1987. It is one of the oldest stock broking firm in India. It is famous for its services such as trading applications, portfolio management services and the quick customer support. The company also provides various trading services in various sectors such as Equity, Commodity, Currency and Derivatives.
Motilal Oswal also avails its customers with various products like Mutual Funds, IPOs, Gold, Insurance and the Fixed Income products. This company is broadly recognised for its MOAMC discretionary portfolio management service.
The basic foundation on which the company has built the strong base is its solid research technique. It has almost 10% of the revenue that is invested in the equity research. The company has earned the dedicated teams for the large-cap, mid-cap and the technical research. The company has published 30,000+ research reports on 260+ companies that spreads across the 21 sectors. Its research reports have received the broad coverage in the media from the fundamental, technical and derivative research perspective.
Motilal Oswal Brokerage Charges List
Motilal Oswal demat account brokerage charges, Trading Account and three unique trading and brokerage plans to its customers in order to meet the need and requirement of the customers. The
motilal oswal brokerage plans
are as follows:
1. Default Brokerage Plan- It is meant specially for the casual investors in the stock market. It is also known as the Basic Plan.
2. Value Pack Plan- It is the prepaid brokerage plan that aims at offering cheaper brokerage as an upfront fee. The plan is meant specially for the active traders. It provides seven other valuable packs that are starting from the upfront fee of ₹2500 to ₹1 lakh.
3. Margin Scheme Brokerage Plan- This plan is meant specially for the frequent traders. The brokerage charge in the plan keep reducing when an individual commits higher margin money in their trading account.
What are the brokerage charges of motilal oswal

Motilal Oswal Default Plan Brokerage
| | |
| --- | --- |
| Segment | Brokerage Fees |
| Monthly Fee (Fixed) | |
| Equity Delivery | 0.50% |
| Equity intraday | 0.05% on both side |
| Equity Futures | 0.05% on both side |
| Equity Options | ₹100 per lot on both side |
| Currency Futures | ₹20 per lot on both side |
| Currency Options | ₹20 per lot on both side |
| Commodity Futures | 0.05% on both side |
| Commodity Options | - |
Motilal Oswal Value Pack Brokerage (VP2KLT)
| | |
| --- | --- |
| Segment | Brokerage Fees |
| Monthly Fee (Fixed) | ₹2000 (one-time fee) |
| Equity Delivery | 0.40% |
| Equity Intraday | 0.04% on both side |
| Equity Futures | 0.04% on both side |
| Equity Options | ₹50 per lot on both side |
| Currency Futures | ₹22 per lot on both side |
| Currency Options | ₹22 per lot on both side |
| Commodity Futures | 0.04% on both side |
| Commodity Options | - |
Motilal Oswal Value Pack Brokerage (VP1LACLT)
| | |
| --- | --- |
| Segment | Brokerage Fees |
| Monthly Fee (Fixed) | ₹1,00,000 (One-time fee) |
| Equity Delivery | 0.10% |
| Equity Intraday | 0.01% on both side |
| Equity Futures | 0.01% on both side |
| Equity Options | ₹20 per lot on both side |
| Currency Futures | ₹10 per lot on both side |
| Currency Options | ₹10 per lot on both side |
| Commodity Futures | 0.01% on both side |
| Commodity Options | - |
Motilal Oswal Margin Scheme Brokerage
| | |
| --- | --- |
| Segment | Brokerage Fees |
| Equity Delivery | 0.15% to 0.50% |
| Intraday Cash or Future- Equity and Commodity | 0.015% to 0.05% on both side |
| Options- Equity | ₹25 to ₹100 per lot |
| Currency F&O | ₹20 per lot on both side |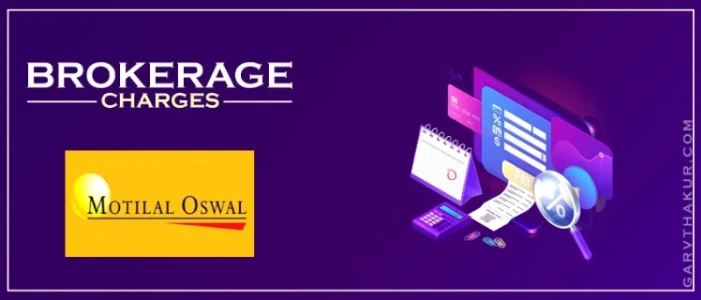 Comments for Motilal Oswal Brokerage | Charges, Fees, and Transaction Charges
Frequently Asked Questions
---