Goodwill Commodities Mobile App Review | Features, Demo, Download
Goodwill Commodities Mobile App Review - Features, Demo, Download
Goodwill Commodities was started in 2008 and is a Chennai based Full-service stock broker. Goodwill always aims to maintain efficiency and reliability in all services provided by them. to One can trade in BSE, NSE, MCX and NCDEX with Goodwill. Goodwill is registered with SEBI (Stock exchange board of India).
Goodwill Commodities has ensured their presence at more than 70 locations with approx. 80,000 customers across India. Goodwill proudly maintains average daily turnover of approx. Rs.1500 cr. and has more than 650 employees all over the India. Goodwill Commodities provides services in equity, derivatives, commodity, currency, mutual fund, Pre-IPO etc.
Goodwill Commodities Mobile App:
Goodwill Commodities has its own mobile app for trade on the go. One can easily log in to Goodwill Commodities Mobile app as an Authorized user and as a Guest user as well.
Features of Goodwill Commodities Mobile App:
• Get access of indices view of app.
• Add or delete the scrips of various segments at a single place.
• One can change the theme of mobile app even when you are logged in.
• Choose the best price before placing any order from the market depth.
• Includes advanced screeners and scanners.
• Easy monitoring of current market trends including Bull/ Block deals and FII/ DII/ MF activity etc.
Trading Beneficiary Features of Goodwill Commodities Mobile App:
• Advanced charts and tools.
• Instant online fund transfer facility.
• Easy monitoring of you funds and stocks.
• Clients can smoothy switch the scrip's market segment in single click.
• A dedicated shortcut menu related to current page is available on every page of mobile app.
• Watch multiple indices and scrips.
• Clients can also subscribe to goodwill commodities SIP Scheme G-SIP.
• Clients can connect to customer support and trading desk through call from mobile app.
How to download Goodwill Commodities Mobile App:
Both Android and iOS mobile or tablet users can easily download Goodwill commodities Mobile app. Customers can opt to download mobile app from either google play store or official website of Goodwill Commodities.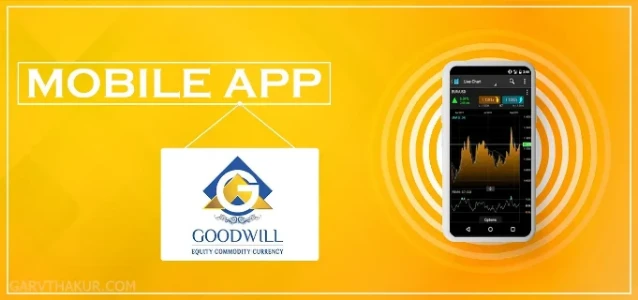 Comments for Goodwill Commodities Mobile App Review | Features, Demo, Download
Frequently Asked Questions
---
Goodwill Commodities Reviews