Goodwill Commodities IPO | Charges, Easy Steps to Apply Online
Goodwill Commodities IPO Review - Charges, Easy Steps to Apply Online
Goodwill Commodities started its journey in 2008, it is a Chennai based broker where it has headquarters in Tamil Nadu.
Goodwill provides different types of investment services and trading services in different segments like Commodity, Derivatives and Futures through NSE and BSE.
What is an IPO?
The word IPO defines as the Initial Public Offering which means when a company first time sells its stocks to the public. A company can raise capital from public investors by issuing an IPO.
A private company has fewer shareholders and its owners don't have to disclose much information about the company. Most small businesses are also privately held. There are some large companies which can be private too. Buying shares in a private company is not possible. You need to approach the owners about investing, but they're not obligated to sell you anything. Public companies, on the other hand, have sold at least a portion of themselves to the public investors and allow them to trade on a stock exchange. This is why doing an IPO is also known as "going public."
Getting in On An IPO
When a company plans to go public, then the first thing it needs to do is to hire an investment bank. Theoretically it could be possible to sell its shares on its own for a company, but realistically, an investment bank is required. The company and the investment bank will first meet to negotiate the deal about the stocks. Discussed items include how much amount of money a company will raise, the type of securities to be issued and all the details in the underwriting agreement. The deal can be structured in different ways.
Once a deal is complete from all sides, the investment bank puts together a registration statement to be filed with the SEBI. This document includes information about the offering as well as company info such as financial statements, management background, any legal problem. After SEBI approves the offering, a date (the effective date) is set when the stock will be offered to the public.
The Lock-Up Period
We can also call a lock-Up Period known as a lock-in or lock-out period, which refers to the predetermined time frame in which corporate insiders, investors, and employees are not allowed to sell or redeem their shares after an initial public offering (IPO). The lock-up period is usually 90–180 days, depending on the size of the company.
• IPO is the first sale of stock by a company to the public.
• If a company is going public means a company is switching from private ownership to public ownership.
• By going public helps to raise cash and provides many benefits for the company.
• Underwriting process involves raising money from investors by issuing new securities.
• Companies need to hire investment banks to underwrite an IPO.
• To analyse an IPO company is difficult because there isn't a lot of historical info.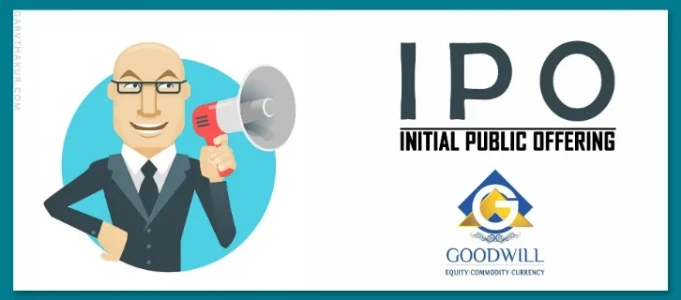 Comments for Goodwill Commodities IPO | Charges, Easy Steps to Apply Online
Frequently Asked Questions
---
Goodwill Commodities Reviews