Goodwill Commodities Review 2023| Brokerage, Charges, Margin, Demat
GOODWILL COMMODITIES Review | Brokerage Charges, Account Opening
Goodwill Commodity is a Chennai based full-service broker established in the year 2008 by Gandhimathi Baskaran. This Chennai based full-service broker known for expertise in commodities trading and investment.
Goodwill provides Commodity Demat and Trading Account and has Depository Participant with NSDL and CDSL and a Member of NSE, BSE, MCX, and NCDEX.
According to NSE, as of 31st Jan 2023, Goodwill Commodity has an active client base of 20,000+.
Goodwill has presence in around 27 locations through its sub-broker and franchise offices across India. Apart from that Goodwill has an in-house research team that works with the clients on a regular basis.
Furthermore, Goodwill has partnership with around 24 banks in order to perform transactions as per the requirements.
Goodwill Commodities provides trading services through different segments. Its charge rates are given in percentage ranges and starting with the Equity Delivery the charge is 0.1% – 0.2%. The charge for Equity Intraday, Equity Futures, Currency Futures and Commodity is the same and 0.01% – 0.02%.
On the other side is the Equity Options which ranges between Rs.10 – Rs.20 per Lot and Currency Options of Rs.7 – Rs.10 per Lot.
Goodwill provides the trading services in the following segments:
Goodwill has recently set up a separate business portal named 'MutualFundsKaro.com'. This product specifically helps to build up your mutual funds' investments and portfolio.
Goodwill provides a number of trading platforms to experience hassle-free trading with rich features. It also provides lightweight applications which are easy to use and can easily be accessible through desktop, computer, or a laptop.
Goodwill provides the number of trading platforms given below:
Goodwill also provides rich featured mobile applications named Commodities Trading app-GAMA and GIGA.
Goodwill Commodities does provide services for NRIs.
Features of Goodwill Commodities:
• Reasonable intraday brokerage
• Good commodity level research
Goodwill has the following communication channels to support customers:
The quality of customer support of Goodwill is very reasonable and it is doing a decent job in terms of customer support.
Conclusion
Goodwill Commodities has a perfect blend and latest technology and rich experience over a decade. Honestly, transparency, & fairness imbibed in all dealing. Goodwill is one of the best trading platforms providers in terms of speed, time, convenience & risk management for trading.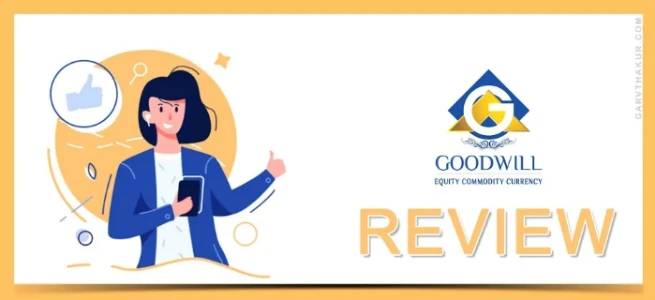 Comments for Goodwill Commodities Review 2023| Brokerage, Charges, Margin, Demat
Frequently Asked Questions
---
Goodwill Commodities Reviews