Goodwill Commodities Demat | Account Opening Charges and Details
Goodwill Commodities Demat Account Opening Charges and Details
Goodwill Commodities was started in 2008 and is a Chennai based Full-service stock broker. Goodwill always aims to maintain efficiency and reliability in all services provided by them. to One can trade in BSE, NSE, MCX and NCDEX with Goodwill. Goodwill is registered with SEBI (Stock exchange board of India).
Goodwill Commodities has ensured their presence at more than 70 locations with approx. 80,000 customers across India. Goodwill proudly maintains average daily turnover of approx. Rs.1500 cr. and has more than 650 employees all over the India. Goodwill Commodities provides services in equity, derivatives, commodity, currency, mutual fund, Pre-IPO etc.
What is Demat Account?
Demat account holds the shares in an electronic form. Dematerialised account is commonly known as demat account. To do any transaction in stock exchange, investor must have a demat account. Investor can open a demat account with the help of a broker or a sub broker.
As per government guidelines, it is mandatory to have a Demat account along with a trading account.
Previously, there was a physical certificate for shareholding and now those physical certificates have been transformed into dematerialised (Demat) electronic form. Demat account needs no physical certifications
.
Why Demat Form is Better than Physical Certification Form?
Some of the many reasons that why demat form is better than physical certification form is listed below:
• Managing shareholdings in physical certification form is quite difficult.
• In case of physical certification form, it used to take approximately 30 days for money to appear in account as there was a long procedure between transaction and money transfer.
• In case of demat form, instant money transfer takes places after transaction.
• Number of investors and companies are increasing day by day and it was difficult to hold shares in physical forms and obviously much hectic as well.
• Not to be forgotten, as everything is going online and technology is developing it becomes mandatory to update stock exchange facilities for everyone`s convenience.
Benefits of Goodwill Commodities Demat Account:
• Free demat account opening.
• No annual maintenance charge (AMC).
• Same day fund transfer service.
• 24*7 Backoffice customer support for free.
• Goodwill Commodities provides Electronic contract note via email.


Goodwill Commodities Demat Account Opening Charges:
| | |
| --- | --- |
| Demat account opening charges | Nil |
| Demat account AMC | Nil |
Goodwill commodities provides 2 in 1 account opening (Trading + Demat account).
Documents required to Open an Account at Goodwill Commodities:
• Identity Proof (PAN card/ Aadhaar card)
• Address Proof (Aadhaar Card / Passport/ Driving license/ Aadhar Card/ Bank statement/ Utility bills)
• Income Proof (Latest Salary slips/ Latest ITR/ Latest Bank statement)
• Passport size photograph
Note:
1. PAN card, Identity proof, Address proof and Passport size photograph are required in JPG format.
2. Income proof is required in PDF format.
Procedure to Open a Demat Account at Goodwill Commodities:
Follow the below steps to open a demat account at Goodwill Commodities:
1. Visit official website of 'Goodwill Commodities'.
2. Click on 'Open an Account'.
3. Fill all required personal details.
4. Fill your PAN no. and Aadhaar card no.
6. Upload soft copies of Required documents.
7. E-sign with your Aadhaar and Complete IPV (In-Person Verification).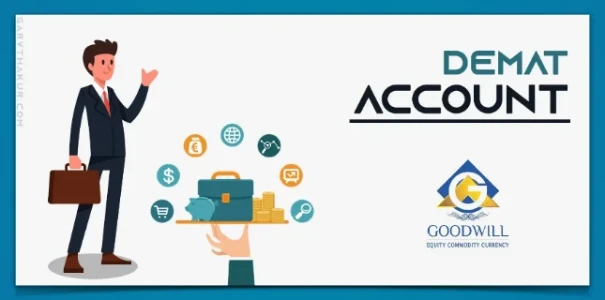 Comments for Goodwill Commodities Demat | Account Opening Charges and Details
Frequently Asked Questions
---
Goodwill Commodities Reviews