Goodwill Commodities Margin/Exposure Limit for Intraday and Futures
Goodwill Wealth/Commodities Margin/Exposure Limit for Intraday and Futures
Goodwill Wealth/Commodities is a traditional broker which offers all kind of investment and trading services to customers. Founded by Mr. Gandhimathi Baskaran in the year 2008 as a full-service broker. As a depositary participant of NSDL and CDSL, it provides facility to invest in NSE, BSE, MCX and many other national exchanges. Goodwill is headquartered in Chennai and now expanded its presence in around 70 locations through sub broker and branch offices across India. Goodwill Commodity has been awarded as 'Commodity Broker of the year 2016-17'.
Goodwill commodities brokerage charges are very flexible which ranges from 0.1% to 0.2% for the equity delivery segment, 0.01% to 0.02% for currency and equity futures, equity intraday and commodities trading. Goodwill Charges nothing for demat and trading account opening with zero annual maintenance charges. It provides advisory services to their customers which is very helpful for trading and investment.
Goodwill Wealth/Commodities Margin/Exposure Limit
Goodwill commodity provides margin leverage to its customers. Goodwill wealth is one of the highest margin provider. It is best for the traders who need high margin with lowest brokerage. Margin trading is used to increase buying power and profits dramatically. Margin is a type of debt or borrowed money from a brokerage firm for the investment. Goodwill Margin Exposure facility allows customers to trade many times over the fund available in your account.
Margin and leverage are both connected to each other, Margin is the amount of money required to buy any share and leverage is the multiple of exposure to account equity.
Goodwill Commodities/Wealth Margin/Leverages
Here is the list of Margin/Exposure Limit.
| | |
| --- | --- |
| Segment | Margin/Limit |
| Delivery | Upto 2x |
| Intraday | Upto 2x |
| Currency Future | Upto 2x |
| Currency Option | Upto 3x |
| Equity Future | Upto 2x |
| Equity Option | Upto 5x |
| Commodities | Upto 5x |
Goodwill Wealth/Commodities Margin Calculator
Goodwill wealth has many types of different tools and services. One of them is Goodwill Wealth Margin Calculator, it is an online tool which will help you to calculate exposure provided for different segments like Intraday, delivery, Future & Option, Currency and Commodity. Investors/Traders can very easily calculate the margin limit to increase profit in different segments.
Steps to Use Goodwill Wealth/Commodities Margin Calculator
• First select a segment i.e. Intraday, Delivery, Commodity, Currency, Future and Option.
• Select your desired share available in the dropdown.
• Enter your margin amount, you can enter margin amount available with you for investment.
• Click the calculate tab and get the result.
Advantages and Disadvantages of Margin Trading
Advantages
• Able to buy non-affordable shares.
• Able to increase your profits.
• Margin trading facilitates you to buy more shares.
• Leverage is the big advantage in Margin trading.
Disadvantages
• Risky and not good for all the investors.
• Leverage increases the risk to your capital investment.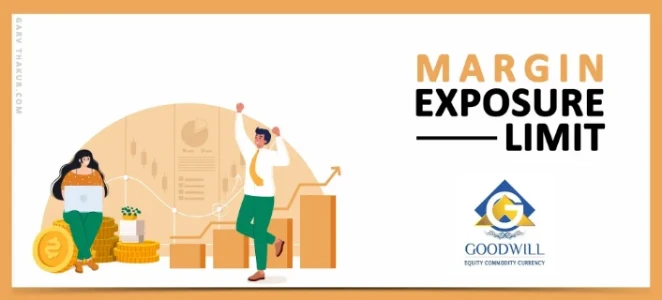 Comments for Goodwill Commodities Margin/Exposure Limit for Intraday and Futures
Frequently Asked Questions
---
Goodwill Commodities Reviews