Goodwill Commodities Customer Complaints | Review, Enquiry, Details
Goodwill Commodities Consumer Complaints
Goodwill Commodities brokerage complaints provide the details about the total number of complaints received by the stock exchange from the Goodwill Commodities. The company analyses the consumer complaints report data provided by the BSE and NSE. This report helps to analyse the growth of the broker.
These all complaints are the serious grievances against the Goodwill Commodities which remain unresolved by the broker side and the customer filed these legal complaints with the stock exchange.
This report also helps to analyse the total number of active clients of the Goodwill Commodities. This report shows the rapid growth of the broker.
Goodwill Commodities Consumer complaints
| | | | |
| --- | --- | --- | --- |
| Exchange | Financial Year | Number of Clients | Total Complaints |
| NSE | 2023-21 | 35,002 | 24 |
| BSE | 2019-20 | 3,664 | 1 |
| NSE | 2019-20 | 22,003 | 14 |
| NSE | 2018-19 | 9,362 | 5 |
| NSE | 2017-18 | 5,148 | 3 |
Goodwill Commodities Complaints at NSE
| | | | |
| --- | --- | --- | --- |
| | 2023-21 | 2019-20 | 2018-19 |
| Defaulter Yes/No | No | No | No |
| No. of clients at the beginning of the year | | | |
| No. of active clients | 35002 | 22003 | 9362 |
| No. of complaints received * | 24 | 14 | 5 |
| Resolved through the exchange | 22 | 14 | 5 |
| Non actionable ** | 2 | 0 | 0 |
| Advised / Opted for arbitration | 0 | 0 | 0 |
| Pending for redressal with exchange | 0 | 0 | 0 |
| No. of arbitration filed by clients | 2 | | 2 |
| Decided by arbitrators in favour of the clients | 1 | | 2 |
| Decided by the arbitrators | 0 | | 2 |
| Pending for redressal with arbitrators | 1 | | 0 |
| % of No. of complaints as against No. of active clients | 0.06 | 0.06 | 0.05 |
| % of complaints resolved as against complaints received | 100 | 100 | 100 |
Goodwill Consumer Complaints at BSE
| | |
| --- | --- |
| | 2019-20 |
| Defaulter Yes/No | No |
| No. of clients at the beginning of the year | 23818 |
| No. of active clients | 3664 |
| No. of complaints received * | 1 |
| Resolved through the exchange | 1 |
| Non actionable ** | 0 |
| Advised / Opted for arbitration | 0 |
| Pending for redressal with exchange | 0 |
| No. of arbitration filed by clients | 0 |
| Decided by arbitrators in favour of the clients | 0 |
| Decided by the arbitrators | 0 |
| Pending for redressal with arbitrators | 0 |
| % of No. of complaints as against No. of active clients | 0 |
| % of complaints resolved as against complaints received | 100 |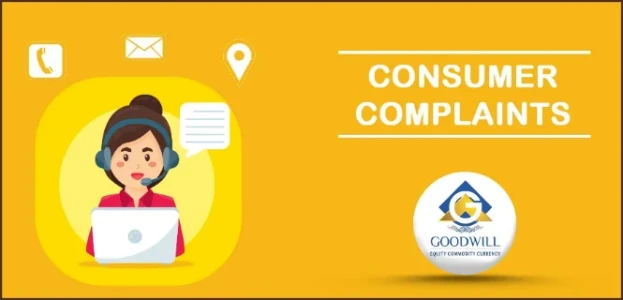 Comments for Goodwill Commodities Customer Complaints | Review, Enquiry, Details
Frequently Asked Questions
---
Goodwill Commodities Reviews