Alice Blue Sensibull Review | Features and Option Trading Platform
Alice Blue Sensibull Review
What is Sensibull?
Sensibull is a platform built with the sole purpose of trading options. Sensibull meaning is very simple and clear, it has various features and resources made especially for options trading such as option trading strategies. Sensibull aliceblue suggests strategies according to the market view of the trader, and those strategies can be applied by the trader in the market.
Sensibull paper trading
Virtual trading sensibull is a feature which of sensibull which allows the users to be educated about trading. Sensibull virtual trade will also help the users to learn about trading in much detail. Paper trade sensibull is very helpful for beginners as it gives provide them practile knowledge of the trading. By proper sensibull learning you can diversify your portfolio in an efficient manner.
Sensibull virtual trading app helps beginners to trade virtually without real money to gain better trading knowledge. Sensibull free virtual trading is available for new Alice Blue users for sensibull learning.
Alice blue sensibull
Sensibull aliceblue is a specially designed trading platform for options trading. As trading options is quite different from conventional equity trading, a specialized option was required which can benefit the clients and the traders. Alice blue sensibull platform has simplified the tricky option trading and has also made option trading faster as compared to any other general trading platform.
You can visit the Alice Blue official website for sensibull subscription.
Features of Alice Blue Option Trading Platform
The various features which are offered by alice blue sensibull are as follow:
• In-built Toggle Button: This feature displays the price of each contract along with the price of each unit in the lot. In short it eliminates the effort of calculating the total cost of the contract and eventually helps in saving client's time.
• Option Chain Table and Heat Maps: It is essential to analyze the building up resistance and the support on underlying asset price as it affects the call, so for trading options these points need to be identified.
• Creation and Customization of Strategy: Though sensibull aliceblue has its own inbuilt strategies, still the clients have the option of creating and customizing the strategies according to their trading requirement. Traders just need to elaborate their market view and Sensibull aliceblue will provide them various strategies that suit the view of the market along with the instruments on which investments can be made.
• Option Analyzer: This feature of sensibull app is a big utility for the traders as it analyses all the options in which the trader is willing to trade using option chain and option Greek. Moreover, it checks the trading and P&L accounts of various companies and also does scenario analysis.
• Option Central: It is another great feature offered by sensibull software to the traders. It assesses the opportunities available in the option market by checking the IV percentiles, PCR, volume breakouts and etc.
Setting Up Alice Blue Sensibull
In order to set up aliceblue sensibull, follow the steps mentioned below:
Sensibull aliceblue login
• By using the login credentials of Alice Blue demat and trading account, the client is supposed to log in where he can start using the sensibull software offered by Alice Blue.
• After reaching on the alice blue sensibull dashboard, the client has to select the index he wants to trade in. Currently, there are sensibull option strategy for option trading on Nifty and Bank Nifty.
• Then the market view has to be selected which can be not above, not below, above, below and between.
• Input the anticipated price range, that chosen index could touch at expiry.
• Now either date of expiry or the expected date of index touching the mentioned price has to be chosen.
• Click on the "GO" button.
Selection of Sensibull strategies
• After clicking on the GO button, a lot of information related to details provided above will be displayed. Details regarding future market events and RBI, SEBI policies will also be shown.
• Then the client would receive a list of sensibull option strategies according to the market view.
• According to the suitability of trading one of the sensibull strategies has to be chosen from the list.
• Filters can be used to cut out the type of strategies which client does not want to check.
• After choosing a strategy, select it.
• After getting the strategy selected, the client has to set the lot size he wants to buy or sell along with the order type, and then he has to hit the trade button.
• Order is placed once the trade button is hit. It can later be tracked and modified.
Benefits of alice blue sensibull
• Technologically advanced tool for option traders with various powerful features like option chain, option analyzer, and much more which assist traders in options trading.
• Reduces the risk involved in options trading as it simplifies the trading and limits the risk by providing best strategies.
• Self-created strategies can be tested with virtual trading sensibull and virtual money which helps to identify whether the new strategy is profitable or not.
• Multi leg strategies can be used in a single click.
• Availability of resources on option trading on this platform helps to gain and enhance knowledge.
Alice Blue Sensibull is a top-notch trading platform and a big asset for option traders in the market. It simplifies the option trading process, creation, and selection of strategies. Also, reduces the risk associated with option trading. Overall, sensibull app helps to make option trading more profitable and secure.
Open Your Demat Account with Alice blue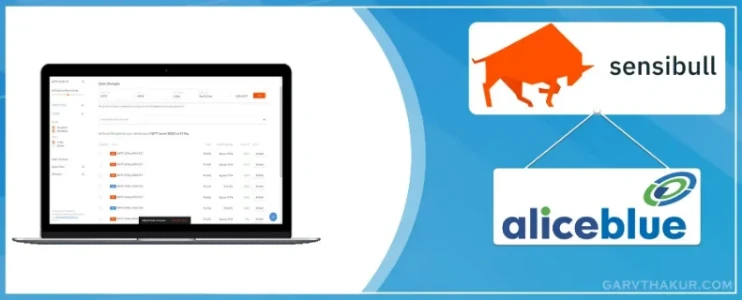 Comments for Alice Blue Sensibull Review | Features and Option Trading Platform
Frequently Asked Questions
---