Alice Blue Stock Trading, Demat, Brokerage, Feature and Reviews 2023
Alice Blue Review 2023
Alice Blue is one of the biggest and top ranked Bangalore based discount brokers in India. Alice Blue was incorporated in 2006 by Sidhavelayutham M, known for its commodity trading service on MCX and NCDEX. Alice blue pricing is zero brokerage charges cost model and offers various services in Equity and Commodity trading at BSE, NSE and MCX in futures & options, cash and currency.
Alice Blue broker received its MCX membership in 2007 under Alice Blue Commodity private limited. It also provides an additional facility of depository services to its clients. Indian citizens can open a 2-in-1 alice blue account, by integrating their Alice Blue Demat and Trading Account.
If we talk about alice blue brokerage review, it provides freedom 15 plan in which customers have to pay fixed brokerage charges of

₹

15 or 0.05% whichever is lower per order for equity intraday segment and

₹

0 per order for equity delivery segment i.e., free investing.
Alice Blue review provide better understanding of the broker throughout its trading and investment services. So, let's have a detailed about alice blue review & get good understanding of alice blue brokerage review, Alice Blue Demat Account, Alice Blue Online Trading Platforms & other important features.
Alice Blue Financial Services USP (Unique Sales Proposition)
There are certain Unique Selling Points of Alice blue Financial Services that guides the customers:
1. The company has experienced the trust of over 20 years as a full-service broker.
2. Alice blue antweb - Alice Blue provides a flagship trading platform to its customers that is built for analysis and trading.
3. Alice blue brokerage review- Freedom 15 plan, simple, low-cost, and flat-fee brokerage.
4. Alice blue pricing for equity Delivery Fee – Opportunity for the traders as you don't need to pay on investing in this segment i.e., free investing.
5. Free software - Alice blue online provides free trading software to all its customers.
6. Trade School - It provides an online resource for learning investment related concepts and trading skills to its customers.
7. Alice Blue Web - Alice Blue provides the advanced trading tools to its customers such as ANT Meta, ANT Scanner and other third-party tools.
8. Aliceblue account opening charges is zero
1. No brokerage charges on trading in equity delivery segment under the F15 (Freedom 15) plan.
2. There is no minimum brokerage, no minimum commitment and no prepaid plans are guaranteed.
3. Alice blue antweb trading software is free for its customers.
4. Aliceblue trading provides free access of regular markets to its customers.
5. Aliceblue account opening charges is zero.
6. Alice blue web trading platforms provide hassle free trading experience to its traders.
7. Alice blue ant web allow traders to analyse and trade in stocks through all exchange.
8. You can also connect alice blue mt4 to do algo trading.
9. Aliceblue bot is a next generation Backoffice application for its traders and investors.
10. Antmobi trading platform is easily accessible from anywhere.
Disadvantages of Alice Blue
1. Alice Blue does not provide full-service brokerage services anymore.
2. Alice Blue does not offer any annual or monthly plans.
3. Call and Trade facility available with an extra charge.
Through Alice blue trading, traders can access to third-party online trading tools. This helps the customers in analysing their trade in detail and make informed trading decisions wisely. Through web alice blue, customers can get access to all trading instrument.
Open your Account with Alice Blue Today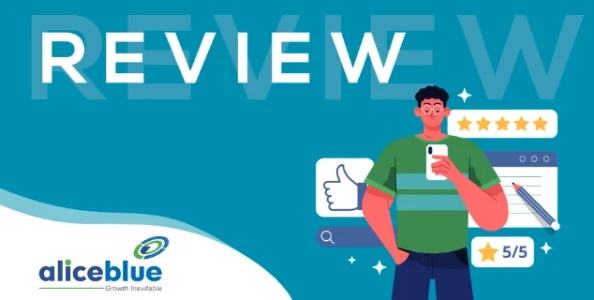 Comments for Alice Blue Stock Trading, Demat, Brokerage, Feature and Reviews 2023
Frequently Asked Questions
---