Alice Blue Advisory Mandi – Review, Top Features, Set-up Process, Benefits
Alice Blue AdvisoryMandi Review
The name Alice Blue advisorymandi came from Advisorymandi.com that has been providing its financial services to Alice Blue. Advisory mandi app is an incredible application that is beneficial for any kind of traders and investors and is a must have on their smartphones. Advisory mandi fulfills all the requirements of the new generation trading.
In this article we will read about the advisory mandi review to help traders in analaysing the market. Advisorymandi alice blue projects each and every update of the market and the analyst gives their best effort in order to produce best reports for the clients. Advisorymandi can be referred as the knowledge bank forum for investors and traders.
Features of advisorymandi alice blue
Advisorymandi app has some unique features which makes it stand out from all other similar applications in the market. Some of the features are as follow:
• Advisory Factory: advisory mandi app is a cluster of hundreds of SEBI registered research analysts who give their thoughts on stocks, markets and companies. If someone wants to get expert advice for trading then they can just open the app, look for the profile and stocks of the company they want to track and gather information. They can read about the news, reviews, analysis and other aspects.
• In-Depth Analysis: advisorymandi app provide in-depth analysis where one can get complete insight on stocks and other instruments traded in the market. The details of a research analyst can be used to compare their calls on stocks by looking at their expertise and past performances.
• Watch Lists: This feature is made available by both advisorymandi alice blue in order to help the investors to track all the portfolio and compare research analyst's view and movement in the portfolio. Advisory mandi funding helps you to diversify your portfolio.
• Economic Calendar: The dates in the stock market are important and any change in it might influence the market and might fluctuate it, depending on the potential of the event. It is important for a trader to stay updated in order to keep the trade full proof. This feature basically accesses the upcoming events and announcement of around 48 different countries and their markets, government, central banks, interest rate which affects the economy.
• Editor's Pack: It's a unique feature which is hard to find on other trading applications. advisorymandi alice blue helps in viewing the best articles which provides in-depth coverage of market events and other factors related to various government policies, IPOs and others.
• Decoding of Market: The function of this feature is to provide detailed information about stocks and companies which will further help the clients in understanding the deeper phenomena of the market.
How can I access advisorymandi alice blue?
1. To begin the set-up process, it is mandatory to open a Demat and trading account through Alice Blue.
2. After getting the login credentials, log in to Alice Blue website and open trade store tab where a download link is available. After visiting the Trade Store, Look for AdvisoryMandi, and Click on Learn more. You will be redirected to the AdvisoryMandi website.
3. Click on Download App and start getting amazing Trading and Investment calls.
• If you are not an Aliceblue Client:
1. Visit the Trade Store from alice blue official website, look for AdvisoryMandi and Click on Learn more. You will be redirected to the AdvisoryMandi website.
2. Click on Sign Up, Fill the required details like your Name, Email, Mobile Number, and State.
3. Alice Blue team will get in touch with you and help you open an account with Aliceblue.
Benefits of advisorymandi alice blue
1. Advisorymandi provides the best advice from the experts and analysts that work on the same scrips you have chosen for your portfolio.
2. You can see hundreds of SEBI registered analysts there. It is considered as the biggest data bank in the stock market.
3. You can find a match for your trading style and follow the expert's inputs and views on the market.
4. Advisory mandi funding enhances the user experience by reducing the risk while trading.
5. It provides expert advice and recommendations on all the trading segments at different slots.
If investment is your passion and you want to stay updated with market movements, then advisorymandi app deserves to be in your Smartphone. It's worth the little space it occupies in an investor's mobile as it offers a lot of information and data.
Apart from latest news and events of market advisorymandi alice blue also gives complete insight of stocks and segments.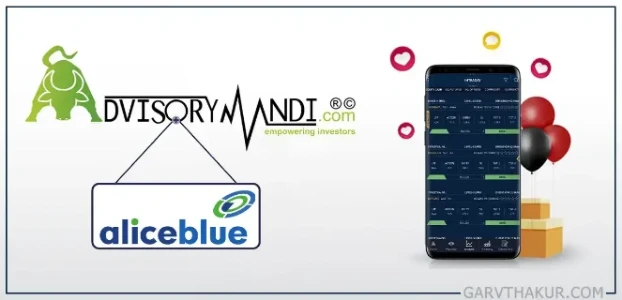 Comments for Alice Blue Advisory Mandi – Review, Top Features, Set-up Process, Benefits
Frequently Asked Questions
---