Alice Blue Smallcase Review - Features, Charges and Details
Alice Blue Smallcase Review
What is Smallcase?
Smallcases is basically a portfolio or professionally customized basket of stocks/ETFs that reflect an investing idea or strategy. In simple words, they are weighted smartly to track a theme or strategy.
Conventionally, an investor would invest in individual stocks through a broker or he would channelize his money towards exchange trade funds. But now, brokerages are providing a new offering where investor gets an opportunity to buy a whole portfolio of stocks. Subsequently it allows investor to get an exposure of professionally researched portfolios with the help of their existing Demat account. It is more of an investment idea rather than just stock based on market capitalization.
Important is to note that smallcase Alice blue platform might not be suitable for new investor, because the risk associated with this is quite high and a new comer might not be able to understand owing to lack of professional knowledge. It is recommended to consult a financial advisory firm before making investment in smallcase.
Alice Blue Good Start Smallcase
Risk being an integral part of investment cannot be eliminated, though it can be managed smartly. By understanding the needs of the customer Alice Blue has started "Good start smallcase". Being launched in March 2019, it is one of the latest offering of Alice Blue broking house which is widely accepted by clients.
Alice Blue smallcase is a thematic investment platform and is one of the minimum brokerage stockbrokers. It provides assistance to investors in order to build a long-term portfolio at a minimum possible cost. Moreover, it tries to create a well-diversified portfolio to minimize the associated risk. The portfolios are created with stocks and ETFs of different companies.
Fees Involved
A one-time flat fee of ₹ 100 is charged + GST when investment has to be made in smallcase. No additional fees are charged for further orders in same small case. Along with this standard brokerage charges would be applied.
Some Features of Alice Blue Smallcase
• Diversification: The primary feature of this platform is the diversification it provides to the client's portfolio. In order to fetch more returns and reduce the market risk, diversification is required.
• No Management Fees: Alice Blue thematic platform assists you to create a portfolio according to your needs and that too without any fees, unlike the fund manager.
• Complete Control: The advantage of this platform is that, there is no lock-in period like mutual funds. It gives you the liberty of trading stocks and ETFs at any given point which helps you to update your portfolio when required. Moreover, you can earn the dividends directly into the bank account.
• Complete Professional Research: Smallcase has a dedicated team of financial experts, who study the market day and night and comes up with best possible resources to the clients.
• No Hidden Charges: Alice Blue provides complete transparency as there are no hidden charges attached to the portfolio clients create.
• Ease in Tracking: It is quite convenient to track the performance and value of the portfolio you make with this platform.
Setting Up Alice Blue Smallcases
In order to set up and use Alice Blue thematic platform, you must open a Demat account with Alice Blue. After opening a Demat account following steps have to be followed:
1. After getting the login credentials, client can login and start using the smallcase.
2. Initially, a portfolio has to be drafted and the same has to be added in the watch list to see analyze its performance. If it performs well, then actual investment can be made.
3. To create your own portfolio, you have to provide your investment idea and goal. The platform will then suggest some portfolios of stock that matches with the investment goals. Then selection and investment have to be done accordingly.
4. One can build his own portfolio with entering the details as mentioned and the platform will show the relevant stocks and ETFs as per the requirement.
5. It's easy to find the orders and all the individual orders can be found on order page.
6. On the basis of factors like risk appetite, investment amount, goals and etc. a smallcase portfolio can be chosen.
Benefits of Alice Blue Smallcases
• Ease and convenience in tracking portfolio on smallcase. By merely looking at the index value the rise in price of stocks can be seen which will help in understanding whether profit is earned or loss is incurred.
• Complete history of the orders placed is available on this platform.
• This platform provides portfolios that align with the investment requirement of all kind of investors and for different investment goals.
• Customized portfolio can be created based on the investment and trading strategies one want to follow.
If you are a beginner and you're interested in equity investing, then Alice Blue Good Start Smallcase is ideal for you. It is a great thematic investment platform for tracking and creating your investment portfolios. Wide variety of portfolios for diverse needs of investors make this platform even better. Portfolios can be created and tracked anytime.
Open Your Demat Account with Alice blue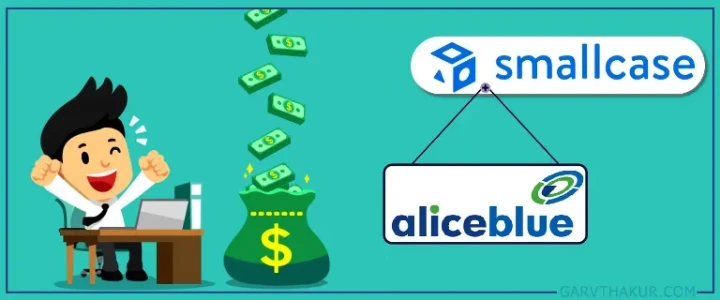 Comments for Alice Blue Smallcase Review - Features, Charges and Details
Frequently Asked Questions
---