Alice Blue Mutual Fund Review - App, Charges and SIP
Alice Blue Mutual Funds Review
Alice blue is one of India's leading online brokerage firms offering investment services at the lowest brokerage fee, which was incorporated in 2006. Being a reputed SEBI registered financial service provider, the organization has gained its name in the trading market. Alice Blue offering investment services in different segments like Bonds, mutual fund, IPO.
Alice blue mutual fund or mutual fund in alice blue offers a direct mutual fund platform to its customers where they can directly buy the mutual fund schemes from various fund houses. There is no brokerage charge for mutual fund in alice blue.
Characteristics of Alice Blue Mutual Fund
• Alice blue mutual fund brokerage and commission charges are zero.
• Excellent & dedicated Online aliceblue mutual funds Platform.
• Allows customers to invest across a variety of schemes including equity, debt, and hybrid.
• The customers can choose from more than 31 fund houses.
• Users Portfolio provides complete holdings of the allotments done through Normal (NRM) and Direct SIP (Systematic Investment Plan).
• Users can also invest mutual fund in alice blue with their existing Alice Blue account.
• The customers receive all the statements for all their MF investments.
• Mobile apps are available for mutual fund investment.
• Track all alice blue mutual fund review online.
Investment In alice blue mutual fund
If you are planning to invest in a mutual fund then mutual funds alice blue is the best choice where you can avail more benefits by investing directly in a mutual fund through different schemes at zero brokerage and commission charges.
Alice Blue Mutual Fund Charges
There are no brokerage fees associated with aliceblue mutual funds, however you must pay Alice blue mutual fund demat account AMC fees of 400/- per annum.
Alice Blue Mutual Fund Account Opening
Alice Blue offers direct mutual fund investment facilities through the asset management companies. Investors through this account can invest their money in a direct mutual fund. If any investor does not have a demat account with the same broker, then he can only view the performance of the funds but couldn't invest in aliceblue mutual funds.
Alice Blue SIP
Alice Blue allows investing in mutual funds through SIP or lumpsum mode of investment. It provides various flexible SIP options to make the investments as per the convenience of the customer. The customer can directly start investing in alice blue mutual fund if they already hold a demat account and have e-KYC verified.
Steps to Invest in Alice blue SIP
1. Login with the Alice blue Mutual fund account.
2. Choose the scheme as per your preference.
3. Enter the SIP details and submit it.
4. Finally, create a bank mandate for auto-payment through your alice blue account.
Alice blue Mutual Fund App
Alice Blue has user friendly and excellent mobile applications for mutual fund investments. By logging in to this account an investor can start investing.
Characteristics of Alice blue Mutual Funds App:
1. The customer can use the aliceblue mutual funds feature to compare various schemes.
2. Single portfolio to view all the funds in one place.
3. Alice Blue has consolidated statements for investments made through ELSS funds for claiming the tax benefits.
4. Provide easy order tracking by using the dashboard.
5. The user portfolio gives complete holdings of the allotments done through Normal (NRM) and Direct SIP.
ANT Web (Mutual Funds web-based platform)
Customer can invest in Alice blue mutual fund through a browser-based investment platform. The customers that are already investing in Alice blue Mutual funds can directly visit the web by logging in through their Alice blue account and do alice blue pledge mutual fund to diversify their portfolio.
Characteristics of Alice blue ANT Web:
1. It provides a free mutual fund investment platform.
2. It allows customers to invest across multiple asset classes.
3. It creates market alerts on the market conditions and fluctuations.
4. It allows customers to invest quickly by instant buy or sell options.
5. The customer can check current market news and status.
Alice Blue provides excellent online platforms for alice blue mutual fund investment at zero brokerage and commission. Alice blue pledge mutual fund facility is also available investors to earn more on returns as compared to regular mutual funds. However, this doesn't provide mutual fund recommendations which may make it difficult for new investors to choose a scheme on their own.
Open Your Demat Account with Alice blue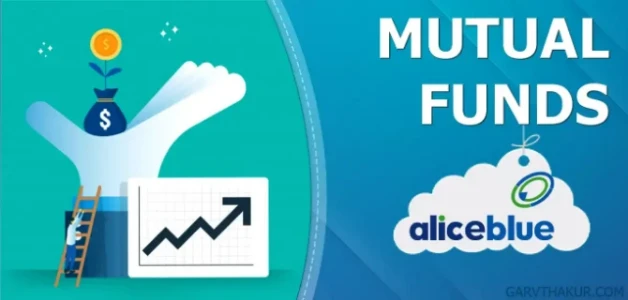 Comments for Alice Blue Mutual Fund Review - App, Charges and SIP
Frequently Asked Questions
---