SBICAP Securities Consumer Complaints 2023 | Reviews, Details
SBICAP Securities Consumer Complaints
SBICAP Securities Limited is the fully owned subsidiary of SBI Capital Markets Limited and an arm of SBI group. State bank of India is the country's largest bank with wide range of products and features. SBICAP securities review offers to invest in equity, derivative, mutual fund, IPO and provides home loan, car loan and loan against securities on its platform. SSL provides an opportunity for NRIs to invest in Indian share market. Except NRIs of USA, UK and Japan, all other NRIs can invest in Indian stock market through this platform. SBICAP securities customer review provides 3-in-1 account facility to both resident Indians and non-resident Indians (NRIs).
Financial advisor complaint history offers advisory services to the existing clients. There are many trading software available on this platform for resident Indians and NRIs such as SBISmart Portal, SBISmart Xpress, SBISmart Lite and SBISmart Mobile application. SBI cap securities ltd review also offers 'YONO' application which is a complete solution of all your banking needs.
SBICAP securities customer complaints
Different investors follow different strategies while trading and investing. Customers used to register complaints of broker at BSE and NSE. SBI securities complaints are serious grievances against SBICAP Securities broker which the broker has failed to resolve. Such complaints are related to fund, demat/trading account, services, brokerage etc. SBI cap securities ltd complaints data is provided by BSE and NSE and it shows overall health of any broker.
SBICAP securities complaints and securities and exchange commission consumer complaints report also provides the total no of active customers of SSL as well as it shows the growth
of the broker year on year.
Securities complaints against brokers
| | | | |
| --- | --- | --- | --- |
| Exchange | Financial Year | Total Complaints | Active Clients |
| BSE | 2022-23 | 15 | 100,727 |
| NSE | 2022-23 | 161 | 635,406 |
| BSE | 2021-22 | 22 | 140,251 |
| NSE | 2021-22 | 250 | 635,384 |
| BSE | 2020-21 | 4 | 130,947 |
| NSE | 2020-21 | 187 | 329,099 |
| BSE | 2019-20 | 17 | 130,643 |
| NSE | 2019-20 | 74 | 249,924 |
| BSE | 2018-19 | 12 | 84,317 |
| NSE | 2018-19 | 50 | 209,567 |
| BSE | 2017-18 | 47 | 135,809 |
| NSE | 2017-18 | 102 | 213,616 |
| BSE | 2016-17 | 11 | 71,934 |
| NSE | 2016-17 | 88 | 169,345 |
| BSE | 2015-16 | 31 | 48,871 |
| NSE | 2015-16 | 78 | 125,828 |
| BSE | 2014-15 | 27 | 39,827 |
| NSE | 2014-15 | 116 | 113,810 |
| BSE | 2013-14 | 23 | 350,332 |
| NSE | 2013-14 | 92 | 68,328 |
| BSE | 2012-13 | 21 | 274,423 |
| NSE | 2012-13 | 52 | 275,515 |
| BSE | 2011-12 | 32 | 194,476 |
| NSE | 2011-12 | 68 | 189,129 |
SBICAP complaints at NSE
| | | | |
| --- | --- | --- | --- |
| 2022-23 | 2021-22 | 2020-21 | 2022-23 |
| Active Clients | 635406 | 635384 | 329099 |
| Complaints | 161 | 250 | 187 |
| Resolved through the exchange | 140 | 207 | 176 |
| Non actionable | 9 | 24 | 8 |
| Advised / Opted for arbitration | 1 | 0 | 0 |
| Pending for redressal with exchange | 11 | 19 | 3 |
| No. of arbitration filed by clients | 6 | 3 | 2 |
| Decided by arbitrators in favour of the clients | 2 | 2 | 2 |
| Decided by the arbitrators | 1 | 0 | 1 |
| Pending for redressal with arbitrators | 4 | 1 | 0 |
SBICAP Securities Limited complaint at BSE
| | | | |
| --- | --- | --- | --- |
| 2022-23 | 2021-22 | 2020-21 | 2022-23 |
| Active Clients | 100727 | 140251 | 130947 |
| Complaints | 15 | 22 | 4 |
| Resolved through the exchange | 12 | 22 | 4 |
| Non actionable | 3 | 6 | 0 |
| Advised / Opted for arbitration | 1 | 0 | 0 |
| Pending for redressal with exchange | 3 | 0 | 0 |
| No. of arbitration filed by clients | 0 | 0 | 0 |
| Decided by arbitrators in favour of the clients | 0 | 0 | 0 |
| Decided by the arbitrators | 0 | 0 | 0 |
| Pending for redressal with arbitrators | 0 | 0 | 0 |
SBICAP securities grievance
Filing complaint with securities and exchange commission is an easy process you can simply register your complaint related to SBICAP securities complaints account deactivated via following medium:
• SBICAP securities complaint email id or SBICAP securities customer care email id: helpdesk@sbicapsec.com
• SBICAP securities customer care toll free: 02268545555
• SBICAP securities customer care contact number or SBICAP securities ltd customer care number: 02268545555
• SBICAP securities customer care no Delhi: 18002099345
• SBICAP securities customer care number Bangalore: 02268545555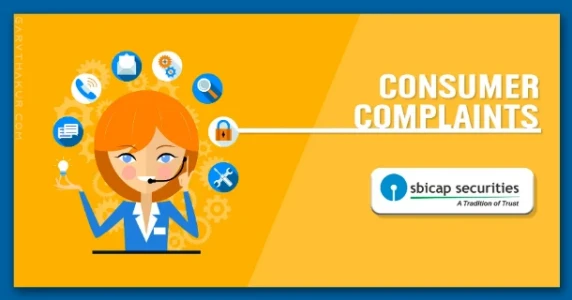 Comments for SBICAP Securities Consumer Complaints 2023 | Reviews, Details
Frequently Asked Questions
---
SBICAP Securities Reviews