SBICAP Securities Online Account Open Process, Forms and Fees 2023
SBICAP Securities Online Account Open Process, Forms and Fees
SBICAP Securities was incorporated in 2006 as a stock broking wing of State Bank of India Group and it is one of the fully owned subsidiaries of SBI Capital Markets Limited (SBICAPS) which is the brand of the SBI group. As of now, SBI Capital Markets Limited has four subsidiaries:
1. SBICAP Securities Limited.
2. SBICAP Ventures Limited.
3. SBICAP Trustee Company Limited.
4. SBICAP (Singapore) Limited.
SBICAP trading account review offers secure and features rich platform which facilitates you to invest/trade in almost every segment such as Equity, Derivative, Currency Mutual Fund, ETF, IPO and NCD along with variable products such as home loan, car loan and loan against securities. SSL offers 3-in-1 account to resident Indians and Non-resident Indians across the world i.e. SBICAP securities account opening SSL is a depositary member of CDSL and NSDL and allows you to do SBICAP securities online trading in national exchanges BSE and NSE. To know SBICAP securities account number SBI cap securities ltd demat account charges and SBI securities account opening charges and SBI securities account maintenance charges and SBI securities demat account charges you can visit to the broker's website.
SBICAP securities account opening charges
SBICAP securities demat account charges and SBICAP securities demat account opening charges are mentioned below:
| | |
| --- | --- |
| Account | Charges |
| Trading Account Opening Charge | Rs.850 (one-time) |
| Trading Account AMC | Rs.0 |
| Demat Account Opening Charge | Rs.0 |
| Demat Account AMC | Rs.350 (Yearly) |
Benefits of SBICAP securities demat and trading account
Opening demat account with SBICAP securities offers you the following benefits:
• Online and offline SBICAP securities new account service.
• SBI securities 3 in 1 account facility.
• SBICAP securities online login Enables you to online manage all your 3 accounts.
• Research reports and advisory services.
• SBI securities review provide 24/7 customer support.
• SBICAP has expert technical research team.
• Incredible investment ideas provided by SBI.
• SMS and e-mail alert and SBI securities recommendations service.
• SBI securities account is Fully transparent.
• Affordable SBI trading account opening charges on SBI trading account opening.
• SBI trading account app are user friendly.
How to open SBICAP securities account?
SBI provides the facility to open 3-in-1 account online and offline both.
1. Online account opening on SBI- SBI offers 100% paperless demat, trading and bank account. With the help of 'YONO' application, you can open online 3-in-1 account without any paper work.
2. Branch Visit/Offline Account Opening- You can open an account by visiting nearby branches of SBI in your area by filling SBI securities account opening form. Demat and trading account facilities is almost available in every SBI branch.
3. Missed call- Give a missed call at 09266792667 and the SBI executive will call back and assist you regarding SBI securities account activation and SBI securities account opening status and for any query related to SBICAP securities demat and trading account charges SBI demat account SBICAP securities.
Documents required to open an account at SBICAP Securities
SBI securities account opening online provcess is very easy and simple. To open SBICAP securities online demat account, you need to submit copy of below documents along with the SBICAP securities demat account opening form.
• Passport size photograph
• Cancelled cheque with name printed on it
• A SBI securities account opening address Proof (Aadhar
• Card/ Voter ID/ Driving license/ Ration card/ Latest Utility bills)
• Bank account proof (Latest bank statement/ Passbook)
• For derivative traders, income Proof (Latest salary slip/ Form 16/ Last 6 months bank statement/ Income tax return.
YONO App: Instant Account Opening by SBI
'YONO' stands for You Only Need One. This application is the complete solution for all you banking needs that includes investment, trading, insurance, online account opening and much more. You can open 100% paperless 3-in-1 account on this platform i.e. bank account, demat account and SBI trading account online. After submitting all the documents, you just need to visit the nearest branch once for in-person verification (IPV). SBICAP securities demat account login will help you start secure trading in your favorite stock.
This application is available for android and IOS users in the Google play store and App store respectively.
How to close SBICAP securities account online?
SBICAP securities account closure online process is very easy and simple. Before SBICAP securities close account, you need to clear all your pending dues, sell your securities or transfer it to another demat account and close all your open trade positions in F & O segment. Broker offers SBICAP securities account closure online via online/email/chat mode. You need to submit SBI securities account closure form or close SBI securities account online to the company after entering all the required details and signature.
• Open official website of SBI and go to download section.
• Download the 'SBI securities account closure- DP and SBI cap sec account closure form and take a print out of that form.
• Completely fill SBI cap securities ltd account closure form with signature and send SBICAP securities ltd demat account closure form to the address mentioned in SBICAP securities account closure form.
How to add bank account in SBI securities?
If you have any query related to SBI securities dormant account activation or SBI securities account locked and SBI trading account login then contact to SBI trading account customer care number: 02268545555.
For SBI securities account unlock or unlock SBI securities account please fill in your identification details to receive an OTP (one time password) on your registered mobile no. and email ID (NRI customers will receive it only via email.) After entering correct OTP, you can unlock your account.
Follow the below mention guidelines for SBICAP securities complaints account deactivated or SBICAP securities account disabled and SBI securities client account disabled or SBI securities account is disabled follow the below mention steps:
• To unlock your SBI securities account dormant, you must have access to the mobile number/email ID (only email ID for NRI) registered with SBICAP Securities.
• As per the TRAI guidelines, OTP can be sent to only your registered contact details with SBICAP Securities.
• In case you are not receiving the OTP on your registered contact details, or any help related to SBI securities account suspended or SBICAP securities complaints account deactivated please get in touch with your Relationship Manager or our helpdesk.
Open SBICAP Securities Demat Account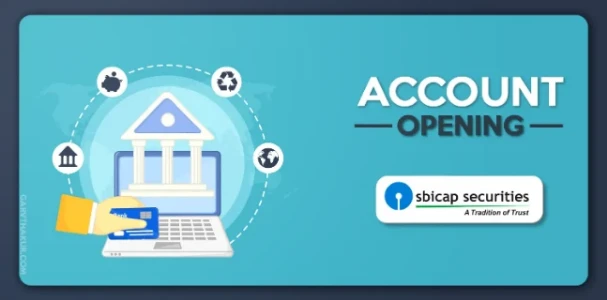 Comments for SBICAP Securities Online Account Open Process, Forms and Fees 2023
Frequently Asked Questions
---
SBICAP Securities Reviews