Master Trust Customer Complaints 2023 | Review, Details
Master Trust Consumer Complaints
Master Trust is a discount brokerage firm that is a part of Master Trust Capital Services Ltd. This brokerage firm was incorporated in the year 1985. The Capital Services Limited is one of the leading financial firm company in India.
This Master Trust Group has entered to the discount brokerage business since August 2014. The Master group has initiated to offer both the flat fees each trade and the standard trading plans. The company has successfully earned and developed the PAN India presence holding the client base of 2,50,000 that covers more than 300 locations across the 22 states in India.
Here, are some of the unique features of this discount broker.
1. It has a single trading and back-office software for all the segments that includes Equity, Currency, and Commodity. It has a single login for the trading and back-office software that makes it convenient.
2. It offers various flexible feature where in the balance across the various segments i.e. equity, commodity, derivatives and currency can be used as one single balance.
Consumer Complaints Against Master Trust
Master Trust complaints provides the detailed report about the number of complaints received by the stock exchanges. The Master Trust consumer complaint report examines the online data provided by BSE and NSE. The report determines the health of the broker.
Such complaints are the serious grievances that are against Master Trust broker by their customer that remain unsolved. The customers have then filed such complaints at the National Stock Exchanges. The Master Trust complaint determine the number of reports shows the number of active clients. It also determines the health of the broker.
| | | | |
| --- | --- | --- | --- |
| NSE | 2023-21 | 44,280 | 17 |
| BSE | 2019-20 | 12,239 | 2 |
| NSE | 2019-20 | 40,021 | 11 |
| NSE | 2018-19 | 41,710 | 17 |
| BSE | 2017-18 | 21,207 | 7 |
| NSE | 2017-18 | 45,757 | 24 |
| BSE | 2016-17 | 15,412 | 4 |
| NSE | 2016-17 | 34,623 | 32 |
| BSE | 2015-16 | 16,346 | 6 |
| NSE | 2015-16 | 32,003 | 19 |
| BSE | 2014-15 | 11,835 | 11 |
| NSE | 2014-15 | 34,161 | 27 |
| BSE | 2013-14 | 116,335 | 6 |
| NSE | 2013-14 | 28,596 | 22 |
| BSE | 2012-13 | 107,285 | 7 |
| NSE | 2012-13 | 108,443 | 43 |
| BSE | 2011-12 | 96,268 | 5 |
| NSE | 2011-12 | 99,656 | 19 |
| NSE | 2023-21 | 44,280 | 17 |
Consumer Complaints at NSE
| | | | |
| --- | --- | --- | --- |
| | 2023-21 | 2019-20 | 2018-19 |
| Defaulter Yes/No | No | No | No |
| No. of clients at the beginning of the year | | | |
| No. of active clients | 44,280 | 40,021 | 41,710 |
| No. of complaints received * | 17 | 11 | 17 |
| Resolved through the exchange | 11 | 10 | 17 |
| Non actionable ** | 3 | 0 | 0 |
| Advised / Opted for arbitration | 0 | 0 | 0 |
| Pending for redressal with exchange | 3 | 1 | 0 |
| No. of arbitration filed by clients | 0 | 0 | 1 |
| Decided by arbitrators in favour of the clients | 0 | 0 | 1 |
| Decided by the arbitrators | 0 | 0 | 0 |
| Pending for redressal with arbitrators | 0 | 0 | 0 |
| % of No. of complaints as against No. of active clients | 0.03 | 0.02 | 0.04 |
| % of complaints resolved as against complaints received | 82.35 | 90.9 | 100 |
Consumer Complaint at BSE
| | | | |
| --- | --- | --- | --- |
| | 2023-21 | 2019-20 | 2018-19 |
| Defaulter Yes/No | No | No | No |
| No. of clients at the beginning of the year | 1,92,352 | 1,60,606 | 1,48,423 |
| No. of active clients | 12,239 | 21,207 | 15,412 |
| No. of complaints received * | 2 | 7 | 4 |
| Resolved through the exchange | 2 | 4 | 2 |
| Non actionable ** | 0 | 0 | 0 |
| Advised / Opted for arbitration | 0 | 1 | 1 |
| Pending for redressal with exchange | 0 | 4 | 1 |
| No. of arbitration filed by clients | 0 | 1 | 0 |
| Decided by arbitrators in favour of the clients | 0 | 0 | 0 |
| Decided by the arbitrators | 0 | 0 | 0 |
| Pending for redressal with arbitrators | 0 | 1 | 0 |
| % of No. of complaints as against No. of active clients | 0 | 0.03 | 0.03 |
| % of complaints resolved as against complaints received | 100 | 57.14 | 75 |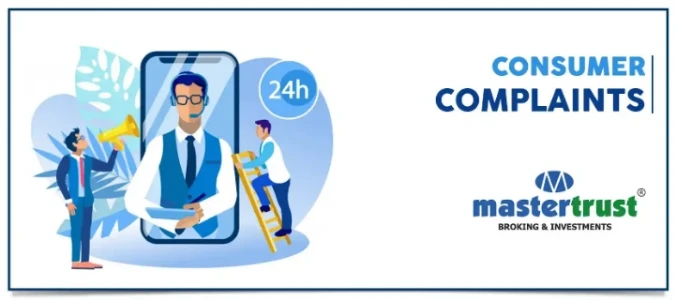 Comments for Master Trust Customer Complaints 2023 | Review, Details
Frequently Asked Questions
---