Upstox Nest Trader| Desktop Trading Platform, Login, Charges
Upstox Nest Trader Review
What is Nest Trader in Upstox?
Upstox Nest Trader Meaning Next Generation Electronic Securities Trading Platform. It is a third-party desktop application that provides a lot of perks. Traders can use Nest trader (Upstox) for equity trading, commodity trading, currency trading and stock trading products. You can Download nest trader for Upstox from Upstox official site. Upstox nest trading review is satisfactory among traders
Features of Upstox Nest Trading Software
1. Customizable Interface: It facilitates the users to edit layouts, fonts, colours and shortcuts as per their need. Thus, it helps in carrying out the trades smarter and faster.
2. Multiple Monitor Support: Upstox nest trader online software supports multiple screens. It means the users can trade and stream data on the multiple monitors.
3. Advanced Charting: Customers can monitor the market by using the advanced charting tools that are available on the platform. This allows technical analysis and helps in spotting trends.
4. Low latency and enterprise level stability: It is one of the most remarkable features of Nest Trader as it has the fastest refresh rates of streaming and it remains stable in heavy load or traffic.
5. Order Types: The user can place all types of Upstox complex orders such as Upstox OCO order, cover order, bracket order and more.
How to use Nest trader Upstox?
Nest Trader – Upstox is a powerful advanced share trading web-based software in India. This helps in monitoring markets, placing orders fluently and buying and selling shares in real time. In Upstox nest trading platform Semi auto trading from Ami broker. It offers VWAP statistics. Nest trader for Upstox shows real time data by exporting excel. Upstox Nest trader demo is also available on Upstox website.
Setting up Upstox Nest Trader is easy. To set up the Nest Trader software Upstox for desktop you need to follow the following steps for Upstox Nest trading Account Login:
1. Nest Trader Software Upstox download from Upstox website.
2. After download Upstox nest trader file, use WinZip/WinRAR to extract the file you have downloaded.
3. Now open the file "NEST_Trader_Setup.EXE" and click on the "Next" button.
4. A "Terms and Conditions" page will appear. Put a tick on the checkbox and then click on "Next".
5. Enter the details like your user's name and company name. Then, click on "Next".
6. In the next step, choose "Complete" and click on "Next".
7. And then install the Nest Trader software Upstox by clicking on "Install" and click on "Finish" as the installation procedure gets completed.
How to Install Nest trader Upstox?
Upstox Nest Trader Account Installation Procedure: For Upstox Nest Trader Login and Installation follow these bellow mention steps:
2. Then, right click on the NEST launcher.
3. Move to "Properties" and click on the "Properties" button present under the Properties tab.
4. Move on by clicking on the "Advanced option" present under the shortcut tab.
5. Tick on the "Run as Administrator" box and then click on "Ok" button.
6. Now, double click on NEST launcher and you are done.
Upstox Nest Trader Update
Upstox Nest Trading Terminal is simply an excellent arrangement that serves as a perfect blend of stock trading tools for institutional and retail brokers, restrictive work areas and trades on Upstox Nest Trading account. The tools showcase information, trade network and much more.
Upstox Nest trader desktop is considered as the Upstox Nest trader market head in institutional trading. Upstox nest trader charges are zero. Upstox Nest trading app is not available it is available only for web users. It provides its users the innovation in their tasks with the speed and adaptability.
Note: If Upstox Nest Trader Not working, you can raise your ticket by visiting the Upstox website.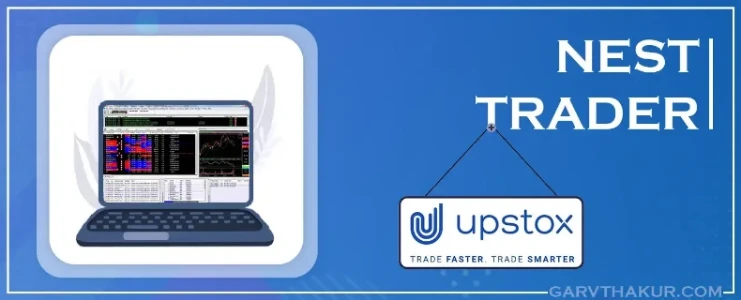 Comments for Upstox Nest Trader| Desktop Trading Platform, Login, Charges
Frequently Asked Questions
---