Upstox Complaints in NSE/BSE | Review, Ratings, History
Upstox Consumer Complaints
Upstox (which was earlier known as RKSV securities) is a low-cost broking firm. Upstox agenda is to provide trading opportunities at unbeatable prices. It is being backed by a group of investors like: Kalaari capital, Ratan Tata and GVK Davix.
Upstox provides ease to place orders through phones and browsers. It provides completely free trading account and free trading as well in Equity Delivery Segment.
Upstox also provide some other services like Equity Intra-day, commodities and currency derivatives which can be availed through Upstox Pro. It is a paid software which has some additional features. Upstox provides various
trading software
to their customers.
How to Complaint against Upstox?
Upstox brokerage complaints report provides detailed report about the number of complaints received by the stock exchanges. It analyses the reports online on the basis of data provided by BSE and NSE. This report determines the health of the broker. It also shows the growth of the broker by each passing year. You can check Upstox consumer complaints and reviews here.
How do I complain to Upstox?
Upstox customer complaints are serious grievances that are recorded and the customer and the company were unable to resolve these issues. Thus, customers can file legal complaints with the stock exchange. The Upstox consumer complaints report also indicates the number of active clients at Upstox. For any query related to Upstox, users can contact on Upstox customer care number i.e., +91-22-6130-9999. Upstox consumer complaints guide is also provided by the Upstox customer complaint centre.
If you have any complaint and Upstox consumer complaints query, then you can register Upstox complaint on Upstox consumer complaints contact number i.e., (022) 24229920 or send an email to Upstox consumer complaints email ID i.e., compliance@rksv.in.
Upstox Consumer Complaints History
Upstox consumer complaints details provide the number of active clients at Upstox and total complaints at Upstox. The below table shows the Upstox consumer complaints update registered in the passing years till date.
| | | | |
| --- | --- | --- | --- |
| EXCHANGE | FINANCIAL YEAR | NUMBER OF CLIENTS | TOTAL COMPLAINTS (NO. S) |
| NSE | 2023-23 | 5,462,001 | 101 |
| BSE | 2023-22 | 499,893 | 43 |
| NSE | 2023-22 | 5,215,523 | 502 |
| BSE | 2023-21 | 143,126 | 7 |
| NSE | 2023-21 | 1,224,141 | 425 |
| BSE | 2019-20 | 142,797 | 11 |
| NSE | 2019-20 | 619,305 | 164 |
| BSE | 2018-19 | 22,381 | 7 |
| NSE | 2018-19 | 92,781 | 58 |
| BSE | 2017-18 | 24,483 | 2 |
| NSE | 2017-18 | 43,889 | 35 |
| BSE | 2016-17 | 3,910 | 1 |
| NSE | 2016-17 | 17,229 | 21 |
| BSE | 2015-16 | 3,049 | 1 |
| NSE | 2015-16 | 10,622 | 10 |
| NSE | 2014-15 | 7,372 | 4 |
| BSE | 2013-14 | 340 | 1 |
| NSE | 2013-14 | 4,631 | 1 |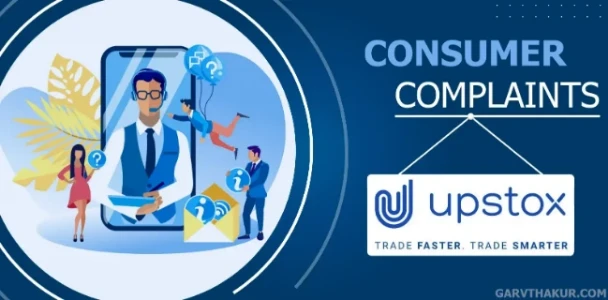 Comments for Upstox Complaints in NSE/BSE | Review, Ratings, History
Frequently Asked Questions
---