GCL Securities Mobile App 2023 | Review, Features, Demo, Download
GCL Securities Mobile App Review - Features, Demo, Download
GCL Securities is one of the market leaders in the share market industry. Mr. Tilak Raj Sharma has founded this brokerage company in 2004 with a motive to provide world-class services to every class of traders and investors. This company was started as a financial service provider and in a very short span of time emerged as one of the most trusted stock brokers of India. GCL Securities is well-known for its traditional plans:
• Premium Plan – Under this plan, company charges brokerage in percentage basis which is different for all the segments and quite low.
• Discount Brokerage Plan – Under this plan, company charges brokerage @flat Rs.25 per lot for all the segments.
You can select any above-mentioned plan as per your trading requirements and experience as both types of account are equipped with modern features and facilities. GCL Securities is a depositary participant of CDSL and offers free 2-in-1 account without any hidden charges. As a SEBI registered broker, this full-service broker provides an opportunity to trade or invest in equities, derivatives, currency, futures & options, mutual funds and IPO. Through GCL Securities, you can trade in India's national exchanges BSE, NSE, MCX and NCDEX. GCL Securities offers up to 10x leverage for trading in equity intraday segment and also provide free research and advisory services to their clients which proved as a game changer for the company. GCL Securities has a wide network with 7+ branches in many cities across India and continuously increasing their network as GCL Securities also offers offline services to their clients.
GCL Securities Trading Software
GCL Securities offers free trading software to their clients which are accessible in any operating system. GCL Securities online trading software are as follows:
• GCL Pro Web- Browser-based trading platform.
• GCL On Time- Smartphone-based mobile application.
• ODIN- Trading Terminal.
GCL On Time (Mobile Application):
Now, trading is at your fingertips, GCL On Time is a mobile-based application offered by GCL Securities for their clients. This is one of the highly-rated apps (with 4+ rating) available for Android and iPhone / iPad users in the Google Play Store and App Store respectively. GCL On Time app is ODIN-based trading platform innovated by 63 Moon Technologies Limited headquartered in Chennai (Tamil Nadu). GCL On Time is equipped with every modern and technical feature and allows you to invest in equity, derivative, currency, commodity, mutual funds and IPO. GCL On Time claims to be the financial fitness platform for investors / traders that offers seamless and unmatched trading experience for its customers.
Your valuable information & data is fully secure as GCL On Time is a very safe and secure application with 2-factor authentication that provides additional protection to ensure data safety. GCL Securities never compromise with the security and safety of your valuable data. Through this application, you can open online 100% paperless 2-in-1 account i.e. demat & trading account by following some simple steps. GCL On Time is the one-stop solution for all your investment needs. This application provides multiple watchlist, multiple indicators, live indices, live-tips, real-time data, fund transfer facility, multi-asset, newsflash etc.
Key Features of GCL On Time:
• Easy to use, hassle-free and user-friendly app.
• 100% secured with 2-factor authentication.
• Access to track your portfolio.
• Access to view your order status, utilized margin, net positions & holdings.
• Available in App Store and Google Play Store for IOS & Android users respectively.
• Real-time live streaming quotes.
• You can create up to 4 multi-asset watchlists updated with live data.
• You can easily track your favourite stocks and contracts.
• Facilitate you to trade or invest in equity, derivative, currency, commodity, mutual funds and IPO.
• Advanced charting tools and indicators.
• Allows you to trade in NSE, MCX and NCDEX.
• Alerts and push notifications.
Conclusion
GCL On Time is an ODIN-based trading platform equipped with latest features and guarantees 100% security and privacy of your valuable information. GCL Securities aims to provide world-class services in affordable price. With the help of GCL On Time trading platform, you can analyse the market trends while trading in the share market.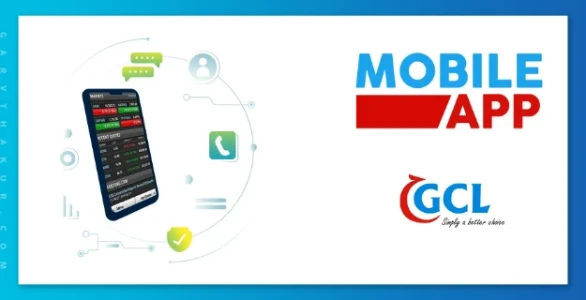 Comments for GCL Securities Mobile App 2023 | Review, Features, Demo, Download
Frequently Asked Questions
---