Achiievers Equities Complaint Review 2023 | Enquiry, Details, Nse/ Bse
Achiievers Equities Limited Complaint
Achiievers Equities Limited was known as 'Loknath Enterprise' when it started its operation in 1999 as a sub broker of BSE and NSE. 'Loknath Enterprise' was converted as 'Achiievers Equities Limited' on 15 October 2009 with its headquarter in Kolkata ( West Bengal). Achiievers is a SEBI registered firm and provides you the facility to invest in national exchanges such as NSE, BSE, MCX, ACE and USD. It offers you to invest in almost every segment such as equity, futures & options, currency, mutual fund and IPO. Company provides demat and trading account services as it is a member of CDSL. Currently, Achiievers is a discount broker but its objective is to be a full-service broker. Company is advancing their services and it is now one of the leading stockbrokers of India.
Achiievers Equities Ltd charges brokerages according to your selected plan which is very flexible and affordable such as flat Rs.750/month plan, flat Rs.50/day plan, flat Rs.15/trade plan and much more. Company is known for its attractive offers for existing and new clients.
Complaint against Achiievers Equities Limited
Generally, while trading or investing, people used to suffer due to many problems generated from the broker side. It can be related to fund, order, demat/trading account etc. Every trader used to follow their own strategy. Customers used to register those complaints at national exchanges BSE and NSE. Such complaints are serious grievances against Achiievers Equities Limited broker which the broker has failed to resolve or some problems has been resolved by the broker. This complaint data is provided by BSE and NSE which also shows the health and quality of any broker.
These complaint report also provides the total no of active customers of Achiievers Equities Limited as well as it shows the growth of the broker year on year.
Achiievers Equities Limited Consumer Complaints
Financial Year

Exchange

Number of Clients

Total Complaints

Percentage

2018-19

NSE

2049

2

0.18%

2017-18

NSE

1479

2

0.15%

2016-17

NSE

1546

5

0.32%

2015-16

BSE

198

2

1.01%

NSE

1512

3

0.19%

2013-14

NSE

1049

6

0.57%

2012-13

BSE

509

10

1.96%

NSE

1098

13

1.18%
Achiievers Equities Limited complaint at NSE
Financial Year

Exchange

Number of Clients

Total Complaints

Percentage

2018-19

NSE

2049

2

0.18%

2017-18

NSE

1479

2

0.15%

2016-17

NSE

1546

5

0.32%

2015-16

BSE

198

2

1.01%

NSE

1512

3

0.19%

2013-14

NSE

1049

6

0.57%

2012-13

BSE

509

10

1.96%

NSE

1098

13

1.18%
Achiievers Equities Limited Complaint at BSE
| | | |
| --- | --- | --- |
| Entity | 2015-16 | 2012-13 |
| Defaulter | No | No |
| Number of active clients | 198 | 509 |
| Number of complaints received | 2 | 10 |
| Resolved through the exchange | 0 | |
| Non-actionable | 0 | |
| Advised/Opted for arbitration | 0 | |
| Pending for redressal with exchange | 0 | |
| %of complaints against active customers | 1.01% | |
| %of complaints resolved against received | 100% | |
Open Achiievers Demat Account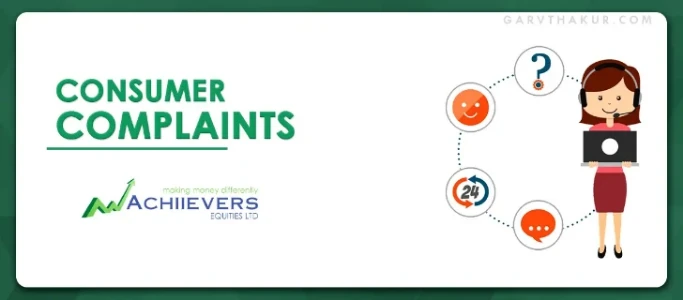 Comments for Achiievers Equities Complaint Review 2023 | Enquiry, Details, Nse/ Bse
Frequently Asked Questions
---